I have gotten emails from several customers concerned that their packages have been lost because they are late and/or tracking data shows them to have been in the Jersey City sorting facility for days.
Those packages are now moving. Most have been delivered already.

Please understand that shopping online this year has been unprecedented, and the USPS, UPS and FedEx are trying to run beyond their capacity. In the 10 years I have been shipping packages, (thousands and thousands of packages), the USPS has NEVER lost a Priority Mail package, and has lost only two or three First Class packages. Please be patient. Your packages will arrive.
---
An Interesting Hackle
by Phillip Dobson
(Butte, MT)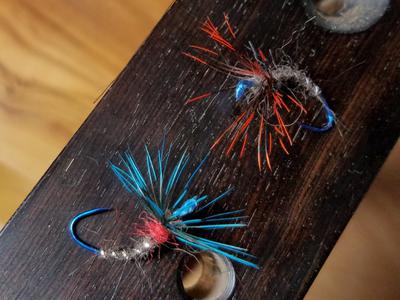 Brightly colored hackle
I recently picked up a couple ring-neck pheasant neck-rings as a substitute for exotic feathers on salmon flies. It turns out that the feathers are also awesome for kebari.

The patches come dyed a few different colors or natural. One of the best things is that the size of the feathers nicely correspond with what we usually use tenkara fishing. Lots of feathers and little waste. Give 'em a try!
Return to Your Tenkara Stories.
---
"The bitterness of poor quality remains long after the sweetness of low price is forgotten" - Benjamin Franklin
"Be sure in casting, that your fly fall first into the water, for if the line fall first, it scares or frightens the fish..." -
Col. Robert Venables 1662
As age slows my pace, I will become more like the heron.

---
Warning:
The hooks are sharp.
The coffee's hot.
The fish are slippery when wet.
Beware of the Dogma

---