American Zenmai
by Jay Guarneri
(Nashua, NH)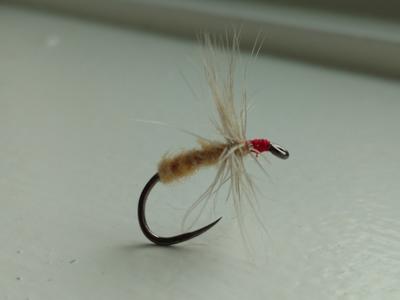 Fly tied with cinnamon fern fibers
I've read a lot about using zenmai dubbing from the Japanese flowering fern (Osmunda japonica), but I'd never tried it. I recalled seeing similar downy fibers on ferns in the past, and this spring I discovered that the closely related cinnamon fern (Osmundastrum cinnamomeum) has zenmai-type fibers on its emerging fronds.

I managed to collect some early this spring and have tied a few flies with it. I don't know how it compares with true zenmai dubbing, but it makes a nice dubbed body, even if it is a little fussy to work with. If you're looking to collect your own "zenmai", you're in luck! Cinnamon ferns are widespread and common throughout North America. You may even have some in your landscaping! They're most abundant in shady, wet areas, often growing right next to streams. You'll need to look in early to mid spring for the emerging fiddleheads. You can sometimes find some fibers clinging to the mature fronds, but you'll get the most out of the fiddleheads. Just be careful not to break off the fiddleheads, as they are very fragile.

It's not the easiest material to work with, but it's satisfying to use material you collected yourself. I look forward to using my "zenmai" flies to catch trout from the very stream where I found the ferns.
Return to Your Tenkara Stories.
---
"The bitterness of poor quality remains long after the sweetness of low price is forgotten" - Benjamin Franklin
"Be sure in casting, that your fly fall first into the water, for if the line fall first, it scares or frightens the fish..." -
Col. Robert Venables 1662
As age slows my pace, I will become more like the heron.

---
Warning:
The hooks are sharp.
The coffee's hot.
The fish are slippery when wet.
Beware of the Dogma

---