Covid-19 Announcement
Most international flights have been cancelled.
There is no ETA for out-of-stock items that come from Japan.
Shipments to overseas buyers will take longer than normal - possibly much longer. Patience is a virtue - especially in fishing.

---
Amazing day with my son and live hoppers
by Mike
(Springville, UT)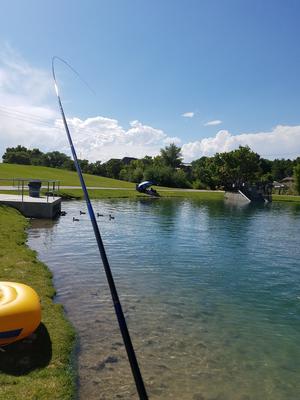 Last week I took my kids to the small reservoir close to our home to enjoy the cool water and the afternoon and evening. I brought my Daiwa keiryu rod in the hope that they might like to take a break from swimming and boating to catch some fish. My girlfriend also collected a couple live hoppers from our backyard and put them in a paper sack in preparation.

It wasn't until we opened up the rolls to snack on that the opportunity presented itself. The kids thought they'd feed the ducks some of the bread. When the trout began a feeding frenzy on the small pieces of bread, I asked if they'd like to also throw out a live hopper and see if we could catch a fish. This little reservoir is planted with 6-8" rainbows and this spring they released a couple hundred brooders +18". As I threw out the rigged up hopper, I found that a couple of the smaller fish were put off by the size of the hopper. In all fairness, it was the equivalent of a size 4, a real juicy one. They began to just pick at it amid the melee of the chumming of bread my kids did. Once that one was picked but not really hit, I decided to rig up a smaller hopper. That was the wise choice. The size 16 live grasshopper was seen almost immediately by a large red-sided rainbow that began to inspect the hopper. On about the 4th pass, she came up and took the hopper and hook in one practiced sip.

As I set the hook, I could feel that she was well hooked. As she swam back and forth I passed my kids the rod so they could feel her pull and fight. One aspect of keiryu/tenkara that I love is that when a good size fish is on the line, the rod emits a tone, like a hum that adds just one more level of enjoyment not experienced in other styles of fishing. When we were able to get the hen close to shore, my eight year old grabbed the net and was giddy bringing her in.

I typically release the large fish I catch especially in this reservoir opting to allow others the chance to catch them, and hopefully it makes the day for a child or two. That said, when my boy said, "let's eat her," I didn't deny him. I dispatched her rapidly with a little bonk and ikejime.

We caught several more hoppers and another ~6 trout in the 7-10" range. The kids were enthralled. My eight year old in particular is looking forward to going to my favorite creek to deploy live hoppers again this week.

---
"The bitterness of poor quality remains long after the sweetness of low price is forgotten" – Benjamin Franklin
"Be sure in casting, that your fly fall first into the water, for if the line fall first, it scares or frightens the fish..." Col. Robert Venables 1662
As age slows my pace, I will become more like the heron.

---
Warning:
The hooks are sharp.
The coffee's hot.
The fish are slippery when wet.
Beware of the Dogma

---