A Tour of the Catskills
by Morgan Lyle
(New York)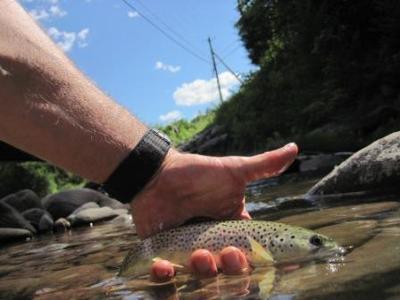 Pretty wild brown
Woodland Valley Stream in New York is ideal tenkara water. A sunny afternoon in mid-July is not the ideal time to fish, but my buddy and I still managed to find a few small trout, including the very pretty brown pictured here, which took a bead-head, Polish style, woven golden stonefly nymph.

The day before, my Ebisu saw action on the Willowemoc, which is is fantastic shape for this time of year, full and cool. A nice trout gave away its position by shooting straight up like a missile from a submarine. It nosed my Stimulator, ignored my Elk Hair and took a Spundun but shook off after only a few seconds. Two other trout that had revealed themselves by rising refused to be caught.

Earlier in the afternoon, seven trout agreed to be caught on the West Branch of the Delaware. It's spring all summer on the WBD, thanks to the 48-degree water flowing from the dam at Cannonsville Reservoir, and trout rose to profuse sulfur hatches all afternoon. I caught a couple small trout on small sulfur dries and one on a tenkara fly with a red quill and brown and grizzly hackle, but caught the other four on killer bugs. I also had the old Alice Cooper song "Killer" stuck in my head all afternoon. I was fishing the Amago because there's always the chance of a big trout on the WBD, but I ended up catching small to average size trout and the Ebisu would have been plenty of rod.
Return to Your Tenkara Stories.
---
"The bitterness of poor quality remains long after the sweetness of low price is forgotten" - Benjamin Franklin
"Be sure in casting, that your fly fall first into the water, for if the line fall first, it scares or frightens the fish..." -
Col. Robert Venables 1662
As age slows my pace, I will become more like the heron.

---
Warning:
The hooks are sharp.
The coffee's hot.
The fish are slippery when wet.
Beware of the Dogma

---