A Surprise
by Phillip Dobson
(Butte, MT)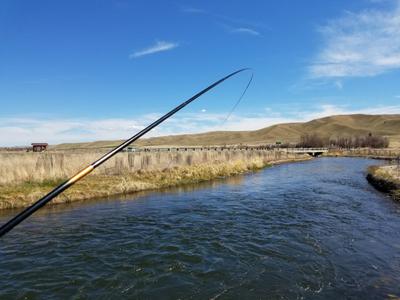 The snag started to move
I haven't been doing too much noteworthy tenkara fishing of late. Mostly just alternating between the 4wt and Sagiri depending on the mood of the moment. Also a lot of lawn practicing with the heavy saltwater kit. Les' writeup on bull trout has me excited for them, but the water isn't open yet.

That said, Montana is warming up, and that means caddis. I went down to the river today to see if they were out yet. The bugs are definitely flying, but the fish don't want to come to the surface. I gave up on the dry fly, tied on a small sparkly nymph and worked my way back to the car. I dropped the fly deep into a hole and snagged yet another heavy branch. I moved to give it a tug when I felt the first head-shake. A fish! A big fish! I coaxed the trout out of the depths and into a spectacular jump. He was definitely the largest Brown I'd hooked on any tackle.

The "fight" was all about working with the fish and trying not to break anything. The Sagiri doesn't have much backbone, and 6.5x tippet isn't really enough to put up much of a fight. After a few stressful minutes I had a 20" brown trout on shore. I'm happy the water temperature is now ideal for his metabolic recovery. He'll be back to terrorizing the little (and not so little) fish in no time.
Return to Your Tenkara Stories.
---
"The bitterness of poor quality remains long after the sweetness of low price is forgotten" - Benjamin Franklin
"Be sure in casting, that your fly fall first into the water, for if the line fall first, it scares or frightens the fish..." -
Col. Robert Venables 1662
As age slows my pace, I will become more like the heron.

---
Warning:
The hooks are sharp.
The coffee's hot.
The fish are slippery when wet.
Beware of the Dogma

---