A Perfect Match: Nissin Air Stage Hakubai 240 and Reaper Midge
by John Evans
(San Antonio)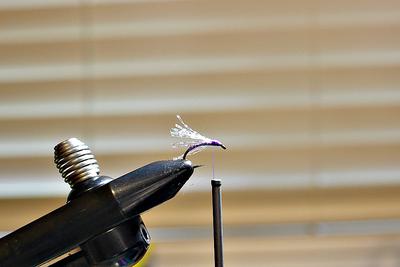 Beginning of a Reaper Midge
Have you discovered that some rods and flies seem made for each other? In recent outings I've found that the Nissin Air Stage Hakubai 240 and a purple "Reaper Midge" are just such a pair. The super-light Air Stage delivers the dry fly midge with the whisper of a kiss, and panfish find the combo hard to resist.

I started tying the Reaper after reading about it and watching several videos on the Internet. It's not too hard of a pattern to tie, even with shaky hands, and the fish don't care if it's a little sloppy. I use sharp Daiichi 1120 size 14 hooks, which is a size or two bigger than most anglers. I also use purple thread, purple flashabou, pearl crystal flash, purple Ice Dubbing, and grizzly dry fly hackle. The first three photos above give you the general idea. Again, there are plenty of instructions on the Web to get you started, plus factory offerings if you don't tie your own.

The Air Stage Hakubai and Reaper Midge work well for several reasons. First, the rod and fly make for a delicate presentation. If you do your part, it just doesn't scare the fish. Second, the size and color work well for most panfish. In my experience, Yellow Bellies (Red Breast Sunfish) will charge the fly from several feet away. Third, this fly is very buoyant. Just one or two false casts are enough to dry it out and keep it riding on the water. Finally, even if the fly becomes waterlogged, the fish still hit it as a wet fly. Some dry flies lose their effectiveness when they begin to sink. The Reaper Midge keeps on catching fish!

Whatever it is in a fly pattern that triggers strikes, this midge seems to have an extra dose of it. Usually, I just cast it lightly and give it the barest twitch or two. Let it sit still for a while — five or ten seconds. Patience pays off. The Reaper has just enough flash to work well, even on cloudy days or in stained water.

Is there not something special about seeing even a small fish explode on the surface?

The Reaper is one of those patterns that's made for soft tenkara rods. At least the panfish in my rivers and streams smack it with gusto. I sure didn't design it, but I appreciate whoever did! Match it with the Air Stage Hakubai, or similar rod, and you have a winner.

---
"The bitterness of poor quality remains long after the sweetness of low price is forgotten" - Benjamin Franklin
"Be sure in casting, that your fly fall first into the water, for if the line fall first, it scares or frightens the fish..." -
Col. Robert Venables 1662
As age slows my pace, I will become more like the heron.

---
Warning:
The hooks are sharp.
The coffee's hot.
The fish are slippery when wet.
Beware of the Dogma

---