A Case for Soft, Full-Flex Rods
by John Evans
(San Antonio, TX)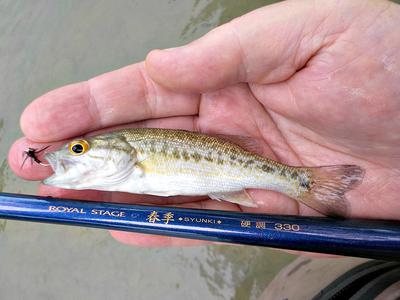 A little Guadalupe bass, a size 14 Stewart's Spider, and the Nissin Royal Stage Syunki
There are many instances in tenkara and keiryu fishing where a robust, firm rod is the right choice. I would lose all credibility if I suggested otherwise. When angling for bigger fish, using weighted nymphs or live bait, or exploring deeper water, a firm rod gives better hook-sets and more fighting capacity. You're also less likely to break them, and they're better suited for most beginners.

Also, Americans use tenkara rods in ways the Japanese don't. We pursue everything from cutthroats to catfish in all kinds of water. In Japan, tenkara focuses on small fish in mountain streams. Our adaptation of tenkara nudges us toward firmer rods because we're not sure what we might catch. For example, in my warm Texas waters I might land cichlids, catfish, Guadalupe bass, largemouth bass, green sunfish, bluegills, big shiners, red breast sunfish, and stocker rainbows in the winter. I might be fishing in 4 inches or 4 feet of water. Which rod should I pack? It's tempting to go with a more-adaptable pole.

But, I would suggest that there are situations where a soft, full-flex rod is just right and actually increases your angling enjoyment. In fact, when I recall my most memorable fishing expeditions, they often include such poles as the Nissin Royal Stage Syunki, the Nissin Air Stage Hakubai, and the Nissin 6:4 Zerosum 320. Within their design limits, these are wonderfully-responsive rods that provide a beautiful tactile experience for smaller fish. If you've never caught a Guadalupe bass or even a lowly bluegill on an 8-12 penny rod, you don't know what you're missing.

A full-flex rod makes every fish a big one. You can feel each twitch, strike, and head shake. Even a modest fish in the neighborhood creek provides an amazing experience. In fact, the best fight I've ever had on any rod was when I landed a fat, half-pound cichlid on the diminutive Nissin Air Stage Hakubai 240. My second best fight was a three-pound channel catfish on the full-flex Tenyru Furaibo TF39. These were wonderful battles that the Japanese designers never envisioned.

Also, full-flex rods cast smaller flies exceptionally well. Midges and dry flies float to the water like a dream and don't scare the fish. You can work those little fishable pockets with more confidence. Frankly, I just get more strikes on softer rods.

If you choose to use soft, full-flex rods, there are key points to remember. First, these are not the best rods for newbies. If a 6:4 Zerosum is the first tenkara/seiryu rod you handle, it will probably feel way TOO soft! (Can you imagine what it feels like to use a cork-handled rod that weighs less than two ounces?) It takes a little experience to get the most from them. If you know what you're doing, you can land a surprisingly large fish with a surprisingly soft rod, but that's not how we start!

Second, treat these rods gently. There's a reason for their softness. The carbon fiber tubes, especially in the tip section, won't take rough handling. Of course, you need to practice gentleness with all tenkara rods, but there's less room for error on the seiryu models. This means that light tippet is a must. Light tippet doesn't guarantee that you won't break your new rod, but it's a step in the right direction. The manufacturer issues those recommendations for a reason. Part of using soft rods is respecting their inherent limitations.

Third, use the sharpest hooks you can find. It's hard to get a good hook-set with a super-soft pole, and cheaper hooks won't cut it. Name-brand, quality hooks are the way to go.

Are soft, full-flex rods for everyone? No, but they sure will add to your fishing enjoyment in the right circumstances. The key is to match the rod to the situation.

---
"The bitterness of poor quality remains long after the sweetness of low price is forgotten" - Benjamin Franklin
"Be sure in casting, that your fly fall first into the water, for if the line fall first, it scares or frightens the fish..." -
Col. Robert Venables 1662
As age slows my pace, I will become more like the heron.

---
Warning:
The hooks are sharp.
The coffee's hot.
The fish are slippery when wet.
Beware of the Dogma

---