8 meters of Red Wiggler fun!
by Les Albjerg
(Caldwell, Idaho)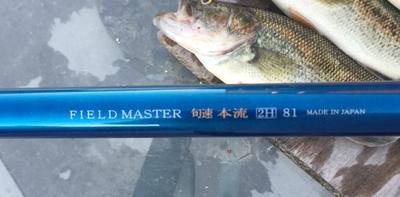 Suntech Fieldmaster 81
I just had to have a long rod. I was able to buy a special order 8 meter Suntech Fieldmaster from Chris a number of months ago. I have plans for this rod on some of our bigger rivers. Today I was able to give it it's maiden voyage. I also split my red wiggler worm farm today as the herd has multiplied greatly!

I was able to go out to Gilbert Lake (Picture 2) and fish for bass. Gilbert is a private lake. My autistic son's caregiver manages the fish in the lake. So I am one of the privileged few who get to fish there. It was a many fish day!

The evening began with the Kyogi 18(5 meter). Catching bass on it was really fun! I was pleased that I could fish red wiggler worms with 6x tippet, and the rod protected the light tippet with my largest bass of the night, about a 4 pound bass that was released. My reason for starting with the Kyogi was I wanted a rod to compare the Suntech Fieldmaster 81 to. Up front, there wasn't as much difference in fighting the fish as I thought there would be. The sensitive tip made it almost as fun as with the Suntech.

Switching to the Fieldmaster 81 was a drastic change! My first 3 casts were a disaster! Eight meters casts way different than 5 or 6 meters. I wasn't getting the wigglers out any further with the Fieldmaster than with the Kyogi! I stopped for a minute and did some thinking. I realized that I was rushing things. You can almost eat a snack on the back cast as you wait for things to load before you cast! I also discovered that with a line the length of the rod and my 14 inch tippet, I could get the whole line out with a two handed roll cast much easier. I also had a lot more control with the roll cast. After about 20 minutes, I began feeling comfortable with the long rod!

I really like having a long rod! I gained 6 meters more length with this rod over the Kyogi (3 meters in rod and 3 in line length). With that extra length, I was catching way more fish. Geoff, who I was fishing with, thought the rod was really cool! He was fly fishing with a black woolly bugger. At the end of the evening he came over and I put on a woolly bugger, and on the first cast, I caught a nice bass! I may have a convert in the making!

Like all Suntech rods I have fished, this rod has an amazingly smooth progression as you fight the fish! One thing Geoff noticed is how much control I had over the fish even when they jumped. I was dancing with the fish! Like all of these rods, bait or fly manipulation is accurate and precise. It really turned the fish on being able to give the worms some additional manipulation. After about an hour of fishing, I didn't notice the extra weight of the rod as balance points had been figured out. I had some other things I wanted to try out, but I was having too much fun with the red wiggler worms.

I kept 7 fish as we are trying to keep the fish from becoming stunted. The 14-17 inch fish are the best eating, and they are in overabundance again this year.(picture 3) I caught a couple of 5 inchers and 2 bass that were in the four to five pound range. We really want to get some big bass, and Geoff continues to work on developing the lake. The fish are getting bigger every year.

The Fieldmaster 81 passed with flying colors. The biggest surprise of the night almost made me drop the rod! Luke, my autistic son, was fishing with me. I turned around to talk to him as I put on another red wiggler, and I felt a strong hit on my rod. My head snapped around to see a bass taking my lillian that had dipped into the water! Being 8 meters out, it was fair game! It is red too! I don't usually laugh much when I am fishing, but I burst out cause I couldn't help it! Maybe I should put a hook on the lillian next time.

Don't be afraid of the long rods. I was making long casts, 16 meters, and hammering the fish this evening. The Fieldmaster 81 is a well balanced rod, and it made catching 2-4 pound bass a blast!
---
"The bitterness of poor quality remains long after the sweetness of low price is forgotten" - Benjamin Franklin
"Be sure in casting, that your fly fall first into the water, for if the line fall first, it scares or frightens the fish..." -
Col. Robert Venables 1662
As age slows my pace, I will become more like the heron.

---
Warning:
The hooks are sharp.
The coffee's hot.
The fish are slippery when wet.
Beware of the Dogma

---