2010 Tenkara Year In Review
by Brandon
(Phoenix, AZ)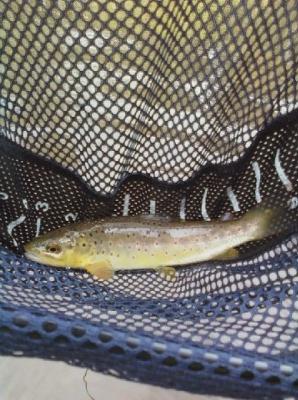 Wild Brown on a Killer Bug
I kept a log of my tenkara fishing during 2010 (my first year fishing this way), and after seeing our host's percentages of fish caught on different flies I decided to figure out my own numbers. I made 13 trips last year to fish for trout with my tenkara rod, all in two different creeks. Average fishing time spent per trip was probably 3 hours or so.

I enjoy tying flies, so each trip usually included some time fishing various experiments at the vise, along with fishing the sakasa kebari. For my first year of tenkara fishing my numbers were:
84% of trout caught on the sakasa kebari
13% of trout caught on the killer bug
3% caught on various other trout flies

I don't think the sakasa kebari is a superior fly, and I'm sure I caught so many on my fish on it because I fished it so often. Had I fished the killer bug (or probably any other fly) I think the totals would be similar. But I am glad I kept track, because I spend way too much money (at least my wife says so) on fly tying materials, and I plan to change that in 2011 by sticking with just one fly for trout fishing.

For my sakasa kebari I used either a Mustad S80 (3906) or a Daiichi 1120, both in a size 14. I felt like I was able to fish a little bit deeper with the Mustad, but I also feel like my hooking percentage (of fish that hit my fly) was higher with the Daiichi. Which hackle I used didn't seem to matter much. I started out with some various patches of necks and saddles I got from a variety pack (no crazy colors, mostly brown, black, and grizzly), then got a pheasant skin and used that. Thread color did seem to matter, and I caught all but a few trout on either black or a color called olive-green, both in UTC 70 denier Ultra thread. Bright colors didn't seem to work at all.

I tie my killer bug a little bit differently from the TenkaraBum version. I could not find any of the yarn he uses, but I found Paton's Classic Wool Yarn (color natural), which was a gray-ish color with some red fibers running through it. For wire I use UTC Ultra Wire, size x-small. It is a little hard to work with, as it breaks easily, but when I tried using thicker wire my flies ended up just being an ugly clump of wire, especially the whip finish at the rear. I tried it with and without the Sand Prismacolor marker, and it didn't seem to matter too much. But the marker does kind of fuzz up the fly a lot, making it look buggier. As for hooks I tied it on a Mustad S80, both in size 12 and 14, and the 14 was way more productive.

Despite the percentages, for 2011 I am going to fish the killer bug. Although it only caught 13% of my tenkara fish in 2010, I only fished with it 2 times - probably for a total of about 5 hours. One out of every eight tenkara trout caught all year, all in just a few hours. It was that productive. And it wasn't a fluke, as it was over two days of fishing over a month apart from each other. I didn't tie the fly until later in the year, otherwise who knows what would have happened? I may try tying it on a slightly longer nymph hook, but I think I'd be fine with what I have been using. The sakasa kebari is a great fly, and when you show it to other anglers chances are they have never seen anything like it. But I have noticed that it isn't very durable. After two or three fish the hackle starts coming apart, and I have had several that the thread body started to come apart as well. In contrast, the first day I used the killer bug, I caught six trout in the first pool I fished, all on the same fly. I couldn't even tell it was used.

I know it sounds crazy to limit myself to just this fly, but one of my New Years resolutions is to spend as little money as possible on fly tying supplies. Other than buying hooks and wire, I have enough yarn to last a lifetime (not that I'm planning on fishing just the killer bug for the rest of my life). I'm sure I could get along with just the sakasa kebari, or any other fly for that matter. Or I could continue to use lots of different patterns. But I love the idea of using just one fly, and with tenkara, and the techniques I have learned, I am now catching more trout than I ever did before.

---
"The bitterness of poor quality remains long after the sweetness of low price is forgotten" - Benjamin Franklin
"Be sure in casting, that your fly fall first into the water, for if the line fall first, it scares or frightens the fish..." -
Col. Robert Venables 1662
As age slows my pace, I will become more like the heron.

---
Warning:
The hooks are sharp.
The coffee's hot.
The fish are slippery when wet.
Beware of the Dogma

---