Wide Eye hooks for full throttle Fishing!
by Les Albjerg
(Caldwell, Idaho)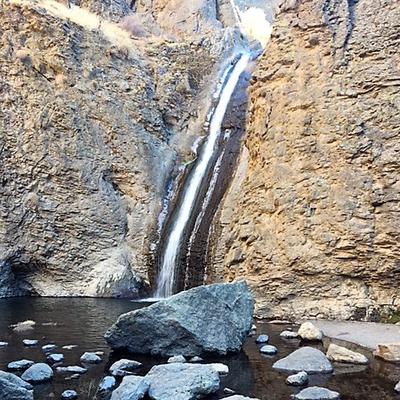 Jump Creek Falls
I tied up some Utah Killer Bugs and bead weighted worms on the SBL 35 Wide Eye hooks. These are well made, strong, thin wired hooks that catch fish. I had lots of nibbles with the other hooks, but only landed fish using the Wide Eye hooks. Jump Creek where I fished is a high desert stream with a few holes that have red-band rainbow trout. I had a five fish day. The big one was 6 inches, the others were 3-4 inches. I also enjoyed my Suntech GM Suikei Keiryu Special 44. I was able to work the pool at 44, 40, and 36. I was using a level size 3 line and a 6x tippet. I love my new Suntech rod! I could really feel the fish nibbling the flies. This pool doesn't get fished much because it is a swimming hole in the summer. It is the closest place I can go to fish for wild trout from my house. It was nice to fish on a stream again, rather than a pond. It was amazing the difference in using a light wire hook vs a standard hook. If you haven't given the Wide eye hooks a try, you ought to. I am also amazed how the Suntech GM Suikei Keiryu performs. I like it at all lengths. It casts different at all three lengths, but it is accurate at all three lengths. I can cast it at all three one handed, but at 44 going to a two handed cast it seems feather like. A couple of guys came along after Frankie and I got back to the car, and I was able to show off my rod (or is it a pole?). They saw me in my fishing gear, but didn't see my rod. When I took the Suntech out of the sleeve, and extended it 14 plus feet their eyes got big. I then handed it to them and they were astonished at how light it is. They were impressed and I wrote down the TB website for them to look up. Maybe my Tenkara evangelism is beginning to work.
---
"The bitterness of poor quality remains long after the sweetness of low price is forgotten" - Benjamin Franklin
"Be sure in casting, that your fly fall first into the water, for if the line fall first, it scares or frightens the fish..." -
Col. Robert Venables 1662
As age slows my pace, I will become more like the heron.

---
Warning:
The hooks are sharp.
The coffee's hot.
The fish are slippery when wet.
Beware of the Dogma

---