What rod is your "Go to" Rod?
by Les Albjerg
(Caldwell, Idaho)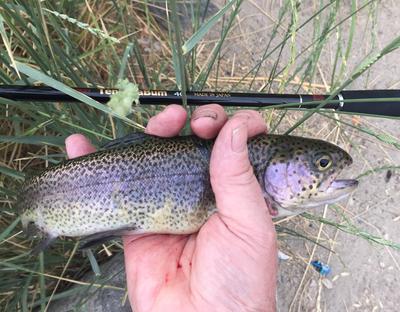 Nice trout on TB 40
After purchasing several rods, I never thought I would have a "go to" rod. I have resisted this notion, but now realize I do have a "go to" rod. I guess it is O.K. To me a "go to" rod isn't the same as answering the question, if I could only have one rod, which one would it be? The answer to that question for me would be the Kyogi 18. I suspect that that will change when I get my special order Kyogi 15. The Kyogi is a "do everything" rod. What I mean by a "go to rod" is the one that you most want to fish with if the conditions are right.

I sort of had a "go to" rod with the Suntech GM Suikei Keiryu Special 44. It is an awesome rod. I loved the three lengths, 360, 400, and 440. However, it doesn't handle the wind of Idaho like I wanted it to, so I ended up buying a Suntech Genryu Sawanobori 45. This is an awesome rod for the wind. Among my rods, this is the best Czech Nymphing rod. I have also been doing spoon fishing with it too! So, as much as the Keiryu Secial 44 was "my go" to rod, it like I suspect all zoom rods, had compromises.

Early this summer and into mid summer, my youngest son has rekindled his interest in fishing. On our 3rd trip into the mountains, he got his hands on the Suntech GM Suikei Keiryu Special 44, and wouldn't let go! The last thing I wanted to do was discourage him, so I gave him the rod. That said, I had a plan! My son likes things simple. My favorite mountain stream is ideal for a 400 cm rod, so I bought a TenkaraBum 40. Once it arrived, I told John we needed to head back up to my favorite stream. My plan was after a couple of hours, casually suggesting that we switch rods. I figured he would like the TenkaraBum 40 because it was a more simple rod, and it had a handle. The first fish I caught up there on the TenkaraBum 40 was a nice 15 inch Cutthroat. The stream we were fishing is fly fishing only. It nailed the Keeper Kebari, and I couldn't believe what a fun fight it was. The bend profile of the TenkaraBum 40 is amazingly smooth and powerful! About an hour into my fishing session, I began to realize how accurate I was able to cast with this rod! At this time, I was sight fishing to a couple of nice 12 inch Brookies. I dropped the Keeper Kebari in just the right spot, and wham!, fish on. It was a "Many" fish day for both of us. In the mid-afternoon, the winds came up. I looked over at John, and he was struggling a little with the Keiryu Special to put the fly where he wanted it. I noticed that with the TenkaraBum 40, I wasn't having that issue! I was hooked on this rod! I never did switch rods with my son. On the drive home, I decided that I need to test the TenkaraBum 40 on sunfish.

I headed down to my favorite pond, and totally enjoyed catching 3-7 inch bluegill and pumkinseed sunfish. Awesome! It wasn't as fun as with the Suntech Kurenai HM30R, but I didn't have to worry if a 3 pound bass nailed my fly or red wiggler. So, then I was off to the Boise River where I fish the transition between warm water fish and trout. After catching three brown trout (12-14 inches), and two nice 17 inch smallmouth bass, I was grinning ear to ear! I never thought I would have a "go to" rod. I thought that fixed line fishing was always going to demand a unique rod for each situation.

With the TenkaraBum 40, I discovered that this rod has been engineered to navigation the narrow window of versatility without compromise that I didn't think existed. When I go fishing, this rod is always with me. My first thought is, "Can I fish this area with the TenkaraBum 40." It doesn't always work. Three weeks ago, I was at Wilson Creek. I began with the TenkaraBum 40, and caught several fish. I spotted a very nice 17 inch rainbow down in the brush. After 4 attempts to get my fly down in there, and leaving two of them in the trees, I collapsed the TenkaraBum 40, and pulled the Diawa Kiyose SF 30 tucked in my bag. It was "Fish ON" on the first cast, and the battle was epic, and I needed the shorter rod. My view of the TenkaraBum 40 is that it isn't a compromise rod, by a very carefully engineered rod that gives you maximum versatility. I love this rod! My next rod, will be the TenkaraBum 33. Chris has designed an awesome winning series of rods with the TenkaraBum 33, 36 and 40. They are a bargain at the price point too! I was going to fool my son into a trade, instead, I discovered a real "go to" rod for me. I believe that I am just scratching the surface of the potential of this rod.

What is your "go to" rod?
---
"The bitterness of poor quality remains long after the sweetness of low price is forgotten" - Benjamin Franklin
"Be sure in casting, that your fly fall first into the water, for if the line fall first, it scares or frightens the fish..." -
Col. Robert Venables 1662
As age slows my pace, I will become more like the heron.

---
Warning:
The hooks are sharp.
The coffee's hot.
The fish are slippery when wet.
Beware of the Dogma

---