Two Winners: ZimmerBuilt Tenkara Sling Lite and Guide Sling Packs
by John Evans
(San Antonio, TX)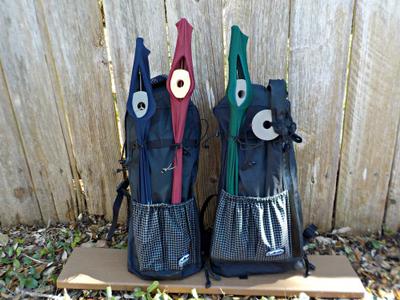 ZimmerBuilt Tenkara Sling Lite Pack on Left and Guide Sling on Right
What do you look for in a lightweight day pack for tenkara or keiryu fishing? Quality? Good price? Durability? I think most of us want functional dependability. We want a pack that's light enough for day hiking and fishing, yet large enough to hold our rods, tippets, flies, and so forth. A bulky pack is just too much; a flimsy, dime store pack just won't hold up.

I'm happy to say that Christopher Zimmer of ZimmerBuilt Packs makes two sling packs that really fit the bill. Both the Sling Lite and Guide Sling packs, offered by Chris Stewart at tenkarabum.com, are especially made for tenkara and keiryu anglers.

Sling packs have a single shoulder strap that angles across your back. These packs have their main zipper openings down the side and carry up to four Tenkara rods in back pouches, with straps that really hold the poles securely.

Both packs are extremely lightweight and durable. For example, the Sling Lite pack weighs just 6.5 oz, while the Guide Sling pack is only slightly heavier at 10.25 oz. All of the materials Christopher uses are Tough with a capital "T." I've carried these packs through the bumps and bruises of all-day fishing trips in rough country with nary a squabble.

ZimmerBuilt's pride in workmanship is obvious. The sewing is topnotch, the zippers are carefully laid in, and the design is thoughtful. I like to say that these are dependable packs with serious intentions. They're meant to be used hard, while keeping the weight to a minimum.

Chris summarizes his approach this way: "With my tenkara gear I wanted to make a line of packs that specialized in holding tenkara rods and the gear that tenkara anglers use. I start the design process by taking the features I want the pack to have, or the features other tenkara anglers are looking for, and design a pack to incorporate those features. I try to make these packs to be as light and durable as possible, using high quality American-made materials."

Christopher is truly a one-man operation. He personally makes these packs in his small workshop just outside of Doylestown, Ohio, and his design experience really shows. He got his first sewing machine in 2009, and his work grew until he was able to leave his "day job" as an environmental geologist and devote his full time to making custom backpacks.

I purchased both my packs off the TenkaraBum website and use them regularly. Which of the two is my favorite? I'd have to say the Tenkara Guide Sling right now. With its two zippered compartments, it has enough size to hold four tenkara rods, plus compact raingear, spools of tippet, flies, water, and a sandwich, no problem. The carrying strap on this sling pack is especially comfortable, with a little extra padding that helps. The Sling Lite pack is better if you want to reduce the weight as much as possible, with a minimum of gear. When I go to a local creek for a couple of hours of fishing, that's the pack I often grab. Sometimes less really is more! When my wife and I fish together, however, I always carry the Guide Sling because we tote a few more items and a little more water.

It's important to remember that neither pack is designed to carry waders or other bulky gear. They're not overnight packs or anything like that. Since I almost always put on my waders before heading to the water, this is never a problem. In hot weather, I "wet wade" without waders. Just remember that these packs are designed to be worn while you're fishing, with minimum fuss and maximum utility. They really follow the contour of your back, and they stay in place once they're properly strapped on. Both packs are comfortable, yet secure.

I might mention one potential problem I worried about when I first ordered both the Sling Lite and Guide Sling. I'm left-handed, and I wondered if the slant of the sling pack over my left shoulder would interfere with my normal casting stroke or if the pack would somehow restrict my left shoulder movement. The answer is a happy "NO," even if I'm carrying the extra-long collapsed length of the Nissin Royal Stage Honyru 330. Of course, the Honyru does stick up higher, but I've never had this rod fall out of the back pocket when I've secured it properly, and I've never hit it in the back pocket with my back cast. The casting stroke is so short in tenkara that it's just not a problem. Left-handers, take heart!

I also like the subdued colors and functional elegance of the ZimmerBuilt packs. My biggest gripe about some packs today is that they have all of these unnecessary straps, pouches, and doodads that only add to the weight and get in the way, plus they're produced in such loud colors that you look like an overgrown parakeet floating through the woods. The neutral black with some small crosshatches of white on the Sling Lite and Guide Sling is just right in my book.

In short, the ZimmerBuilt Sling Lite and Guide Sling packs are made just right for tenkara and keiryu fishing. They're made right here in the U.S. by a true craftsman who understands what we're looking for, and they make our time in the water even more enjoyable. Both packs are real winners.

---
"The bitterness of poor quality remains long after the sweetness of low price is forgotten" - Benjamin Franklin
"Be sure in casting, that your fly fall first into the water, for if the line fall first, it scares or frightens the fish..." -
Col. Robert Venables 1662
As age slows my pace, I will become more like the heron.

---
Warning:
The hooks are sharp.
The coffee's hot.
The fish are slippery when wet.
Beware of the Dogma

---