Tippet Pouch
by Phillip Dobson
(Montana )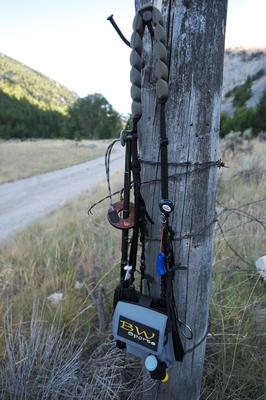 I think I've found my complete minimalist system. At the core is the BW Tippet Pouch, but I've made a few modifications.

The first addition was a camera strap from Goodwill. It's comfy, stays put, and most importantly is long enough for cross body carry. I don't like things in front of me, so I swing the bag behind when I'm actually fishing. I wrapped the stock straps with their swivels around the main straps. I can easily slide them up or down, and they keep everything securely attached.

I also added a glasses pouch and a cinch strap for rod carry. This is perfect for longer walks. I put the tip cap in the pouch when I'm fishing.

The system easily carries a few line spools, tippet, a fly box, and some streamside tools. The elastic strap on the front holds a bottle of floatant conveniently upside down. Just make sure to strap it to something else, as it can fall out if you are trying to outrun a thunderstorm. I pack one of a couple Morrell fly boxes, depending on the type of fishing I expect to do.

I like this system a lot more than a normal lanyard or vest. Vests are way too bulky for my taste. If I need that much stuff, I'll bring a backpack. Lanyards, on the other hand, don't carry extra flies and line without having them swing around awkwardly. With the improved tippet pouch, I have everything I need for a few hours of fishing

Another modification that I had to do was to the velcro strap in the back. It's a little long, so it attached itself to my shirt nonstop. I didn't want to cut it off, just in case I wanted to overstuff the pouch. Instead, I just attached a rectangle of material that I cut out of a really crappy beer coozy. The protects me from the velcro, but keeps the easy to grab extra length.
---
"The bitterness of poor quality remains long after the sweetness of low price is forgotten" - Benjamin Franklin
"Be sure in casting, that your fly fall first into the water, for if the line fall first, it scares or frightens the fish..." -
Col. Robert Venables 1662
As age slows my pace, I will become more like the heron.

---
Warning:
The hooks are sharp.
The coffee's hot.
The fish are slippery when wet.
Beware of the Dogma

---