Tip Grip™
A Tip Grip™ is a small piece of non-skid drawer liner that gives you a much better grip on a stuck rod tip section. To free a stuck section, you only have to move it by about 1/4" at most. The problem is getting a good hold on the stuck section, particularly if you have cold or wet hands. One of these non-skid pads will greatly increase your ability to collapse a stuck section without breaking it.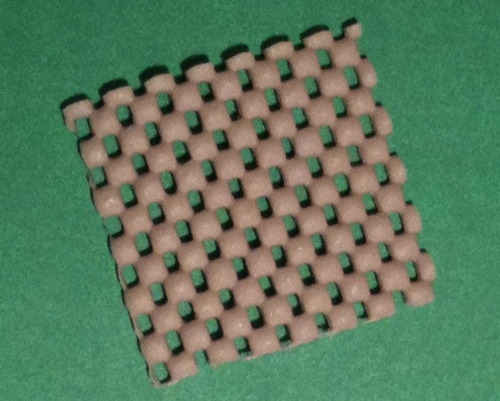 Tip Grip™


Tip Grip™ use

To use the Tip Grip™, place the rod butt snug against your waist and wrap the last three fingers of your left hand around the front end of the butt section. With your thumb and first finger, wrap the Tip Grip™ around the stuck piece. The edge of the Tip Grip™ should be just touching the end of the butt section. Your thumb and first finger should be at about the middle of the Tip Grip™. Squeeze tightly - but not so tightly that your squeeze bends the stuck section. See photo at left.
Wrap your right hand around the left, with your right thumb and forefinger squeezing the Tip Grip™ and stuck section just above (and touching) your left thumb and forefinger. (Not having three hands, I can't take a photo of this step.) Be absolutely certain that the grip of your two hands does not bend the stuck section.
To collapse the stuck section, just pull straight back towards your waist with both thumbs and forefingers. Because your grip on the stuck section is only about a half inch above the butt section, there is little chance of putting too much sideways pressure on the stuck section as long as you are very careful that your right thumb and forefinger and your left thumb and forefinger are in perfect alignment, and you carefully and consciously pull straight back.


You can easily make one these yourself, but you'd have to buy a full roll of the drawer liner when you only need a very small piece to make a Tip Grip™. I've got a better idea. I'll give you a Tip Grip™, free, with any rod purchased from TenakaraBum.com. You don't even have to ask for it. (If you want more than one, feel free to ask for one on subsequent orders.)
Disclaimer
The Tip Grip™ carries no warranties, either expressed or implied. It is an aid, not a magic bullet. If the tip grip doesn't free your stuck section, try the rubber band method outlined on the Rod Care page. It is a bit more complicated than the Tip Grip™ but it almost always works, even when the Tip Grip doesn't .


Yeah, I find the ™s a little annoying, too, but I like the Tip Grip™ name and now I'm on record (7/18/10).
---
Return from Tip Grip™ to Tenkara Accessories

Return from Tip Grip™ to TenkaraBum Home


---
"The bitterness of poor quality remains long after the sweetness of low price is forgotten" - Benjamin Franklin
"Be sure in casting, that your fly fall first into the water, for if the line fall first, it scares or frightens the fish..." -
Col. Robert Venables 1662
As age slows my pace, I will become more like the heron.

---
Warning:
The hooks are sharp.
The coffee's hot.
The fish are slippery when wet.
Beware of the Dogma

---