The Wait is Over!
by Les Albjerg
(Caldwell, Idaho)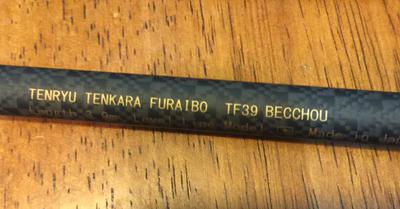 Unique Weave
The phone rang at work yesterday at about 1:00. My wife told me that a package had arrived from New York. The long anticipated Tenryu Tenkara Furaibo Becchou had arrived. It turned into a long afternoon at work!

As I carefully opened the box, waves of doubt hit me, "What if I don't like this rod?" I don't buy things to look at primarily. That said, I am an admirer of "Functional Art." I create functional art in my wood shop. When Chris first posted the opportunity to get this rare rod, I thought to myself, "If there is anyway I can swing this, I am going to get one." Unlike many who voiced their opinion on the forums, I thought the price was reasonable. The skill, labor, and time that went into not only making the rod, but the carbon cloth shines through in the final product. My new rod is named "Benelli." I had a very nice ultra-light 28 gauge Benelli semi-auto sitting in the gun safe collecting dust because I have another 28 that I shoot so much better. Selling it more than covered the price of the Becchou.

When I pulled the rod out, I was stunned by the beauty of the weave in the rod case (picture 3). Tenyru spared no detail in this package! I opened the case and was greeted by a very nice cloth sleeve similar to what Suntech rods come in. I found the slot and pulled out the rod. My first thought was, "Wow, I really like the texture of the handle." (picture 2) Before I extended the rod, I played with various positions of`holding the rod. It feels really good in the hand! I then went out in the backyard and extended it. John Evans has commented on the fit of the Tenyru rod he owns. This rod is no different. Each section snugged up just perfect. In the sun, the weave of the cloth takes on an almost 3D effect. I false cast it a few times. My impression was that this is the most full flex rod I own. They have put water in the irrigation canals, so I got out my size 3 level line and a size 14 Kebari and headed the 200 feet to the nearest canal to do some casting.

This rod not only looks good, it is silky smooth to cast. There was very little wind last evening, so I had ideal conditions. I picked out several smooth stones across the canal as targets. I was dropping the fly on every target after the first 5 casts. It didn't take long for this rod to feel like an extension of my arm. One of the reasons I like to practice cast on the canals is there are no fish. One of these days I am going to be surprised! It is moving water and simulates a stream pretty well. I am not sure when I am going to get out and fish it. I have decided that I am going to use a Kebari, and fish traditional Tenkara to catch my first fish with it. Sorry Red Wigglers. Indian Creek isn't blown out, so I may head down there tomorrow morning.

I know this rod was expensive. I was shocked when Chris told me how few people took this rare opportunity to get a piece of functional art. I was also shocked at how much work Chris did so those who did take advantage could enjoy this rare opportunity. Chris does have the Tenryu Furaibo TF39 and TF39TA in stock. According to Chris the Becchou has a faster action than the standard rods. That is fine by me. So a BIG Thank You to Chris for working so hard to get us the best equipment out there. I wonder what unique rod will be next!
---
"The bitterness of poor quality remains long after the sweetness of low price is forgotten" - Benjamin Franklin
"Be sure in casting, that your fly fall first into the water, for if the line fall first, it scares or frightens the fish..." -
Col. Robert Venables 1662
As age slows my pace, I will become more like the heron.

---
Warning:
The hooks are sharp.
The coffee's hot.
The fish are slippery when wet.
Beware of the Dogma

---