Suntech Keiryu Special 27
The Suntech Keiryu Special 27 has been replaced by the TenkaraBum Traveler 27, which at this writing has been discontinued.

---
The Suntech Keiryu Special 27 is a new rod intended for tenkara fishing in small overgrown streams. You could use it for keiryu fishing in extremely small streams, or for micro fishing, but the basic idea from the very beginning was to create the best possible rod for small stream tenkara.
This rod has been a long time coming. Ever since Daiwa discontinued the Soyokaze years ago, I have looked for a 270-length rod that would be a good replacement. The Kiyotaki 27 was just too stiff. The Kosansui 270 was better, but still a bit stiffer through the mid section than I wanted.


My goal was a rod that was light weight, could cast a very light line, and would be well suited to the size fish people are going to catch in small streams. That might mean 7" brookies in the Appalachians or Adirondacks, but fish twice that size in the small streams Tom Davis fishes in the northern Rockies.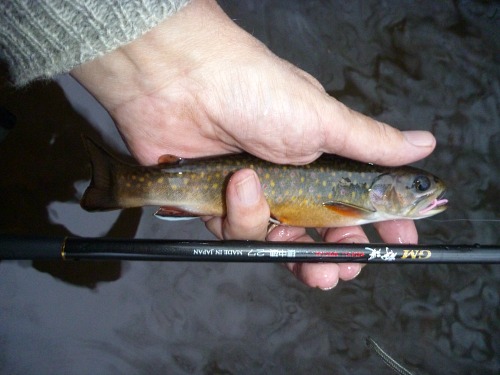 That's not the easiest goal to accomplish. To get it done I went to Suntech - and as expected, Suntech came through! The Suntech Keiryu Special 27 is a light (1 ounce) rod that will cast a size 2.5 line nicely. If there's a bit of a breeze, though, the rod won't be overburdened with a size 3.5 line or a furled line. The tip sections are light enough that it is a fun rod with 7" brookies but there is enough muscle in the mid and butt sections to handle larger fish.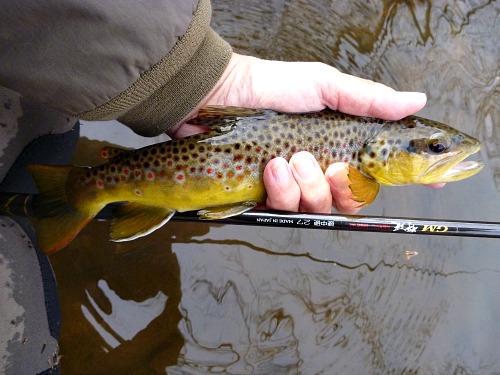 How large? If you are skilled at landing large fish, you will be surprised at how large a fish this rod can handle. I was shocked when I received a photo from one of the first people to buy the rod. I will not post the photo because I don't want to encourage people to target fish larger than those for which the rod is intended. Suffice it to say that the rod can handle just about any fish you could hook in a stream small enough that you would want to use a 9' rod. (Of course, the rod is so light and so nice to fish with that you might want to use it even on streams that are large enough for longer rods.)


The Suntech Keiryu Special 27 measures 13.5 pennies.

By way of comparison, the Suntech Kurenai HM30R measures 7.5 pennies, so the new Keiryu Special 27 is significantly more capable. The Kurenai HM39R, Coach's "go to" rod, measures 12 pennies and he has caught fish to the mid teens with it. The Nissin Pocket Mini 270 measures 14 pennies, and I have taken trout to 13" with it. The Fine Mode Kosansui, which I felt was stiffer than I wanted, measures 19 pennies.

The Suntech Keiryu Special 27 is not the rod I would choose to go looking for 16" fish. I intended it to be a small stream rod, not a big fish rod. That said, it is nice to know that if you happen to hook the king of the stream, you can actually land it (and the fish in the photo that I refuse to post was significantly larger than 16").

Similarly, the rod can handle modest bead head nymphs. I wouldn't fish a size 8 double tungsten stone fly nymph with it, but I wouldn't fish one in a small stream anyway. I think you'll find that you can fish the flies you want to fish, using the line you want to use, and have fun catching the fish that live in the small streams you want to fish.
The rod is capable enough and versatile enough that it will be the rod included in the TenkaraBum Small Stream Tenkara Kit.

Suntech Keiryu Special 27 Features


The rod has a keiryu/seiryu style grip, basically just a widened out section of the blank itself, coated with a smooth but effective non-skid covering. The grip is narrow, as you might expect on a one ounce rod, but not as narrow as on either the Kurenai HM30R or HM33R.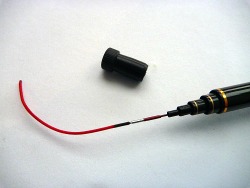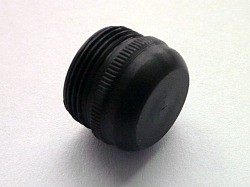 The tip plug is smaller than on the Kurenai rods, and is knurled rather than smooth sided. The lillian is attached with Suntech's signature "Lillian Spin" swivel. The tip section easily passes through the second section.
The grip screw cap is also knurled for easy tightening or removal. The cap is rounded, making it quite comfortable to hold the very end of the rod. There is no ventilation hole - which exists on some rods not so they can dry out but rather so you do not have to fight back pressure when collapsing the rod. On a small rod like this, there isn't enough back pressure to notice.)
Suntech Keiryu Special 27 Weight
Length (extended)
Length (collapsed)
Sections
Tip Diameter
Butt Diameter
Tippet
Pennies

1 oz
9' 1/2"
21 5/16"
6
.6mm
17.8mm
9X-6X
13.5
---
"The bitterness of poor quality remains long after the sweetness of low price is forgotten" - Benjamin Franklin
"Be sure in casting, that your fly fall first into the water, for if the line fall first, it scares or frightens the fish..." -
Col. Robert Venables 1662
As age slows my pace, I will become more like the heron.

---
Warning:
The hooks are sharp.
The coffee's hot.
The fish are slippery when wet.
Beware of the Dogma

---