Suntech Kaname III FP
---
Vacation
I will be away from June 4 through and including June 11. Packages will not get shipped and emails will not get answered while I am away.

---
The Suntech Kaname III FP is the latest improvement in the Kaname series. My first keiryu rod was a Suntech Kaname. It was a wonderful introduction to keiryu fishing (although I think I fished it with weighted flies a lot more than with bait).  New to the Kaname III FP line-up are two shorter rods, the 38 and the 43.
The FP stands for Fine Power, and similar to the Suntech Fine Power NP rods, the Kaname III FP rods can handle a wide range of tippet strengths. Suntech recommends tippets anywhere from 9X to 5X.
The 38 and 43 length rods will seem somewhat familiar to people who have fished with the TenkaraBum Traveler 39 or 44 at full extension. They are not made on the same blanks, though. The Kaname III FP rods are single length rather than zoom rods. They are also noticeably lighter than the Traveler rods. They are rated for 5X rather than 6X.
The action is not the same either. The Kaname III FP rods have higher penny ratings than the Traveler rods, making them more capable all around. If you didn't want or need the zoom function, you probably would choose the Suntech Kaname III FP 38 over the Traveler 39 and the Kaname III FP 43 over the Traveler 44.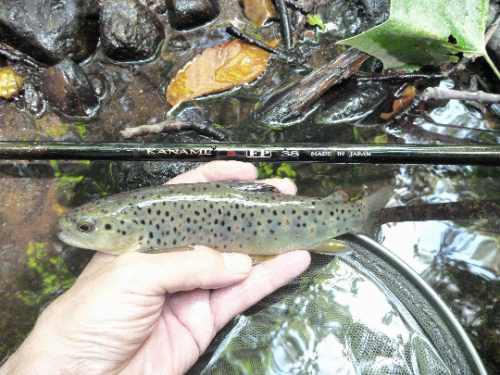 Suntech Kaname III FP 38
As with the Traveler rods, though, they are keiryu rods and as such are a bit better suited to fishing with weight, whether weighted flies or split shot, than they are to casting unweighted wets. You can certainly fish wet flies or dry flies with them, but realistically, you probably would prefer the casting action of an actual tenkara rod.
For fishing weighted nymphs, though, the action is much better than that of any tenkara rods (including the TenkaraBum 36 and 40). The Suntech Kaname III FP rods are very definitely tip action rods. The last few sections are soft, which will allow a fish to take the nymph and not feel much tension on the line. The midsection is relatively firm, though, which will give you more hook setting ability than a tenkara rod. The transition from the softer tip sections to the firmer midsections is very smooth. The Suntech designers know what they are doing! (Regarding hook setting, though, nearly everyone strikes way too hard. Truly, setting the hook takes no more force than picking up the line to make a new cast. Speed, yes. Force, no.)

For pure keiryu fishing (with bait, casting a split shot rather than the weight of the line), a 38 length rod is really quite short. It would do well for keiryu fishing in very small streams.
For fishing weighted nymphs with a tenkara line, though, it isn't too short and the Suntech Kaname III FP 38 is really very well suited. I cannot think of any other rod of about that length I would rather use.
In addition to having what I think might be the ideal action for fishing weighted nymphs, the rod is really quite light. It is only 2/10 of a ounce heavier than the Kurenai HM39R! The Kaname III FP 43 is only a few tenths of an ounce heavier than that (enough to be noticeable, though).
Perhaps because of the narrow grip and the relative stiffness through the midsection, the 43 is much closer to the point where you'd would rather fish a rod as a two-hander. Some people would be perfectly comfortable fishing the rod as a one-hander and some will prefer two hands. So far, I have fished the rod only as a one-hander and it didn't strike me as either heavy or unwieldy. I noticed the inertia much more just wiggling the rod in the apartment than I did on the stream.
If you are looking for a fixed line rod for Euro nymphing, either of these rods would be ideal. Similarly, if you are looking for a keiryu rod for small streams, that's exactly what these rods were designed for.

Suntech Kaname III FP stats
Suntech Kaname III FP 38

Length - 12'4"
Length (collapsed) - 23 1/2"
Weight (with Fuji cap) - 2.0 oz
Weight (without cap) - 1.7 oz
Sections - 8
Tip Diameter - .75 mm
Butt Diameter - 19.4 mm
Tippet* - 9X - 5X
Pennies 21
Made in Japan

Kaname III FP 38 - $210
---
Suntech Kaname III FP 43

Length - 14'0"
Length (collapsed) - 23 1/2"
Weight (with Fuji cap) - 2.6 oz
Weight (without cap) - 2.1 oz
Sections - 9
Tip Diameter - .75 mm
Butt Diameter - 19.4 mm
Tippet* - 9X - 5X
Pennies 25
Made in Japan

Kaname III FP 43 - $225
---
The Kaname III FP is available in 53, 63 and 71 lengths by special order.

* The Suntech tippet rating of 9X - 5X is a general guideline based on the tippets Japanese anglers actually use. It is not an assurance that the tippet will break before the rod does. Japanese anglers catch 9" fish and they don't set the hook like pro bass anglers. They don't break rods on hook sets. If you break a rod (any rod) on the hook set, you set the hook too hard. Period.
I know that muscle memory is hard to overcome. If your muscle memory requires you to set the hook aggressively, use the recommended 9X tippet.

Shipping
Domestic shipping is via USPS Priority Mail (2-3 day delivery). Rates will vary with package weight and destination. Most rates will be between $14.50 and $20.50. You can see the rate in the checkout process before the purchase is finalized.

Please note: All packages are shipped via USPS. If you have a PO Box, please list ONLY the PO Box in your address, not the PO Box and your street address.
If you live in an apartment, please put the apartment number in the same box as the street address (as in 123 Main St. Apt 45).
Please do not put anything in the box for "Company" if it isn't absolutely necessary. Not "self", not "none" not "--". It wastes your time to put it in and it wastes my time to take it back out. Please just leave it blank.

International Shipments

International purchases may be subject to import duties and taxes. I cannot keep track of all import regulations in all countries written in all languages. Understanding and paying import duties and taxes is the responsibility of the buyer.
Russia
TenkaraBum.com no longer ships to Russia.

UK

TenkaraBum.com no longer ships to the UK. The new VAT regulations are too onerous for a one-man shop that rarely ships anything to the UK anyway. I apologize. 

---
TenkaraBum Home > Keiryu Rods > Kaname III FP

---
"The bitterness of poor quality remains long after the sweetness of low price is forgotten" - Benjamin Franklin
"Be sure in casting, that your fly fall first into the water, for if the line fall first, it scares or frightens the fish..." -
Col. Robert Venables 1662
As age slows my pace, I will become more like the heron.

---
Warning:
The hooks are sharp.
The coffee's hot.
The fish are slippery when wet.
Beware of the Dogma

---