Suntech Field Master is the Cat's Meow
by Robin Evans
(San Antonio, TX)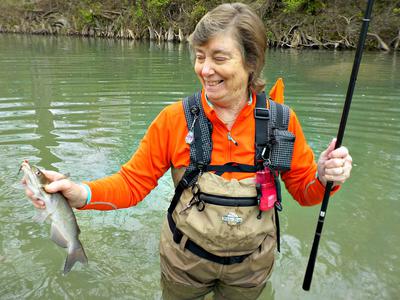 Two of My Favorite Things: Channel Catfish and the Suntech Field Master 39
My husband, John, writes articles for the TenBum blog, but I thought I'd give him a break and tell you about my favorite fish and rod. I love to catch catfish, and the rod I use most often is the Suntech Field Master 39. I think it's a wonderful rod for the skillet-size channel cats I normally catch.

Channel catfish have always been my favorites, though it's hard for me to say why. They have their own kind of beauty and they can be a real challenge on a tenkara or keiryu rod. They are tough fish, and you have to be careful how you handle them because of their sharp fins. When you're fighting them, they pull straight down or head for rocks and logs.

My husband enjoys fishing with flies that he ties, but I prefer to use live butter worms or nightcrawlers. I normally bounce a beadhead hook along the bottom, near large rocks or structure where catfish hang out. I don't mess with fly tying, but John ties my hooks in the way I prefer. He uses a long-shank nymph hook with a white bead at the head. I have him build a ramp of thread behind the bead to hold it in place. I like the long-shanked hooks because they seem to hold the worms better. See the last picture above for an example.

I prefer tenkara or keiryu rods with some backbone. The Suntech Field Master 39 can be fished at different lengths and is stiff enough to get catfish in. It's a high-quality rod that fits my needs. I've caught dozens of catfish with it, and it's never given me any trouble.

Fried catfish is one of our favorite meals, rolled in cornmeal and done to a golden brown. If the channel cats are caught in clean water, they don't have a strong, fishy flavor at all. If John and I go to the Guadalupe River, and I catch a mess of cats, I feel like I've had a good day.

---
"The bitterness of poor quality remains long after the sweetness of low price is forgotten" - Benjamin Franklin
"Be sure in casting, that your fly fall first into the water, for if the line fall first, it scares or frightens the fish..." -
Col. Robert Venables 1662
As age slows my pace, I will become more like the heron.

---
Warning:
The hooks are sharp.
The coffee's hot.
The fish are slippery when wet.
Beware of the Dogma

---