Shimotsuke Tenkara Gen 240
I believe the Tenkara Gen 240 has been discontinued by Shimotsuke.

---
The Shimotsuke Tenkara Gen 240 is an inexpensive 8' tenkara rod suitable for children, for microfishing or for the smallest of headwater streams. It will appeal to anglers who want a rod more capable than the Nissin Air Stage Hakubai 240 and more appropriate for tenkara casting than the Shimotsuke Kiyotaki 24 or Daiwa Keiryu-X 24.

I have known about the rod for some time. I ordered a 240, a 270 and a 300 for evaluation as soon as I heard of them. Almost immediately I chose to use the 270 as the rod in the Kid's Tenkara Kit, replacing the Fine Mode Kosansui 270. The Tenkara Gen 270 isn't a "better" rod than the Kosansui, but it does have an action more appropriate for learning tenkara.
I hesitated on the 240. For 240 length rods, I prefer the Nissin Air Stage Hakubai 240. It and the Tenkara Gen 240 do fill different niches, though, and will appeal to different people. The Air Stage Hakubai is a much softer rod (7 pennies compared to 14 for the Tenkara Gen). Thus it would be much more appropriate for smaller fish. It would be more fun with micros and would be ideal for little 5-7" wild brookies.

When I took a Shimotsuke Tenkara Gen 240 out to give it a try, I hooked what looked like about a 14" holdover brown trout. The Tenkara Gen 240 held its own until the hook pulled loose but I would say that is about the limit for the rod. Had there been rapid current to deal with as well, I think the little 240 may have been outgunned. The much less capable Air Stage Hakubai 240 would have been outgunned from the outset even in quiet water.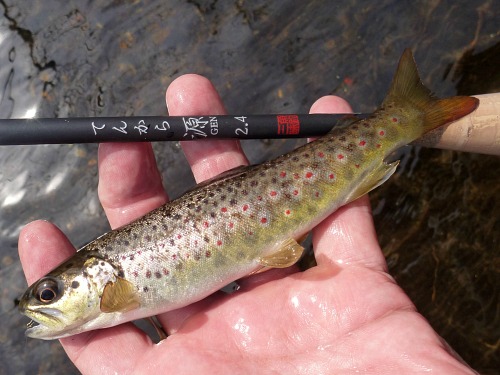 You (and your kids) will enjoy the Shimotsuke Tenkara Gen 240.
The Tenkara Gen 240 will appeal to people who fish in small, overgrown streams that might hold fish twice as long as the little brownie shown above. When Tom Davis did a review of the rod he did in fact catch a 14 inch brown trout! I wouldn't go out looking for 14 inchers with this rod, but if you happen to hook one (and the hook doesn't pull loose) you might actually be able to land it.

It will also appeal to people who want a rod that will do double duty - Mom or Dad get to fish with it in the narrow, overgrown little streams, and their young children get to fish with it in the town park. There aren't many people who would entrust an Air Stage Hakubai to a youngster. And if you have two youngsters, you can get two Shimotsuke Tenkara Gen 240s for less than the cost of one Air Stage Hakubai.
(If you don't have youngsters or 12-14" fish, you might prefer one Hakubai over two Tenkara Gens, though.)

Shimotsuke Tenkara Gen 240 Features

The grip is very narrow for a tenkara rod. It will fit a child's hand easily. The rod weighs just 1.5 ounces so a large grip isn't necessary anyway. The grip is cork and has rubber/cork composite at each end for durability. It is not top quality cork but at this price point you are lucky to get cork at all.


The paint scheme is reminiscent of the Shimotsuke Kiyotaki, with olive green accents at the section ends. Most of the blank is a matte gray rather than a shiny black, which is a nice touch for fishing in close quarters.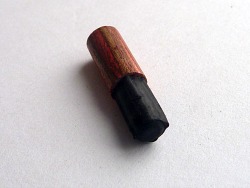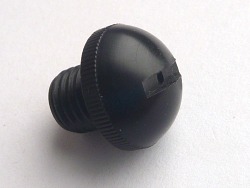 The tip plug is wood (looks like a nice grade of plywood, actually) and rubber. The rubber portion is squared, but I think that is mostly so the plug will stay in place rather than to allow inserting the plug with the line still attached to the rod. The grip screw cap is plastic and has both knurling and a coin slot. There is a hole for ventilation. 
I would much rather be known for high quality than for low price. This is  pretty clearly a low price rod rather than a high quality rod. However, it does fill a certain niche better than any other rod I know - and I guess that's good enough.
Shimotsuke Tenkara Gen 240
Length extended - 8'1"
Length collapsed - 19 9/16"
Weight (without cap) - 1.5 oz
Sections - 6
Carbon/Glass % - 90/10
Tippet recommendation - None given (probably safe with 6X)
Pennies - 14

TenkaraBum Home > Tenkara Rods > Shimotsuke Tenkara Gen 240

---
"The bitterness of poor quality remains long after the sweetness of low price is forgotten" - Benjamin Franklin
"Be sure in casting, that your fly fall first into the water, for if the line fall first, it scares or frightens the fish..." -
Col. Robert Venables 1662
As age slows my pace, I will become more like the heron.

---
Warning:
The hooks are sharp.
The coffee's hot.
The fish are slippery when wet.
Beware of the Dogma

---