Shimano Pack Tenkara

The Shimano Pack Tenkara 31-34 ZW is a new zoom rod developed for backpackers. It collapses to a short length (about 16 3/4") and will fit in even a modest daypack. It can be fished at either 310 cm or 340 cm (about 9'11" or 10'11"), which will be appropriate lengths for many headwaters streams.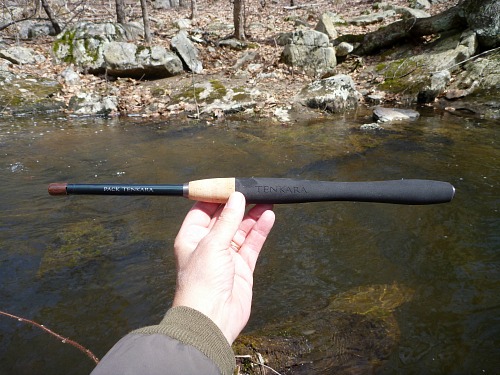 The Shimano Pack Tenkara 31-34 ZW collapses to less than 17 inches.
As with other Shimano tenkara rods, it has a hollow tip section. That gives it a slightly different action than most other manufacturers' rods, which generally have solid tips. When casting the rod, my first impression was that it is a relatively firm full flex rod, with a casting stroke that felt almost slow and deliberate. When wiggling or casting the rod, it seems to bend in the middle of the rod but not in the tip area, which just feels very different than other rods. With a fish on the line, though, the rod has a nice bend.
The action reminded me a little bit of the Shimano LLS36NX. With the hollow tip, that rod produced the most effortless tight loops I have ever achieved with a tenkara rod. The the Shimano Pack Tenkara rod is more full flex than I recall of the LLS36NX, though. It doesn't feel like most other tenkara rods, but it does cast quite nicely.

If your current favorite rod is a Shimano LLS36NX or a Shimano Keiryu Tenkara 34-38 ZL, you might absolutely love the Shimano Pack Tenkara. If your current favorite is the much lighter, much faster TenkaraBum Traveler 39, you might not like the Pack Tenkara at all.
So far, I only know of a couple people who have one - anglers who love Shimano rods and hunted one down in Japan as soon as they learned of its existence. They love it. It's just what they wanted in a short pack rod.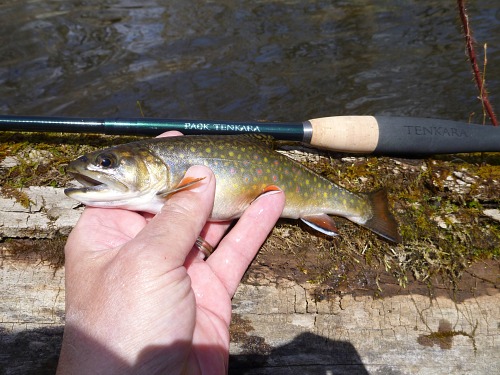 Real Tenkara Anglers will be horrified to learn that this wild brookie was caught with a spoon.
Although I would describe the rod as a full flex rod, it does not feel like a soft rod. Comparing it to the Shimano Keiryu Tenkara 34-38 ZL, it is much closer to the 34-38 ZL at the shorter 34 length (3.4 meters, 11' 0") than at 38 (3.8 meters, 12'4"). Unlike the 34-38 ZL, though, both lengths of the Pack Tenkara feel pretty similar.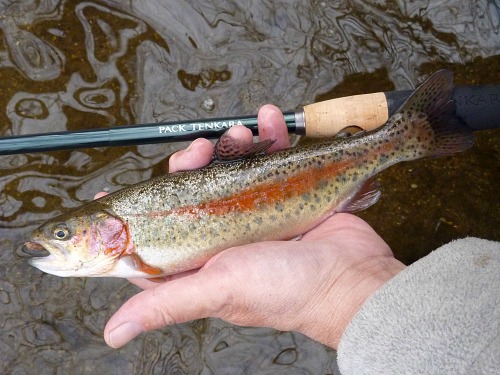 American Tenkara Anglers will think it quite appropriate that this stocked rainbow was caught with a Killer Bug.
With a penny rating of 16 at the shorter 3.1 meter length and 15 at the 3.4 meter length, the rod can handle larger fish than you are likely to find in the headwaters. If, however, the small, overgrown streams you fish hold 14 inch trout in fast current, you will appreciate the penny rating.

Given the short collapsed length and the clear intention to target backpackers, I suspect the rod will be compared with the Tenryu TF39TA, and perhaps to a much lesser extent with Nissin's new short-collapsed, stiff Ramon, and Tenkara USA's new short-collapsed, stiff reintroduced Hane. Neither the Ramon nor the Hane are zoom rods, though, so most of the head-to-head comparison will likely be with the TF39TA.
The Shimano Pack Tenkara is shorter when extended than the Tenryu TF39TA but longer when collapsed; it has two lengths compared to three for the TF39TA; it's a bit heavier, and has a hollow-tip action that is not what most people are used to - all of which suggests that the TF39TA will keep its most ardent fans.
Given that the Shimano Pack Tenkara is less than half the cost of the Tenryu TF39TA, though, I suspect it will generate a lot of interest - especially among Shimano lovers.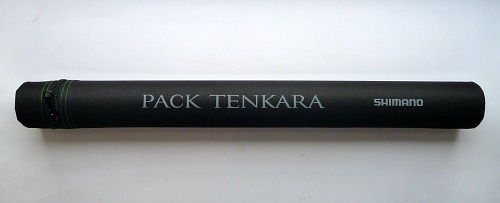 For years now, I have written that no Japanese tenkara rods come with a rod case. Now I have to go back and change all those comments. The Pack Tenkara comes with a hard case. The case is really surprisingly heavy but it is also probably bulletproof.
It reminds me of what once happened to the guy I go to Maine with on my bass fishing vacations. Years ago, he went on a horseback pack trip in Wyoming. On the very first day, the mule that was carrying much of the gear fell and landed on this guy's brand new, never-used, multi-piece pack fly rod. The rod broke before he even got to cast it once. (He may believe in omens because I don't think he has even touched a fly rod since.) Had he instead had a Shimano Pack Tenkara rod in the factory case, the mule would have broken a rib but the rod would have survived unscathed. If you have a mule to pack your gear, bring the case. If you are an ultralight backpacker, though, and have to carry your own gear, the case will never leave your home, or at least, your car.

Shimano Pack Tenkara Features

The Shimano Pack Tenkara grip is similar to the grips on the Shimano Keiryu Tenkara and Honryu Tenkara rods, with a short section of cork at the front of the grip and a hard EVA foam on the rest of the grip. The shape is the familiar two-hump camel shape, but with a subtle difference. The front part of the grip is noticeably thicker than on the other two rods. If you have large hands you may welcome the larger diameter. If you do not have large hands, it will feel strange.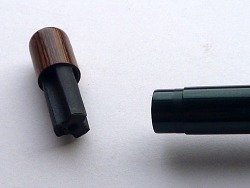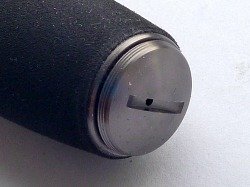 The tip plug is wood and rubber, with the rubber section heavily fluted. It will be easy to insert the tip plug when the line is still attached to the rod, which is a nice feature when you are backpacking.

The photo showing the tip plug also shows the small amount of the zooming section that extends beyond the grip section when the zooming section is not fully extended. Although that is a much, much shorter exposed length than on any other zoom rod I know of, it actually works just fine.
To extend the rod fully, when you push out the next smaller section just keep pushing. That will then pull out the zooming section. Pretty easy. That there is only a short amount of the zooming section showing beyond the grip section is no problem when collapsing the rod. It is really very easy to push it in as far as it will go.
The grip screw cap is metal and has a coin slot but no knurling. Do not make the mistake I did and try to loosen the screw cap by using your thumbnail in the coin slot. It will slice your thumbnail to the quick before you realize what is happening. You absolutely must use a coin.
Shimano Pack Tenkara 31-34 ZW

Length extended   9'11    10'11
Length collapsed   16 3/4"
Weight with plug   3.2 oz
Weight with case 12.5 oz
Sections             10
Carbon %            89.8
Pennies              16       15
Shimano does not give a range of recommended tippet strengths. Most Japanese tenkara rod manufacturers recommend tippet no stronger than Japanese size 1.2, which is equivalent to 3.6X.
All in all, the Shimano Pack Tenkara 31 - 34 ZW is a rod that backpackers can love (but not all will).

Shimano Pack Tenkara 31-34 ZW - $260
---
Shipping
A shipping charge of $10 will be added to all orders.
---
Payment
Payment is processed by PayPal but you don't need to have a PayPal account. You can use your credit card.
---
TenkaraBum Home > Tenkara Rods > Shimano Pack Tenkara 31 - 34 ZW

---
"The bitterness of poor quality remains long after the sweetness of low price is forgotten" – Benjamin Franklin
"Study to be quiet." - Izaak Walton 1653

"Be sure in casting, that your fly fall first into the water, for if the line fall first, it scares or frightens the fish..." Col. Robert Venables 1662

---
Warning:
The hooks are sharp.
The coffee's hot.
The fish are slippery when wet.
Beware of the Dogma

---