Shimano Maystone 36 NW
This page is provided for educational purposes. I do not anticipate having Shimano rods in stock in the future.
The Shimano Maystone 36 NW is a bit different from any other tenkara rod. It doesn't have a lillian but it does have a wood insert in its cork grip.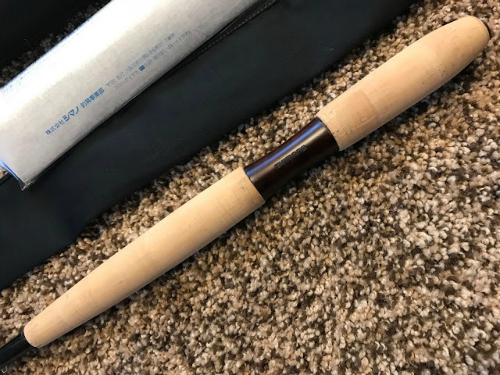 Hardwood insert in Maystone NW grip. Tom D photo.
The grip looks a little funny, but it feels good and gives you the same two different hand positions as the common "camel" two-hump grip. You can get used to it in about two minutes (maybe 20 seconds).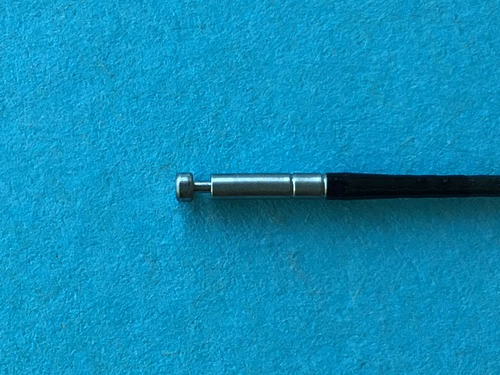 Rotating "super sensation" top.
The Shimano Maystone 36 NW does not have a lillian. It has what Shimano calls a rotating super sensation top. I have seen that before on keiryu rods (for example, the Suntech Grayce II) but never before on a tenkara rod. It does work nicely. You can use either the slip knot or the girth hitch that you would use with a lillian. Tying the line directly to the rod is indeed more sensitive than tying it to a lillian, which does create an extra inch of slack.
Conceptually, that is easier for a new angler to understand than tying a knot in the lillian or putting the lillian through the loop in the slip knot twice. Looping the slip knot over the super sensation top is very direct. easy to understand, easy to do and yes, it really is super sensitive.

This is a fun rod!
One feature of the Shimano Maystone 36 NW that I really like is the hollow tip section, which is a feature found in all Shimano tenkara rods and in the Daiwa Expert and Master LL rods - all of them absolutely top end rods from the top companies in Japan.

It's a little hard to describe exactly how the hollow tip makes the casting different, but it does. When you halt your forward cast the rod tip continues to travel forward and then bounces back. A hollow tip isn't as flexible as a solid tip. When you make your forward cast, a hollow rod tip doesn't bend over quite as far. The rod tip takes a straighter path, which results in a tighter loop and a straighter line as the line rolls out and turns over.
The hollow tip section may take a little while to get used to (about as long as the unusual grip). Because the tip is a bit firmer, it feels like the bend is deeper in the rod, closer to the grip. Once you do get used to it I think you will like it.
If you want a premium 12' tenkara rod, seriously consider the Shimano Maystone 36 NW.

Shimano Maystone 36 NW Stats

Weight
Length
Collapsed
Sections
Tip Dia.
Butt Dia.
Tippet
Pennies
2.4 oz
11' 8"
21 5/8"
8
1.4 mm
9.5 mm
Shimano doesn't say. Probably 5X.
14.5
Rod made in Indonesia

---
TenkaraBum Home > Tenkara Rods > Shimano Maystone 36 NW

---
"The bitterness of poor quality remains long after the sweetness of low price is forgotten" - Benjamin Franklin
"Be sure in casting, that your fly fall first into the water, for if the line fall first, it scares or frightens the fish..." -
Col. Robert Venables 1662
As age slows my pace, I will become more like the heron.

---
Warning:
The hooks are sharp.
The coffee's hot.
The fish are slippery when wet.
Beware of the Dogma

---