Covid-19 Announcement
Most international flights have been cancelled.
There is no ETA for out-of-stock items that come from Japan.
Shipments to overseas buyers will take longer than normal - possibly much longer. Patience is a virtue - especially in fishing.

---
Shimano Maystone 36 NW
The Shimano Maystone 36 NW is a bit different from any other tenkara rod. It doesn't have a lillian. It has a wood insert in it's cork grip.
It has a hook holder.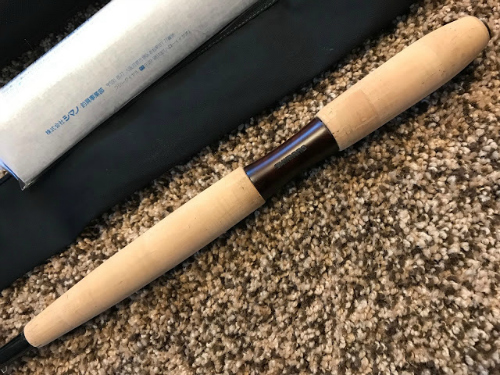 Hardwood insert in Maystone NW grip. Tom D photo.
It appears that the design goal was to make a rod that would appeal to fly fishermen. Granted, the Maystone doesn't have a reel seat, but the hardwood insert in the grip is so reminiscent of the select hardwood reel seat spacer on a premium fly rod that it is hard to imagine another reason for it.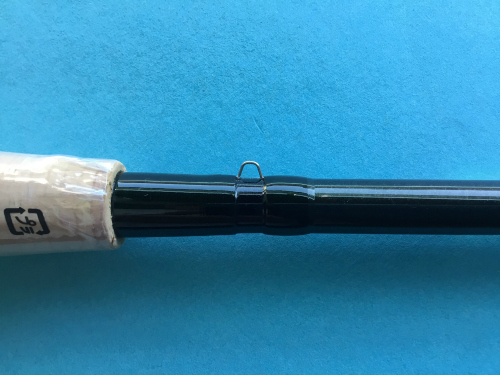 Shimano Maystone NW hook holder.
Even stranger is the hook holder. No other tenkara rod I know of has one. The only way I can think of to use it would be to hook the fly into the hook holder and then wrap the loose line around the grip, which you would hold in place with your hand. You could do this with the rod extended or collapsed, and it would indeed be better than just holding loose coils of line in your hand with the fly dangling free or with the hook stuck into the cork grip. Personally, I don't think it is a better solution than a Meiho Tenkara Line Holder or a pair of Fuji EZ Keepers. It is sleeker, though, and a angler more used to fly rods might expect to see one.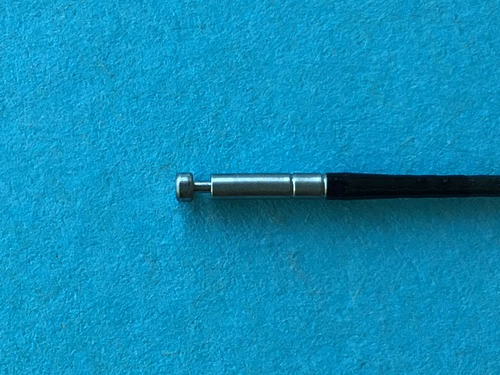 Rotating "super sensation" top.
The Shimano Maystone 36 NW does not have a lillian. It has what Shimano calls a rotating super sensation top. I have seen that before on keiryu rods (for example, the Suntech Grayce II) but never before on a tenkara rod. It does work nicely. You can use either the slip knot or the girth hitch that you would use with a lillian. Tying the line directly to the rod is indeed more sensitive than tying it to a lillian, which does create an extra inch of slack.
Conceptually, that is easier for a new angler to understand than tying a knot in the lillian or putting the lillian through the loop in the slip knot twice. I can certainly understand that it would be a lot more attractive to an angler who doesn't know that tenkara is a method in which you detect strikes by sight rather than by feel.

This is a fun rod!
Having read the above, you might think I don't like the rod. Actually, I do. A lot. The Shimano Maystone 36 NW is really a very nice rod. The grip looks a little funny, but it feels good and gives you the same two different hand positions as the common "camel" two-hump grip. You can get used to it in about, oh, two minutes.

The "super sensation" top actually is a bit easier than the familiar lillian for attaching the line to the rod. You still have to be careful to not put sideways pressure on the rod tip, but it does work and works well.
I don't think I'll ever use the hook holder, but having it is no disadvantage.
One feature of the Shimano Maystone 36 NW that I really like is the hollow tip section, which is a feature found in all Shimano tenkara rods and in the Daiwa Expert and Master LL rods. It's a little hard to describe exactly how that makes the casting different, but it does. When you halt your forward cast the rod tip continues to travel forward and then bounces back. A hollow tip isn't as flexible as a solid tip. When you make your forward cast, a hollow rod tip doesn't bend over quite as far. The rod tip takes a straighter path, which results in a tighter loop and a straighter line as the line rolls out and turns over.
The hollow tip section may take a little while to get used to (about as long as the unusual grip). Because the tip is a bit firmer, it feels like the bend is deeper in the rod, closer to the grip. Once you do get used to it I think you will like it.

Shimano Maystone 36 NW Stats

Weight
Length
Collapsed
Sections
Tip Dia.
Butt Dia.
Tippet
Pennies

2.4 oz
11' 8"
21 5/8"
8
1.4 mm
9.5 mm
Shimano doesn't say. Probably 5X.
14.5
Shimano Maystone 36 NW - $280
---
Shipping
Domestic shipping is $10 via USPS Priority Mail (2-3 day delivery).
The charge for international shipping depends on the destination country, the weight of the package, the overall length of the package and the value of the package. Packages under 24" long and under $400 in value will go via USPS First Class International. Packages over 24" or over $400 will go via USPS Priority Mail International. The international shipping charge will be calculated at checkout.
International purchases may be subject to import duties and taxes. I cannot keep track of all import regulations in all countries written in all languages. Understanding and paying import duties and taxes are the responsibility of the buyer.

---
TenkaraBum Home > Tenkara Rods > Shimano Maystone 36 NW

---
"The bitterness of poor quality remains long after the sweetness of low price is forgotten" – Benjamin Franklin
"Be sure in casting, that your fly fall first into the water, for if the line fall first, it scares or frightens the fish..." Col. Robert Venables 1662
As age slows my pace, I will become more like the heron.

---
Warning:
The hooks are sharp.
The coffee's hot.
The fish are slippery when wet.
Beware of the Dogma

---