Shimano BG Tenkara 48NV
The Shimano BG Tenkara 48NV is their newest, longest and strongest tenkara rod. The "BG" stands for Big Game, and the rod is intended for trout of 50cm (20 inches) and a bit larger. It is NOT intended for 30" fish, sakuramasu (sea run yamame, which are analogous to our steelhead) or salmon.
In describing the rod, Dr. Ishigaki said "for some time, there have been many requests for a Tenkara rod that has more power than the mainstream Tenkara NP." More power was wanted for large stocked fish in the managed "Areas" and large wild fish in Hokkaido.

Dr. Ishigaki with 22 inch rainbow trout
For ten years now, we here in the US have been told that tenkara is a game for small fish - only for trout and only in mountain streams. The trout in the mountain streams of Japan don't get very big. There was a famous (at least among fishermen) film called The Shaku Hunter, which was about one man's quest to catch a trout in Japan that was a shaku in length. Ultimately, he was unsuccessful in his quest.
That a film would be made, and be popular, and the famous quest prove unsuccessful really underscores the size of fish Japanese tenkara anglers catch.  A "shaku" is less than 12 inches!
My first reaction was that a major Japanese rod company making a two-handed tenkara rod designed specifically for fish up to twice that size appeared to be a tectonic shift in Japanese tenkara. Upon further reflection, that was reading too much into it.
For some time there have been a handful of Japanese anglers who have specialized in Honryu Tenkara - tenkara fishing in main rivers as opposed to mountain streams. For years, Gamakatsu has offered a 5m Honryu Tenkara rod that has a grip long enough for two-handed casting. I saw and wiggled one at the Osaka Fishing Show years ago and decided it was stiffer than anyone here would want. Of course, that was before I started selling carp rods to trout anglers!
The Shimano BG Tenkara 48NV seems to be quite a bit different than the 5m Gamakatsu Suimu Multiflex. Although I have not seen the Shimano rod yet (it is scheduled for release December 20) it is described as having a 6:4 action. Dr. Ishigaki made a point of saying that it is a strong rod, not a stiff rod. I am confident that it would be more fun to fish with than the Gamakatsu. On the other hand, the only person I know who has the 5m Gamakatsu doesn't describe it as a stiff rod.

Unfortunately, Shimano has not answered the question that I know most US tenkara anglers will want to know: maximum recommended tippet strength. However, one has to assume the rod can handle the tippet required to land 24" trout. I asked Dr. Ishigaki for his guidance. He recommended tippet WEAKER than 2X, suggesting that 3X tippet is a reasonable maximum for the rod.
Dr. Ishigaki also said the Shimano BG Tenkara is not a rod for light lines. He suggested size 4 level line, although he also suggested that casting a 5m line or a 10m line might require different lines. I think the answer is to start with a size 4 for your 5m line.
Sunline sells an 8m single strand (not furled) fluorocarbon line that tapers from size 4.5 to size 1.5, which I should have in the shop before I actually receive the BG Tenkara rods. It is clear, which suggests you will not be fishing a 8.5m line dead drift and watching for a slight line twitch. If you are fishing down and across, or pulsing your fly in a large bank eddy (which is how YouTube videos protray Japanese Honryu Tenkara fishermen), the fly will be near the surface, moving as if it were alive, and the strikes will not be subtle.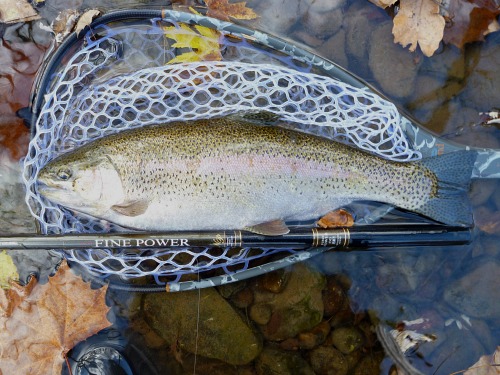 21" trout caught with a two-handed rod
TenkaraBum.com has offered two-handed keiryu rods for big-fish, big-water tenkara fishing for nine years now. Zen Tenkara has been designing and building big-fish tenkara rods for at least six years. Badger Tenkara designed their WISCO rod as a big-fish rod with a two-handed grip five years ago. I am not at all surprised that a rod would be designed to catch 20+ inch trout in big rivers. It really shouldn't be a surprise that a major Japanese rod company did it.

Here in the US, we are blessed with more than a few rivers that on any given day (and on any given cast) could yield a 20-24" trout. Anglers here have been fishing two-handed rods to cast tenkara lines and flies to big fish in big water for close to a decade. It has never been accepted as true tenkara. Perhaps that will now change.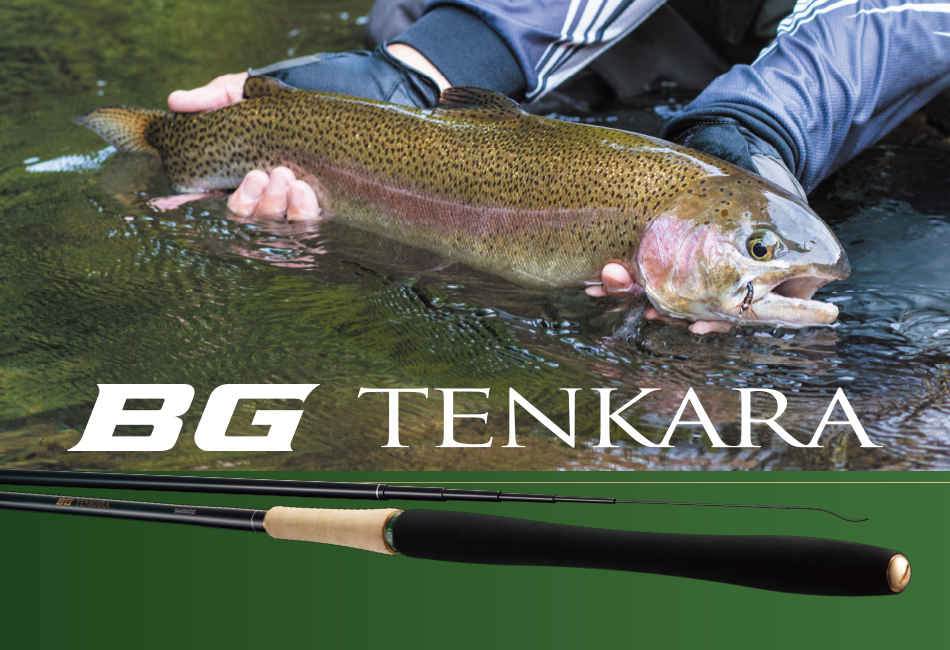 Shimano BG Tenkara 48NV
Extended
Collapsed
Sections
Weight

4.8 m (roughly 15' 9")
94.5 cm (37.6")
6
128 g (4.5 oz)

I will order a few of the new Shimano BG Tenkara 48NV. I have no ETA at this point. At the current exchange rate, the price looks like it will be around $420, but that will change as the exchange rate changes.
---
TenkaraBum Home > Tenkara Rods > Shimano BG Tenkara 48NV

---
"The bitterness of poor quality remains long after the sweetness of low price is forgotten" - Benjamin Franklin
"Be sure in casting, that your fly fall first into the water, for if the line fall first, it scares or frightens the fish..." -
Col. Robert Venables 1662
As age slows my pace, I will become more like the heron.

---
Warning:
The hooks are sharp.
The coffee's hot.
The fish are slippery when wet.
Beware of the Dogma

---