Quivers and Velcro
by Alan Luecke
(Kansas City, MO)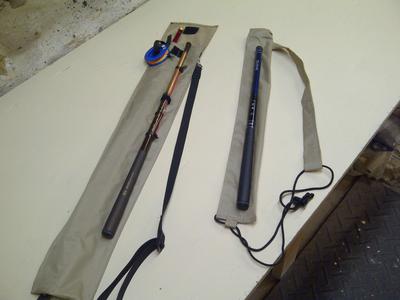 Pack cloth quivers
I'd like to share some things I've been doing with rod and line transport and management. I've made two Ebira type quivers from pack cloth material I found at Quest Outfitters.- questoutfitters.com They're nice folks and have all types of fabric as well as the straps, buckles and toggles to hook it all together.

Making stuff is the best part of having a hobby and I've enjoyed working with new materials, but truth be told, I've only really used the quivers as rod covers I stuff in my backpack. I like to keep my rods rigged with line while I'm out and that makes quivers problematic. My solution is some great stuff from Quest called no-snag-velcro or Uni-tape. It's a hook and loop material with both components on the same surface. The loops stick up higher than the hooks which provides the no snag feature. I've added a thin strip of this stuff to the quivers as line spool holders - run it through the spool and stick it to itself. So far it's working. Clawing through heavy brush with an exposed reel on your back might be a problem, but so far so good.

My other use for Uni-tape is as an EZ-Keeper line cinch. I, like a lot of people, have ended up using mainly line spools because of their flexibility, but a Soyokaze with EZ-Keepers and a Killer Bug is always in my pack. A small strip of this stuff wrapped snugly around the line and rod mid way between the EZ-Keepers stabilizes and secures the whole system. No more coming loose inside the backpack.

My next project is to get the rods out of the backpack entirely. I'm thinking of a larger adjustable tube that can hold all the rods and clip to the side of the backpack or be carried separately with a strap. I've gone public, now I have to do it.
---
"The bitterness of poor quality remains long after the sweetness of low price is forgotten" - Benjamin Franklin
"Be sure in casting, that your fly fall first into the water, for if the line fall first, it scares or frightens the fish..." -
Col. Robert Venables 1662
As age slows my pace, I will become more like the heron.

---
Warning:
The hooks are sharp.
The coffee's hot.
The fish are slippery when wet.
Beware of the Dogma

---