Oikawa III
The Oikawa III has been discontinued and is no longer available. Please consider the Suntech Kurenai,  Nissin Air Stage Hakubai or Nissin Fine Mode Nagare.

The Shimotsuke Oikawa III is a wonderful rod for little wild trout in little wild streams. As do all Japanese rods, it comes in various lengths. I have a 290 and a 340 myself, and I have been able to order a couple for customers, but for quite some time I have not been able to get them. I hope they have not been discontinued, but that has already happened with a couple really fine rods.

As you can see from the photos, the name of the rod is actually "Just One the 追河 Type III 290CW". The 追河 characters are read "Oikawa" but I must confess I have no idea what "Just One the" is supposed to mean. Whatever it means and whatever the rod is called, I really like this rod. I call it the Oikawa III. To date, only a few other people in the US besides myself have one, and I can tell you that they really like it, too.
Being a very soft rod, it is also a small fish rod. I think the largest fish I've caught on the 290 was about 9". I have caught fish up to 12" on the 340 but that might be a bit much for the 290, particularly if there is any current to contend with.
The 290 is similar to the Suntech HM30 and Nissin Air Stage 290 - same weight, same length, same purpose. It is a softer rod than the the HM30, which in turn is a bit softer than the Air Stage. It is an incredibly sensitive rod. You can feel the rod load when casting a size 2 line. As Alan D mentions in the sidebar, he could feel the hits when he was fishing for mosquitofish! You're not going to get a rod more sensitive than that!

The rods are seiru rods, and are designed for smaller fish in placid streams. There are anglers in Japan who use seiryu rods for tenkara fishing, probably for the same reason I do: their light weight and sensitivity. I think most anglers in Japan use seiryu rods to fish for oikawa, which is a regional name for a fish also called yamabe. The English name for the fish is pale chub.
Very few people in the US specifically fish for chubs, probably because the average fish is only 5-7" long. With the right rod, though, a fish of that size can still be a lot of fun. One of my most memorable catches was a creek chub caught on the Oikawa III 290. It could not have been more than 7" long, but it was all I could do to keep it out of a downed tree that surely would have broken my 7X tippet. With the very soft rod it was quite a battle. It's all about matching the rod to the size of the fish.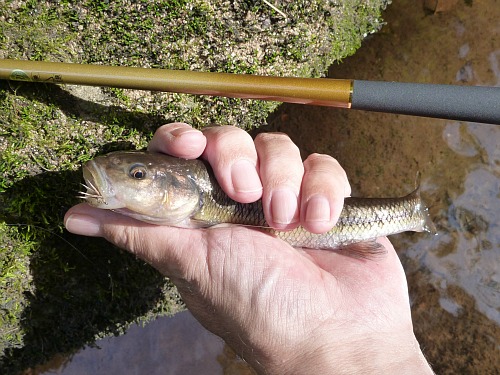 7" creek chub - a most memorable catch
I do not expect buyers of the Oikawa III to start seeking out the local creek chubs. I do expect they'll target little brookies or rainbows, or little wild browns. For the headwaters, the rod is just an awful lot of fun. I will say, though, that for the parts of the country that don't have little wild brookies or little wild browns, the creek chubs can be a hoot. (And if you don't even have creek chubs, you probably have sunfish of some variety - and they'll be a lot of fun on this rod as well.)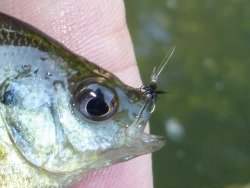 Given the sensitivity of the rod, if you were ever thinking of a getting a micro fishing rod that is capable of handling larger fish than the tanago rods, and is a significant upgrade in terms of fun factor from the Kiyotaki, the Oikawa III might be exactly what you are looking for. I do think that most people who get them will use them for trout fishing.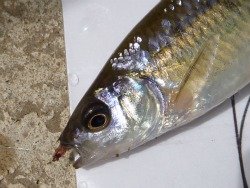 That said, they would be very well suited for any small fish. (At least, any small fish for which you don't need a heavy split shot to get your hook to the bottom and keep it stationary in current.)
If you wanted to fly fish for micros, and many micros will take very small flies, the Oikawa III is a very nice rod.
---
---
"The bitterness of poor quality remains long after the sweetness of low price is forgotten" - Benjamin Franklin
"Be sure in casting, that your fly fall first into the water, for if the line fall first, it scares or frightens the fish..." -
Col. Robert Venables 1662
As age slows my pace, I will become more like the heron.

---
Warning:
The hooks are sharp.
The coffee's hot.
The fish are slippery when wet.
Beware of the Dogma

---