Nissin Air Stage Fujiryu Tenkara
This page is provided for informational purposes only. I no longer import Nissin rods.

---
The Nissin Air Stage Fujiryu Tenkara rods are remarkably light, well balanced, wood gripped tenkara rods designed by one of the Japanese tenkara masters.
The Nissin Air Stage Fujiryu Tenkara rods were designed by a true master. They are extremely well balanced. The 5:5 models are as smooth as silk when casting and the 6:4 models are firmer than you would expect, suggesting they can handle fish a lot larger than the amago, yamame and iwana they were designed to catch.


The grip is cypress and is naturally non-skid. Someone who is used to the shaped cork grips of most tenkara rods or the thinner grips of seiryu and keiryu rods may be surprised at how well the grip fills your hand. Pick up the rod and wiggle it a bit and you will think that whoever designed this rod knew what he was doing. You will be right. The rod was designed by Hiromichi Fuji, who is one of the true masters of Japanese tenkara. He doesn't have years of experience, he has decades of experience.
Although the rod was designed to fish unweighted flies with furled lines, the firm tone actually make it one of the best tenkara rods for fishing weighted nymphs. As Tom Davis wrote in his review of the Air Stage Fujiryu Tenkara 6:4 360 "It's an excellent contact nymphing rod!" And although the rod is stiffer than most tenkara rods, Tom goes on to write "It's the real deal." Read Tom's Nissin Air Stage Fujiryu 360 6:4 review.
In the video that accompanies the review, he states that he rod is "Fantastic" and "Underappreciated." I couldn't agree more.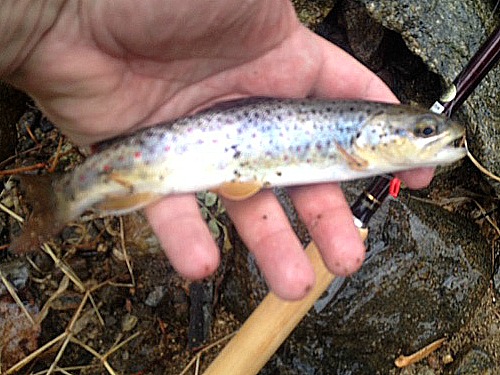 One of Jason F's little wild browns caught on a Fujiryu 360 5:5
The Nissin Air Stage Fujiryu Tenkara 5:5 rods are wonderfully smooth casting rods that are just ideal for modest trout. The 6:4 rods have surprising backbone. At 26 pennies, the Air Stage 6:4 410 could easily be your choice for a honryu tenkara rod for bigger water, longer lines and bigger fish.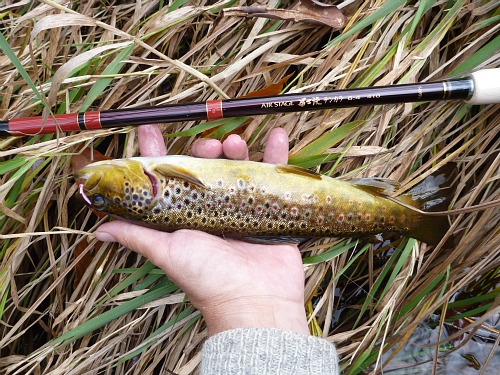 I recently received an email asking me to recommend a tenkara rod for fishing panfish poppers. It didn't take much thought to realize that the Nissin Air Stage Fujiryu 6:4 410 would be an excellent choice. The rod is firmer than most tenkara rods, so it can easily handle the extra weight and extra wind resistance of a popper. It can also handle the weight of the Daiwa Floating Line, which is what I would recommend for poppers (level fluorocarbon line would sink as you let the popper sit).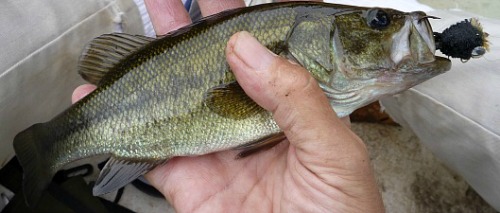 Bass bugs are considerably more wind resistant than panfish poppers, but the Daiwa floating line has enough mass to fish them effectively and the Nissin Air Stage Fuijiryu 6:4 410 has enough backbone to cast them. Not only that, it has the backbone to land pretty good sized bass.

The rod would also be my choice for fishing hoppers or a hopper/dropper on a big western river.
If you wanted one rod for bass and trout, the Nissin Air Stage Fujiryu 6:4 would be a very good choice.

Nissin Air Stage Fujiryu Tenkara Features
On a US forum, or in a Google translation, you may see the rod called "Fuji Flow." That is an incorrect translation. The rod is the Air Stage Fuji Style. I am sure it refers to Hiromichi Fuji's style of tenkara, but these are also quite stylish rods. The grip is unfinished cypress - and do not put your own finish on it. Cypress is naturally non-skid and is remarkably durable (it will last longer than you will). The hard grip is pleasant to hold and provides unmatched sensitivity.


The blank is a wine colored clear coat with terra cotta accents at the section ends. If you are not in direct sunlight, it is hard to see the wine color of the blank.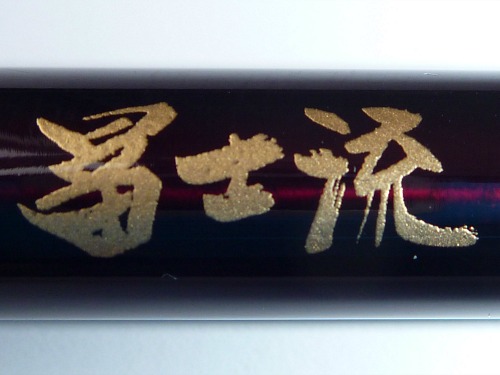 A flash photo will pick it up, although just barely.

The grip screw cap is metal, knurled for ease of removal, domed for comfort and has a hole for ventilation. (Be sure to tighten it before fishing and check it at lunchtime.) Other than the 410 6:4, the rods come with a Fuji KTC-12 cap, which is both more secure and harder to lose than the more common rod plugs. The 410 6:4 rod is equipped with a KTC-16.
On all the Nissin Air Stage Fujiryu rods, the lillian is glued directly onto the rod tip rather than attached with a swivel. The tip section easily passes through the #2 section.
This past year or two, the buzz has been all about other rods, but I am sure tenkara anglers here in the US will appreciate the master's hand evident in this rod. The Nissin Air Stage Fujiryu tenkara rods have been imitated but not equaled.
---
Model

Length Extended
Length Collapsed
Weight (w/cap)
Weight (w/o cap)
Sections
Tippet*
Pennies


5:5 330

11'0"
20 3/8"
2.9 oz
2.6 oz
8
5X
11


---
5:5 360

12'3"
20 3/8"
3.0oz
2.7oz
9
5X
12.5


---
5:5 410

13'7"
20 1/2"
3.5
3.2
10
5X
13


---
Model

Length Extended
Length Collapsed
Weight (w/cap)
Weight (w/o cap)
Sections
Tippet*
Pennies


6:4 330

10'11"
20 1/2"
2.8 oz
2.5 oz
8
5X
20


---
6:4 360

12'3"
20 3/8"
3.2oz
2.9oz
9
5X
22


---
6:4 410

13'7"
20 1/2"
3.6
3.2
10
5X
26|


---
---
Shipping
Domestic shipping will be $12.00 - $15.00 via USPS Ground Advantage (2-5 day delivery).

Please note: All packages are shipped via USPS. If you have a PO Box, please list ONLY the PO Box in your address, not the PO Box and your street address.
Please do not put anything in the box for "Company" if it isn't absolutely necessary. Not "self", not "none" not "--", nothing. It wastes your time to put it in and it wastes my time to take it back out. Please just leave it blank.

International Shipments

International purchases may be subject to import duties and taxes. I cannot keep track of all import regulations in all countries written in all languages. Understanding and paying import duties and taxes is the responsibility of the buyer.
EU
TenkaraBum.com no longer ships to the EU.


Russia
TenkaraBum.com no longer ships to Russia.


UK

TenkaraBum.com no longer ships to the UK. The new VAT regulations are too onerous for a one-man shop that rarely ships anything to the UK anyway. I apologize. 

---
TenkaraBum Home > Tenkara Rods > Nissin Air Stage Fujiryu Tenkara

---
"The bitterness of poor quality remains long after the sweetness of low price is forgotten" - Benjamin Franklin
"Be sure in casting, that your fly fall first into the water, for if the line fall first, it scares or frightens the fish..." -
Col. Robert Venables 1662
As age slows my pace, I will become more like the heron.

---
Warning:
The hooks are sharp.
The coffee's hot.
The fish are slippery when wet.
Beware of the Dogma

---