Nikko Waxworm

The Nikko Waxworm is an artificial waxworm. I had gotten a package years ago on one of my visits to Japan and although I caught fish with them I never did import them. I don't remember why I didn't, but some oversights are easy to fix.

I've done well fishing with waxworms for both trout and panfish. Real waxworms don't stay on the hook well, though. A waxworm is basically a tiny little oblong bag full of goo. Puncture the skin with a hook and before too long all the goo is gone.
Nikko Waxworm
The Nikko Waxworm solves that problem. It stays on the hook well. The plastic is really quite durable and will last for lots of fish.
For a while I carried Mummy Worms in the shop. Mummy Worms are preserved waxworms. I don't know just how they preserve them, but the goo is transformed into a waxy substance. They stayed on the hook better than live waxworms, but not nearly as well as the Nikko Waxworm.
Mummy Worms also need to be used fairly quickly or refrigerated. If I had a man-cave with a beer refrigerator it wouldn't have been a problem, but keeping the shop inventory in our small apartment's small apartment-sized refrigerator eventually caused a little tension.

The Nikko Waxworm solves that problem, too. Life's too short for domestic tension, especially when it is so easily avoided.
They really are a very good solution. You don't need to feed 'em, you don't need to refrigerate 'em, they're there when you need 'em and the fish seem to love 'em. They are non-toxic, swallow-safe, and biodisintegratable. They are scented, so check your state's regulations on the use of scented plastic baits.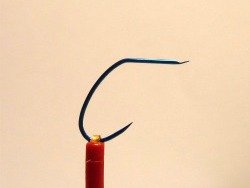 Gamakatsu Amago Hook
Because the Nikko Waxworm is fairly thick, you will need to use a wide gap hook. I have had good luck with the Gamakatsu Amago hook, which has a pretty extreme shape.
The hook does not have an eye, so you will have to snell it, but with a little practice, snelling a hook isn't much harder than threading your tippet through a hook eye.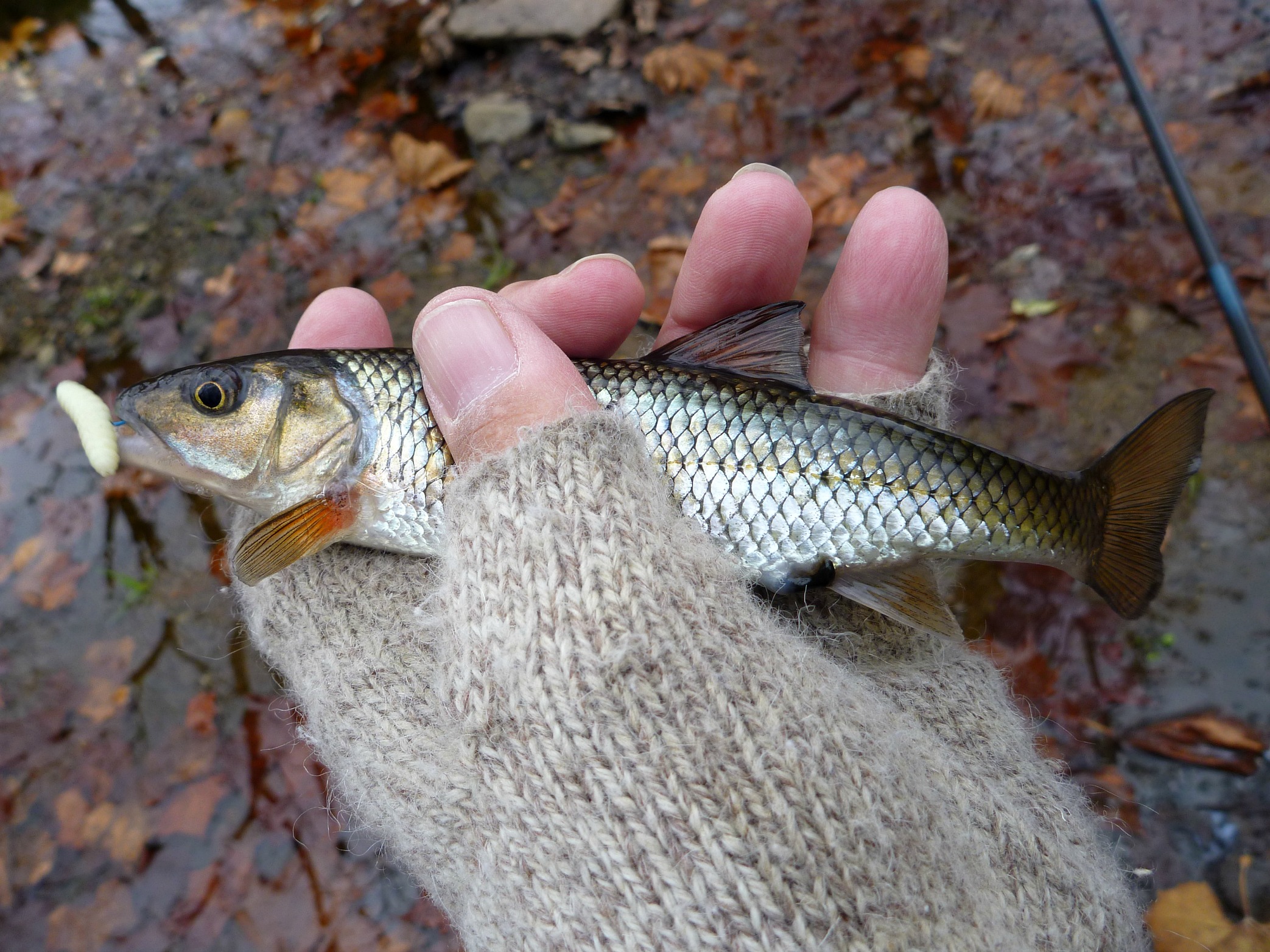 Nikko Waxworm and Fallfish
So far, I have used the Nikko Waxworms only when trout fishing, but some of the trout streams around here also have good populations of fallfish. Fallfish seem to like the Nikko Waxworms just as much as trout do.
They will float, so I fish them with a light split shot, which works nicely with keiryu rods and with the TenkaraBum 33, 36 and 40.

Nikko Waxworm

1" length
Soft, durable material

Scented
Package of 8
Keep Nikko Waxworms in the original packaging
Nikko Waxworm (pkg of 8) - $7.25
---
Shipping
Domestic shipping is via USPS First Class Mail (unless ordered with an item that must go via Priority Mail, and which has a higher shipping charge). Rates are $5.50 for packages that weigh under 8 ounces and $6.50 for packages that weigh over 8 ounces. The charge is added to your order automatically.
Please note: All packages are shipped via USPS. If you have a PO Box, please list ONLY the PO Box in your address, not the PO Box and your street address.
The charge for international shipping depends on the destination country, the weight of the package, the overall length of the package and the value of the package.
International shipments

International purchases may be subject to import duties and taxes. I cannot keep track of all import regulations in all countries written in all languages. Understanding and paying import duties and taxes is the responsibility of the buyer.
Russia
TenkaraBum.com no longer ships to Russia.

UK

TenkaraBum.com no longer ships to the UK. The new VAT regulations are too onerous for a one-man shop that rarely ships anything to the UK anyway. I apologize.

---
"The bitterness of poor quality remains long after the sweetness of low price is forgotten" - Benjamin Franklin
"Be sure in casting, that your fly fall first into the water, for if the line fall first, it scares or frightens the fish..." -
Col. Robert Venables 1662
"There is a time to go long. There is a time to go short. And there is a time to go fishing." - Jesse Livermore

---
Warning:
The hooks are sharp.
The coffee's hot.
The fish are slippery when wet.
Beware of the Dogma

---