Micro Finesse Original Bloodworm
The Eurotackle Micro Finesse Original Bloodworm is a 1" long rubber bloodworm. It is the perfect size for sunfish and larger micros like creek and river chubs or smaller fallfish. Trout will take them, too!
I have found the key to fishing such a small rubber worm is to thread about half the worm onto a size 12 or 14 hook and leave the other half of the worm to wiggle enticingly. That also puts the hook point closer to the middle of the worm, so it is more likely that a fish taking the worm also gets the hook.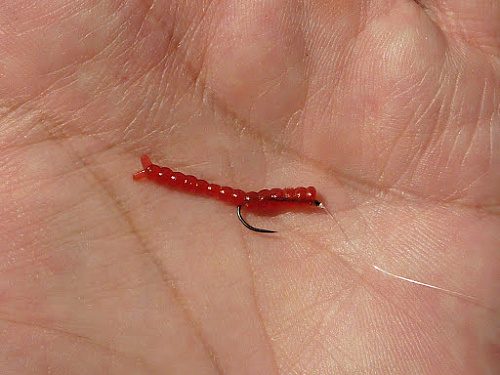 The main reason the Micro Finesse Original Bloodworm is such a great bait for sunfish is that it is small enough for a sunfish to suck it in and get the whole worm (and the hook).
They come 10 per pack. For smaller micros, if you wanted to use a smaller hook and smaller worm, when you break one off you could easily take just half the worm. If you use a smaller hook, though, you will definitely want a wide gap hook. They are too large for use with tanago hooks, and are really more seiryu sized rather than micro sized.
The packages says "Pheromone Technology" so they would not be legal where scented or flavored plastics are prohibited.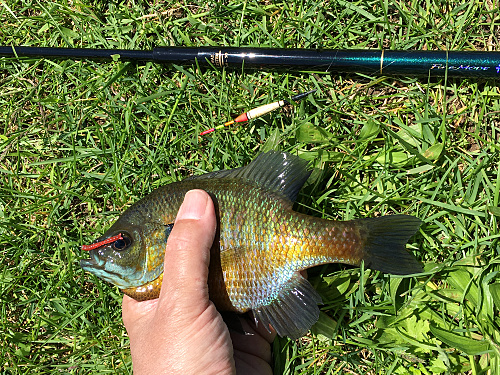 Eurotackle Original Bloodworm, pkg of 10 - $4.00
---
Shipping
Domestic shipping is $4, via USPS First Class Mail (unless ordered with an item that must go via Priority Mail, and which has a higher shipping charge). The charge is added to your order automatically.
Please note: All packages are shipped via USPS. If you have a PO Box, please list ONLY the PO Box in your address, not the PO Box and your street address.
The charge for international shipping depends on the destination country, the weight of the package, the overall length of the package and the value of the package.
Import Duties and Taxes

International purchases may be subject to import duties and taxes. I cannot keep track of all import regulations in all countries written in all languages. Understanding and paying import duties and taxes is the responsibility of the buyer.
---
TenkaraBum Home > Micro Finesse Original Bloodworm

---
"The bitterness of poor quality remains long after the sweetness of low price is forgotten" - Benjamin Franklin
"Be sure in casting, that your fly fall first into the water, for if the line fall first, it scares or frightens the fish..." -
Col. Robert Venables 1662
As age slows my pace, I will become more like the heron.

---
Warning:
The hooks are sharp.
The coffee's hot.
The fish are slippery when wet.
Beware of the Dogma

---