Kyogi Fishing!
by Les Albjerg
(Caldwell, Idaho)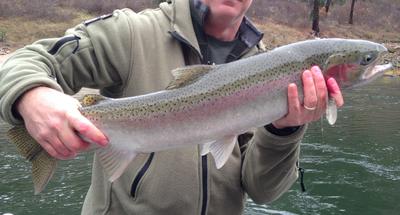 Salmon River Steelhead
It is nice to see the Kyogi back in stock. I bought a Kyogi 21 last year for steelhead fishing. I got to go on one trip in November and I did hook and play a very nice steelhead. I was using a level 3.5 line, 3 split shot, and a sand shrimp. If the guide had done his job, I would have landed it. The guide only let me fish my rod on a limited basis. The captain of the boat gets to call the shots!

My 3 fishing buddies and the captain were amazed at how well the Kyogi tamed the fish. All the fish we caught that day were wild and in the 15 to 20 pound class. The picture is one of the fish we caught that day (although not on the Kyogi).

That said, the first fish I caught on my Kyogi were sunfish. Catching sunfish with a Kyogi is fun too. It is a great rod for fishing for smallmouth bass in the Snake River too. I enjoyed the backbone when fishing the strong currents and below the rapids of the Snake last fall with the Kyogi.

In all of Chris' write-ups about the Kyogi, he never mentions how smooth it is. This is a very smooth rod. The transition from the sensitivity of the tip down to the backbone in the mid and tail section is seamless. This makes this a rod that makes catching sunfish to steelhead fun.

If you are looking for a two handed rod that can do anything, give the Kyogi a try! I just found out about a private pond where I can have a shot a catching a sturgeon! I'll be booking a trip with my Kyogi and see if it can handle a sturgeon.

---
"The bitterness of poor quality remains long after the sweetness of low price is forgotten" - Benjamin Franklin
"Be sure in casting, that your fly fall first into the water, for if the line fall first, it scares or frightens the fish..." -
Col. Robert Venables 1662
As age slows my pace, I will become more like the heron.

---
Warning:
The hooks are sharp.
The coffee's hot.
The fish are slippery when wet.
Beware of the Dogma

---