Kiyotaki Unchained
by Alan Luecke
(Kansas City, MO)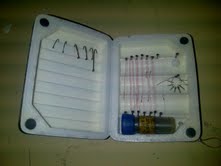 Morell for micro
I love the idea of micro fishing. I want to catch every kind of fish in the creek. Awhile back I bought a Kiyotaki 18 specifically to go after micros. I haven't done it. Yes, I've been busy catching fish with "real" tenkara rods ( and keiryu rods, and seiryu rods). The truth is I got stuck worrying about all the micro details of micro fishing-- which line, which tippet, how much weight, where, what bait, how to rig the float and most of all how to keep those impossibly small hooks from turning into a useless ball to tiny red thread.

JimiFly to the rescue. His account of using his Kiyotakis to bascally catch everything that swam by inspired me to get busy. Friday I rigged the 18 with 6' of no. 3 line some 6x tippet and a size 14 Utah Killer Bug. I headed to a known sunfish hole on Tomahawk Creek and immediately caught a nice sized fish. That fish erased any doubts I had about the capability of this little rod. I could feel the backbone and reserve power.

Next I headed to a spot where a bike path backs up a outlet stream into a little pool full of little fish that is too tight even for my Soyokaze 27. I had to side arm the 18 but just hauled the fish out. Not 100, but 20+ in about 30 minutes.

The block has been cleared and I'm ready to go. And thanks to some changes to a Morell flybox I think I've got those little micro bits under control. Last week I spotted some 2" catfish (madtoms?) in a creek as clear as an aquarium.

Onward.
Return to Your Microfishing Stories.
---
"The bitterness of poor quality remains long after the sweetness of low price is forgotten" - Benjamin Franklin
"Be sure in casting, that your fly fall first into the water, for if the line fall first, it scares or frightens the fish..." -
Col. Robert Venables 1662
As age slows my pace, I will become more like the heron.

---
Warning:
The hooks are sharp.
The coffee's hot.
The fish are slippery when wet.
Beware of the Dogma

---