Horsehair Line Kit
---
I will be away from Tuesday, Oct 15 through Monday, Oct 21. Shipments will resume on Oct 22. Orders can be placed while I am away. After I return they will be processed in the sequence they were received.

---
I no longer sell the kit. The instructions for making a horsehair line are on the Horsehair Lines page. If you would still like the full kit, with the horsehair hank, contact Paul W. Jones at Historic Angling Enterprises historicangling@gmail.com
---
The Horsehair Line Kit solves the only significant problem that keeps most people from experiencing the outstanding qualities of a horsehair line. Horsehair lines cast beautifully. The only real problem with them is that they aren't very strong so they will break. That alone keeps most people from ever trying one. Being able to make one yourself, and better yet, to repair it if it breaks, solves that problem. (It doesn't make the line any stronger, but it makes a broken line a fairly minor event.)
Making your own line is a bit like tying your own flies. If you remember the satisfaction you felt from catching your first fish on a fly you tied yourself, you'll have that again, and more, when you catch a fish on a line you've made yourself - from scratch - using techniques that have been used for hundreds if not thousands of years.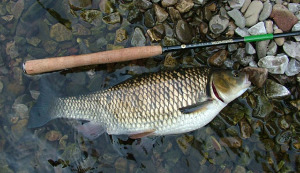 Ronald Girnus' large chub caught on a horsehair line
No tools are needed other than a pair of scissors, although a dubbing needle or fly tying bodkin will help in tying the knots and applying the flexible cement that keeps the knots secure. You don't need a jig like you would to furl lines. You don't need a vise like you would to tie flies.
All you need is the horsehair that is included in the kit and the instruction sheet that explains, step by step, how to make your line (with photos illustrating each step). I have also included a short piece of 2X tippet material for a line to tippet connection and a short piece of braided fly line backing for the line to rod connection.
A bottle of flexible cement, like Dave's Fleximent or Rumpf Flex Cement, or a tube of Loon UV Knot Sense will make the knots more secure but is not absolutely necessary. I rarely use it anymore, and have not had any of the knots come undone.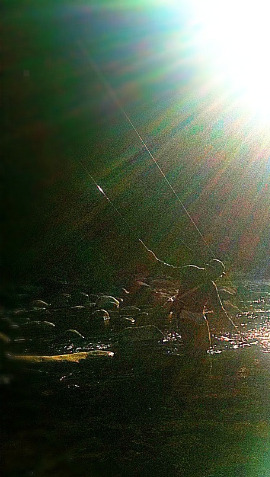 There is enough hair, 2X tippet and fly line backing included in the kit to make several lines. How many you can make depends to a large extent on the length and taper chosen for the lines you make and the number of hairs you break in the process. You must break some, because each hair is briefly tested for strength before being used.
If you do a thorough search on the internet, you can find a number of ways to make a horsehair line, from the instructions laid out by Dame Juliana Berners in The Treatyse of Fysshynge wyth an Angle in 1496 on down. None of them are as simple and straightforward as the method used with this kit, and none include photos of each step.
Some of the instructions you can find on the internet are for making a knotless line. It is absolutely not necessary to have a knotless line. To the extent possible, a tenkara line should be in the air, not in the water, so picking up debris on the knots really isn't a problem. If anything, the knots are valuable reference points that aid you in watching for the minor hesitations or twitches that can be the only clue to a subtle strike.
The instructions also cover using horsehair tippets, which will return the challenge to catching even modest fish. Tenkara rods protect light tippets very well, though, so horsehair tippets are not unreasonable (all right, not completely unreasonable).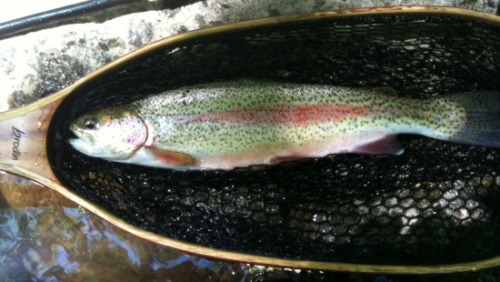 12" rainbow caught on a single-horsehair tippet


Largemouth Bass caught on a single-horsehair tippet

---
---
TenkaraBum Home > Tenkara Lines > Horsehair Line Kit
---
"The bitterness of poor quality remains long after the sweetness of low price is forgotten" – Benjamin Franklin
"Study to be quiet." - Izaak Walton 1653

"Be sure in casting, that your fly fall first into the water, for if the line fall first, it scares or frightens the fish..." Col. Robert Venables 1662
As age slows my pace, I will become more like the heron.

---
Warning:
The hooks are sharp.
The coffee's hot.
The fish are slippery when wet.
Beware of the Dogma

---