Please note: All the "Add to Cart" buttons have been switched to Shopify from PayPal (although you can still pay with a PayPal account). If you experience problems during checkout please use the contact form.

I know some of the buttons need to be modified.
Buttons that offer a choice of size, color, etc. show the stocks condition for top choice only! Make your choice to see if the item is in stock.

To be notified when an Out of Stock item is back in stock,
please use the contact form and indicate the desired item.
---
Gamakatsu "Ultimate" Tanago Hooks Review
by Levi Cain
(Oklahoma)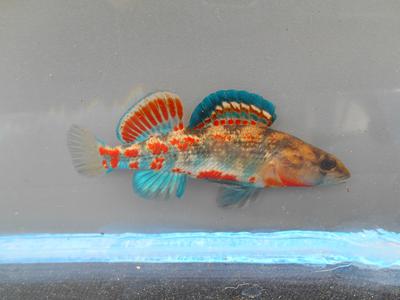 Brook Darter male
Even though the Gamakatsu "Ultimate" hooks are small, they are highly effective at catching those tiny hard to hook micros, particularly those micros that are around 2.5" or less in total length. Now when it comes to larger sized micros that are over 4" in total length. It is best to go with the Owner Tanago hooks. Using Gamakatsu hooks for large micros, there will be more fish lost then actually landed.

Personally when I use the "Ultimate" hooks, I cute off the black tread that is already snelled onto the hooks and I retie either clear mono or fluorocarbon tippet on instead. I find it helps reduce the amount of unnaturalness my bait has when placing the bait right on the nose of a micro.

Near the end of April I used the "Ultimate" hooks on a tributary on the Black River system in Missouri to catch several Brook Darters. These darters are similar to the Orangethroat Darter but are only found in the Black river system in Missouri (USA). I had no problem with setting the hook on these little guys and within no time at all I had landed about 5 to 6 males and females. Within that same body of water I was also able to catch a Starhead Topminnow and several Blackspotted Topminnows with little issues of setting the hook.

Overall (PERSONAL OPINION) the Gamakatsu is the ideal hook to use for micros 2.5" or less. While the Owner Tanago hooks are ideal for 2.5" to 6" micros.
---
"The bitterness of poor quality remains long after the sweetness of low price is forgotten" – Benjamin Franklin
"Study to be quiet." - Izaak Walton 1653

"Be sure in casting, that your fly fall first into the water, for if the line fall first, it scares or frightens the fish..." Col. Robert Venables 1662
As age slows my pace, I will become more like the heron.

---
Warning:
The hooks are sharp.
The coffee's hot.
The fish are slippery when wet.
Beware of the Dogma

---