Fishpond San Juan Vertical Chest Pack
by Brandon
(Phoenix, AZ)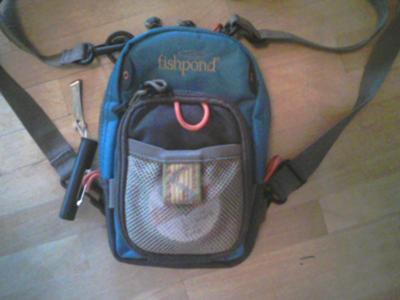 Fishpond San Juan Vertical Chest Pack
For the first two years that I fly fished, I wore a vest. I was a fly fisherman, and all fly fisherman use vests, right? At least that's what I thought was the proper thing to do. It wasn't until February of this year, when I took a guided trip to Lees Ferry, that I wore my vest fishing all day long. Before that all my trips were a few hours long, half a day at the most. At the end of our trip fishing the Colorado River, I was more sore from wearing my fishing vest than I was from casting, mending, and drifting a double nymph rig, with split shot and a strike indicator. I was ready to change how I carried my gear, and our guide was wearing the answer all day long.

He had on a Fishpond San Juan Vertical Chest Pack. This was a guy who spends eight hours on the river, six days a week, and he was carrying less gear that I was. Something was wrong with this picture. On our way back downriver to the boat launch, I asked him about his pack and he had nothing but praise for it. That was on Saturday, and on Monday afternoon, after work, I headed to the local Sportsman's Warehouse and found the Fishpond display. $49 seemed like a lot for such a small pack, but I went on the guide's recommendation and bought it. Nearly a year later I can tell you I am happy I did.

The pack has an outside zippered pocket that folds down to a fly bench, with a foam fly patch on the inside of it. I have never used the fly patch, and lately removed it (velcro backed) and keep my tenkara rod cap and a spare spool of tippet in that pocket. On the outside front is a small mesh pouch that I keep the spool of 6x tippet that I am using in. Inside there is a large main compartment, with a zippered pocket that easily holds my license, Tip Grip, and car keys. The main compartment I use for my fly box (Altoids tin), line spool, and cell phone. Outside of the pouch is a thick piece of webbing that I clamp my hemostats to, and there are a couple of climbing cord rings, one of which I use to hold a retractor with my nippers. One thing I love about the pack is the zippers. They work very smooth, and I don't have to hold the pack steady while I zip and unzip the compartments. That's something I always had to do with my vest, requiring two hands to get something out of it.

Unlike my vest, there isn't a convenient place to hang my net. But I have found with tenkara fishing that isn't a problem anymore. I use a small Measure Net, and it's so light that I just carry it in my left hand while I fish with my right. Without a reel and line to manage, carrying a net is no problem. My only complaint about the pack is the neck strap. There is no padding, and after a long day of fishing it can be uncomfortable. Just yesterday I mentioned this on Fishpond's Facebook page, asking about a padded strap, and within an hour I had a message from someone at the company with a phone number to call. I called, and was told that in keeping with the minimalist concept of the pack a padded neck strap was left off, but one was available for $6.50, shipped to my door. I went ahead and ordered one, and hopefully my one and only complaint about this pack is now gone.

It was only two months after I got this pack that I heard about tenkara and bought my first rod, a TenkaraUSA 12' Iwana. I had already started to carry less gear after I bought the Fishpond San Juan, and fishing tenkara meant I was able to carry even less. No shot, indicators, huge box of flies (I fish the sakasa kebari tied per the TenkaraBum instructions, only with various hackle, all the time now), floatant bottle, etc. The San Juan pack may not be very big if you want to carry a lot of gear, but it is very light and extremely well made. After nearly a year of use it is still in like new condition. It's perfect for someone who wants to carry only what is needed to catch fish. And to me that fits the idea of tenkara fishing perfectly.

---
"The bitterness of poor quality remains long after the sweetness of low price is forgotten" - Benjamin Franklin
"Be sure in casting, that your fly fall first into the water, for if the line fall first, it scares or frightens the fish..." -
Col. Robert Venables 1662
As age slows my pace, I will become more like the heron.

---
Warning:
The hooks are sharp.
The coffee's hot.
The fish are slippery when wet.
Beware of the Dogma

---