Covid-19 Announcement
TenkaraBum.com is located in New York City, which is essentially locked down.
Package pickup has been suspended. My neighborhood post office is closed. I go outside as little as possible because I am in an "at risk" group.
TenkaraBum.com is still open, for now. Next shipments tentatively scheduled for Wednesday, April 8 (rain in the forecast).
Most international flights have been cancelled, so there is no ETA for out-of-stock items that come from Japan.
---
First time with the Kiyotaki
by Mike Schelp
(Gladstone, MO)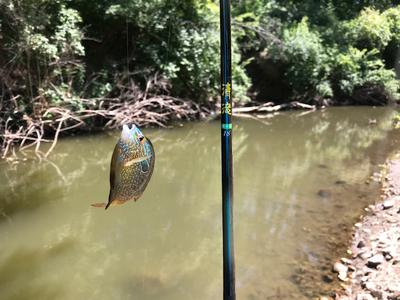 First fish, a bull Long Ear Sunfish
Being newly retired, I have decided to combine walking for my health and my love for fishing. I've been using a cheap "tenkara rod" on my hikes, though I do own a good tenkara rod for serious fishing. Today, though, my Kiyotaki arrived, and I took that with me. What a rod! I used an 8 foot furled line with about 4 feet of 6X tippet and a size 18 black Kujaku Kebari. On my first cast I caught a 3-4" male Long Ear Sunfish. Over the next hour and 3.75 mile walking, I caught around 25 fish, mostly Green Sunfish with a few Creek Chubs and Long Ears thrown in for variety. The largest was about 6" long and the rod handled it with no problems. It felt like it could handle a much larger fish. My next trip, I'm going to use about 10' of size 3.5 level line and 4' of 8X tippet. Time to bring out the TINY flies!
---
"The bitterness of poor quality remains long after the sweetness of low price is forgotten" – Benjamin Franklin
"Be sure in casting, that your fly fall first into the water, for if the line fall first, it scares or frightens the fish..." Col. Robert Venables 1662
As age slows my pace, I will become more like the heron.

---
Warning:
The hooks are sharp.
The coffee's hot.
The fish are slippery when wet.
Beware of the Dogma

---