Easy Lillian to Line Connection
by Les Albjerg
(Caldwell, Idaho)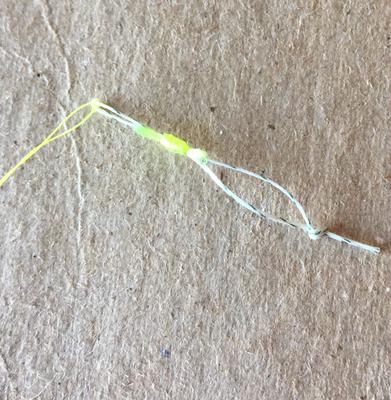 Sliding knot connection ready to fish
I really like the way the Nissin Pals SP Pro twisted Tenkara Line connects to the Lillian. I have never liked the girth hitch or the slip knot method. The Nissin line uses a sliding knot to secure the line to the Lillian. It is easy to put on and take off. It is very secure. I found a very easy way to make the same kind of connector for your lines!

My Dad died several years ago, and left me with boxes and boxes of tackle. I remember seeing these bobber stops (picture 2) in all of his stuff, and it looked like the sliding knot on the Nissin line. So, I made a loop out of 15 pound test braided fly line backing (picture 3), followed the directions forthe bobber stoppers, but put the loop in the tube instead of a single line, (picture 4) and it made the same connection as the Nissin line. I used a simple loop connection on my Tenjo line, and I am in business. I tested it several times in the backyard casting and it works great! The nice thing is the loop is easily replaced if frayed or damaged. I am going to be using this method on all of my lines from now on. If you are looking for an easy, neat way to attach your line to the Lillian, give this method a try!
---
"The bitterness of poor quality remains long after the sweetness of low price is forgotten" - Benjamin Franklin
"Be sure in casting, that your fly fall first into the water, for if the line fall first, it scares or frightens the fish..." -
Col. Robert Venables 1662
As age slows my pace, I will become more like the heron.

---
Warning:
The hooks are sharp.
The coffee's hot.
The fish are slippery when wet.
Beware of the Dogma

---