Daiwa Seiryu X
The new Daiwa Seiryu X rods are surprisingly nice and surprisingly inexpensive rods for trout and panfish. I once told a friend, only half joking, that Daiwa has discontinued better rods than most companies have ever made. The Soyokaze is a prime example. Regular readers know how well-loved the Soyokaze is. You probably couldn't buy a used one - and if you could you'd pay substantially more than they ever sold for new.
Daiwa Seiryu X 54
Another example is the Rinfu, a rod that most people have never even heard of. I bought two of them for evaluation in 2012, one 35 and one 45. They're great rods and I almost immediately put in an order for more but they'd been discontinued and I was never able to get another one.
One good thing, though, is that after discontinuing a great rod, Daiwa tends to replace it with another great rod. It seems to me that the Seiryu X is a replacement for the Rinfu. The Rinfu and the Seiryu X are seiryu rods, which in Japan are generally used to catch any of several relatively small fish species living at elevations that are too low for trout. However, some Japanese anglers do use seiryu rods for tenkara fishing - and the Daiwa Rinfu is one of their favorites. I think the Daiwa Seiryu X could replace the Rinfu in that role as well.
When casting, the Daiwa Seiryu X rods feel much more like Japanese mid flex tenkara rods than other seiryu rods do. You get a similar casting feel in a much lighter rod - and at a much lower price because all the money goes into the blank, not an expensive cork grip.
The Seiryu X comes in four lengths - the 35, 45, 54 and 64. As with other seiryu rods, they are light weight, relatively soft rods (the 35 measures just 11 pennies). However, there is one big difference. The Daiwa Seiryu X rods are rated for 5X tippets - roughly 50% stronger than the 6.5X tippets that are the maximum recommended for either the Suntech Kurenai or the Nissin Air Stage Hakubai.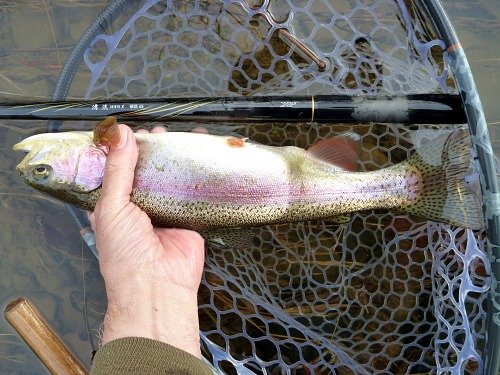 Daiwa Seiryu X 45
That doesn't make them big fish rods, but you can certainly catch bigger fish with 5X than you can with 6.5X. The largest trout I've caught on 5X tippet measured 21" - not huge, but still a very respectable fish (and substantially larger than the 15 incher shown above). I know for a fact the rods are not limited to the chubs and dace that seiryu anglers catch in Japan. (That said, if you know a stream that has some nice creek chubs, these rods would be ideal.) That said, I wouldn't target 21" fish with any seiryu rod - even one rated for 5X tippets.

I did get an email from a guy who said the Seiryu X 35 was OK for sunfish but not for 13-14" largemouth bass. I haven't caught any largemouth bass with any of the Seiryu X rods, but I'd have to agree that an 11 penny rod is not the rod you'd want to use for bass.

Daiwa Seiryu X 35
I think the Seiryu X 35 and 45 could prove to be excellent choices for tenkara anglers who like the added sensitivity of a corkless grip and the light weight of a seiryu rod, but who wish that seiryu rods were mid flex (like a tenkara rod) rather than tip flex (like a seiryu rod). The Seiryu X rods have much wider grips than the Suntech Kurenai or the Nissin Air Stage Hakubai, so even those people who generally add tennis racquet grip tape may not need to.
The Seiryu X 35 and 45 would also be excellent rods for Ultralight Worm Fishing.
Seiryu X 64 (Alan Luecke photo)
The Seiryu X 54 and 64 could bridge the gap between seiryu, keiryu and tenkara rods. With mid flex action and a 5X tippet rating, they will offer a very inexpensive intro to fishing with the long rods - whether with a keiryu rig (very light line, yarn markers, split shot and bait) or with a tenkara line and either a weighted or an unweighted fly. One of my customers plans to start a keiryu guiding service and will use the Seiryu X 64 rods. I think they'll be an excellent choice.
For that matter, the 54 could bridge the gap between one-handed and two-handed casting. It is light enough to cast one handed, but it is a bit more comfortable (and easier on the wrist) to cast it with both hands. When you hook a big fish, you'll need to use both hands anyway.
If you are at all interested in keiryu fishing, particularly an extremely light line style approaching "zero" fishing, the Daiwa Seiryu X 54 and 64 merit serious consideration. Yes, they are seiryu rods rather than keiryu rods, but they will work just fine, they are rated for tippets down to 9X (1.6# test) and they provide a very inexpensive way to get started.

Daiwa Seiryu X Features

The Daiwa Seiryu X grip is corkless and has an effective nonslip finish. The X's formed by spiral-wrapped graphite tape are clearly visible on the grip area.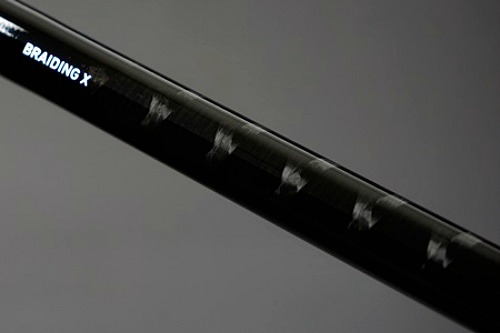 They are also visible on the rest of the grip section. The X-wraps, which Daiwa calls "Braiding X," stiffen the grip section and help prevent twisting. In addition to the Braiding X, Daiwa uses a proprietary 45 degree bias-weave cloth to further reduce rod twist and thereby improve power, stability and performance.
Daiwa also machines rings into the butt end of the rod sections. These rings greatly reduce the chance of getting a stuck section and are found only on Daiwa rods.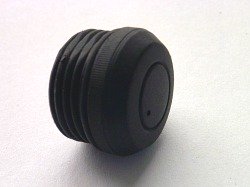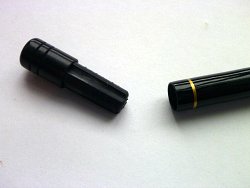 The grip screw cap is knurled for easy removal or tightening and has a hole for ventilation. The tip plug is wooden, with a hard rubber extension that is inserted into the rod tip. The rubber is fluted, which allows you to insert the plug and still keep the line attached. The plug fits extremely tightly - too tightly, really - so I would not force it all the way in or you may have a hard time removing it. If you would like to replace the tip plug with a Fuji KTC rod cap, the KTC-12 fits the Seiru X 35. The KTC-16 fits the Sieryu x 45 and the KTC-20 fits the Seiryu X 54 and 64.

These rods - and especially at these prices - are likely to shake up the US tenkara market a bit. Light weight, mid flex "tenkara" action, 5X tippet capability and low prices. Daiwa has a winner in this one!

Model
Length
Collapsed
Wt oz*
Sections
Tip mm
Butt mm
Carbon %
Tippet
Pennies

*without tip plug
35
11'6"
23 3/8"
1.4
7
0.7
20.7
97%
9X-5X
11

45
14' 8 1/2"
23 3/8"
2.3
9
0.7
20.9
98%
9X-5X
13.5

54
17'10"
23 3/8"
3.4
11
0.7
21.9
98%
9X-5X
17

64
21'
23 3/8" 
4.7
13
0.7
21.9
98%
9X-5X
?

Daiwa Seiryu X
Rods made in Vietnam

---
Shipping
A shipping charge of $10 will be added to all orders.
TenkaraBum.com does not ship to the European Union or the European Economic Area.

---
Payment
Payment is processed by PayPal but you don't need to have a PayPal account. You can use your credit card.
---
TenkaraBum Home > Rods > Daiwa Seiryu X

---
"The bitterness of poor quality remains long after the sweetness of low price is forgotten" – Benjamin Franklin
"Study to be quiet." - Izaak Walton 1653

"Be sure in casting, that your fly fall first into the water, for if the line fall first, it scares or frightens the fish..." Col. Robert Venables 1662
As age slows my pace, I will become more like the heron.

---
Warning:
The hooks are sharp.
The coffee's hot.
The fish are slippery when wet.
Beware of the Dogma

---