Covid-19 Announcement
Most international flights have been cancelled.
There is no ETA for out-of-stock items that come from Japan.
Shipments to overseas buyers will take longer than normal - possibly much longer. Patience is a virtue - especially in fishing.

---
Daiwa Sagiri 39MC
by Paul
(Victoria, Australia)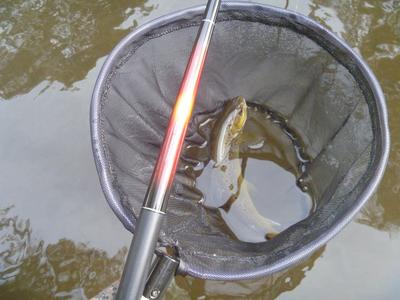 Calm water brown
I am not a highly experienced or skilled tenkara angler. I have only been fixed line fly fishing for 12 months and I have never used a conventional fly rod and reel. I only own two telescopic rods, one of them is the Daiwa Sagiri 39MC, which I use about 70% of the time.

The reason I got into fixed line fishing was to exploit the very bushy and overgrown streams that I had been unable to fish using my standard spin rod and reel. After a few sessions I decided to expand into slightly larger creeks. It became evident that a longer rod was required. Enter the Sagiri 39MC.

What a rod, I love this thing. It only weighs a fraction more than my 2.7m rod and casts #3 level line very well.

I use the zoom function all the time when moving along the creek, fishing it at 3.9m most of the time for the extra reach then switching to 3.4m when I need accurate casting underneath overhanging vegetation. The casting action feels more precise at the shorter length but the added length of the 3.9m zoom is very welcome. I'm a big fan of having no cork or foam grip as I like the feel and feedback of directly holding the rod blank, this is something I've brought over from spin fishing where my favorite rod had almost no cork grip at all so I'm able to feel what the lure is doing through the blank.

I use my Sagiri most of time fishing with small bead-headed nymphs, and other non-weighted sub surface critter patterns. Where I mainly fish, the creeks and streams have only a gentle flow with small sections of riffles with large calm pools. Because of this I really only have to tend with the fish fighting, and not battle a strong current. This has allowed me to land fairly modest size fish, probably larger than the rod is intended. I've definitely taken the rod past it's limits a few times, fishing in a large river and hooking larger fish, but to date have only lost 2 fish due to insufficient equipment.

Aesthetically, I really like the rod. The colour-way is awesome. Only next to my Suntech rod the finish does look a little cheaper, but that's because it is.

If I were to make a criticism, I would say that the lillian is too short, which makes attaching the level line loop a bit more fiddly. Also there is no lillian swivel like on my Suntech rod, which means occasionally I have to pause to untwist the line a bit.

Overall I think the Daiwa Sagiri 39MC is an excellent rod for calmer waters. It has aided me greatly in learning fixed-line fishing and is a pleasure to use. It is relatively inexpensive when compared to other Japanese rods, which makes it feel less precious.

I'm very glad to have landed on the Sagiri so early on in my fixed-line fishing experience, and would highly recommend one to anyone starting out, with the caveat that you are not planning on fishing in rapid, fast flowing water.

Cheers,
Paul
Victoria Australia
---
"The bitterness of poor quality remains long after the sweetness of low price is forgotten" – Benjamin Franklin
"Be sure in casting, that your fly fall first into the water, for if the line fall first, it scares or frightens the fish..." Col. Robert Venables 1662
As age slows my pace, I will become more like the heron.

---
Warning:
The hooks are sharp.
The coffee's hot.
The fish are slippery when wet.
Beware of the Dogma

---