Please note: All the "Add to Cart" buttons have been switched to Shopify from PayPal (although you can still pay with a PayPal account). If you experience problems during checkout please use the contact form.

I know some of the buttons need to be modified.
Buttons that offer a choice of size, color, etc. show the stocks condition for top choice only! Make your choice to see if the item is in stock.

To be notified when an Out of Stock item is back in stock,
please use the contact form and indicate the desired item.
---
Daiwa One Touch Net - Review
by Craig Price
(Melbourne, Australia)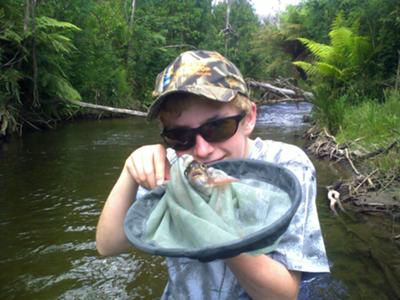 The first fish landed by the net
I recently received the net from Chris. Upon arrival, it rained in deluge proportions for two weeks. It's summer here, and Australia is meant to be a dry country.

When the rivers finally subsided enough, I went fishing. My thoughts on the net as follows:

It is perfect for thick brush scrambling and climbing over dead timber, which is just what I wanted it for.

It still has a very stong chemical odour from the net material. I only notice it when it is open, but I hope this goes soon.

It opens one handed and is easy to use.

It works well as a seine net to examine what the fish are eating.

As the mesh is finer and suited to this purpose, it catches the current a little more and this can bend the net out.

It lands fish of a reasonable size.

Overall rating - 4 out of 5
---
"The bitterness of poor quality remains long after the sweetness of low price is forgotten" – Benjamin Franklin
"Study to be quiet." - Izaak Walton 1653

"Be sure in casting, that your fly fall first into the water, for if the line fall first, it scares or frightens the fish..." Col. Robert Venables 1662
As age slows my pace, I will become more like the heron.

---
Warning:
The hooks are sharp.
The coffee's hot.
The fish are slippery when wet.
Beware of the Dogma

---