Daiwa Kiyose 43M-Y

The Daiwa Kiyose 43M-Y is an update of the 43M (black and mauve), which itself was a minor makeover of the popular 43MF (black and blue, as is the current 43M-Y).
The rod really shows Daiwa's commitment to quality. It is not a heavy rod, yet it feels substantial. You can tell right away that it is a rod with which you can battle very nice fish and expect to win.
For me the original 43MF was a very pleasant surprise. It was not at all what I was expecting when I imported the first one for evaluation. Looking at the specs in the Daiwa catalog, I thought it might be the "stiffer Ito" that back then more than a few tenkara anglers had said that they wanted. It wasn't. Although the Kiyose 43 rods are roughly the same length as the Ito, and they do zoom, they and the Ito are apples and oranges. The Ito is long and whippy. The Daiwa Kiyose 43M-Y is long and beefy.

The Daiwa Kiyose 43M-Y is a rod that is light in hand, can be fished at either 12.5' or 14' and will handle a wide range of fish sizes.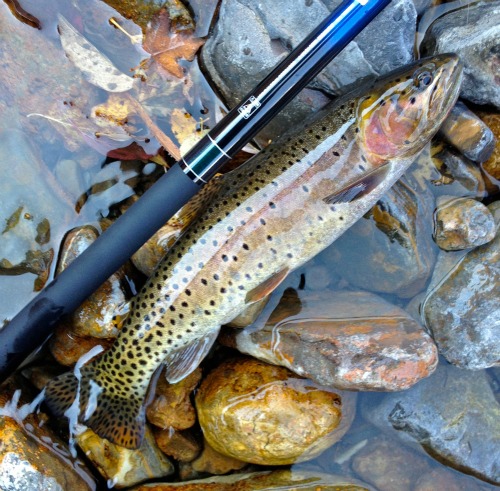 Daiwa Kiyose 43MF. Teton Tenkara photo.
The rod is a tip flex rod, as are most keiryu rods. Although it is a beefy rod, the 43M-Y will cast a size 3.5 line nicely. The top few sections bend easily enough that 10-12" fish are fun, but if your delicate presentation yields a hog of a fish, the rod will be able to handle it. The Daiwa designers managed to create a sensitive rod that is remarkably beefy and doesn't feel like a club.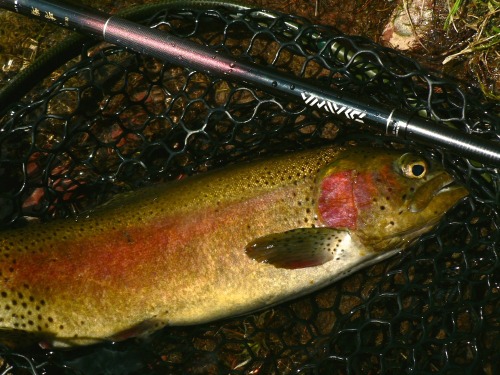 Daiwa Kiyose 43M. Larry F photo.
Chris - The Daiwa Kiyose 43M treated me real well on the Green! It can handle big fish...unbelievable! Got a lot of strange looks and comments, but I did not care. I was hooking and landing many trout on BWO's, dries, nymphs an the Ut. Killer Bugs!
Larry F, Colorado
Do not think that this is just a trout rod. I have fished with it quite a bit in Maine on my smallmouth bass trips and I would have to say it is a very nice bass rod. It can easily handle the heavier line you might want to fish with bigger flies. I fished big kebari and big streamers, and the rod performed admirably. I am absolutely certain that it could handle bass much larger than the one shown below. John Vetterli, of the Tenkara Guides in Salt Lake City has caught "lots of carp with the 43MF."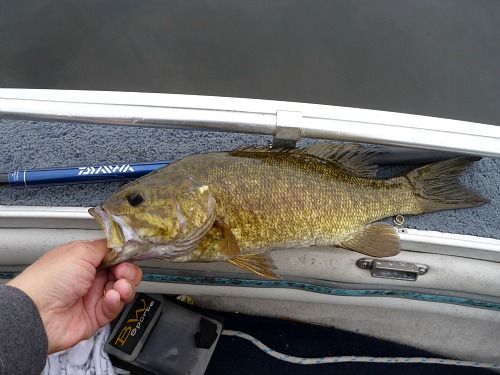 Daiwa Kiyose 43MF
Rods of 4.3-4.5 meters are about as long as you can cast one handed. You can cast the Daiwa Kiyose  43 M-Y one handed and have the other hand free for your wading staff. However, if you've had a shoulder injury or for whatever reason need to take it a little easier, consider using both hands to cast.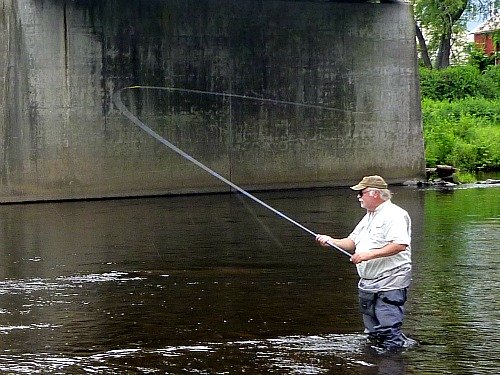 Fred Krowchenko of Spey Casting North East demonstrating the two handed cast.
I spent a day with Fred Krowchenko and Jerry Jahn of Spey Casting North East a few years ago. I had a few 5.3 and 6.2 meter rods I wanted to try out but I also had my Daiwa Kiyose 43MF in my rod bag. They both raved about the 43MF as an insanely light two handed rod. I kept telling them it was a one handed rod. They kept telling me to try it. Casting with two hands it really is insanely light! I think  two handed casting with a keiryu rod has real potential for tenkara fishing in larger rivers.
If you are thinking about exploring the longer keiryu rods, whether for tenkara fishing or for keiryu fishing as practiced in Japan, the Daiwa Kiyose 43M-Y is an excellent rod with which to start. You can practice two handed techniques without being committed to a rod that can only be fished two handed. In a sense, it is the tenkara or keiryu equivalent of a switch rod - one which can be used either one handed or two handed. This is one extremely versatile rod.

Daiwa Kiyose 53 M-Y
The Daiwa Kiyose 53 M-Y is a big water / big fish rod that will stand up to larger fish than any of the true tenkara rods available in the US or Japan.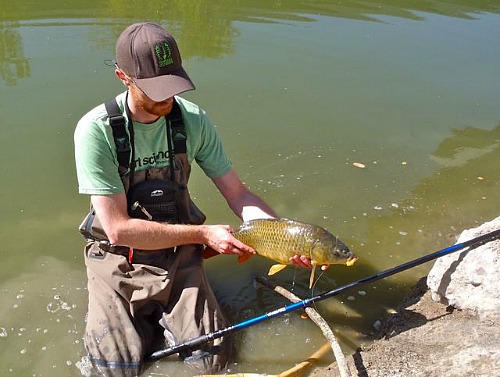 Photo copyright Tenkara Guides LLC. Used with permission.
The Daiwa Kiyose 53 M-Y is overkill if you are catching 10" trout. However, if you are catching 20" trout, or large bass, modest carp or very modest pike, it is just about right.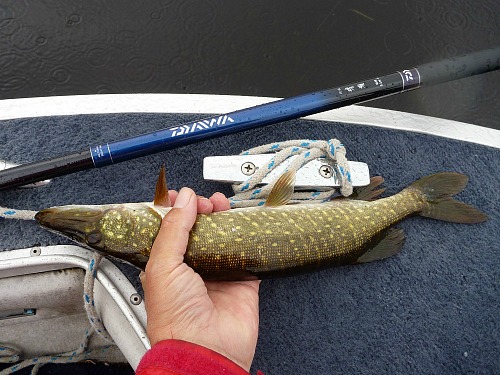 Small pike caught with Daiwa Kiyose 53MF
It is not the equal of a true carp rod, but people have caught carp and pike and bass and large trout with it. It is a very capable rod for not a lot of money.
The rod is definitely a two-hander, but you would need two hands to handle a large fish with a long rod anyway.

 Daiwa Kiyose 43M-Y Features

Perhaps the most noticeable feature of the Kiyose 43M-Y is the fairly wide blank that transitions into the grip with no steps or flare. The grip section is wide enough, the non-skid is effective enough, and the rod is light enough that I don't think you'll miss the cork.
There's a lot to be said for not having cork. Keiryu rod grips are just a nonskid coating right on the blank. That gives you the benefit of a non skid grip, but it also gives you unmatched sensitivity. You can feel what the rod is doing. You can feel what the fly is doing. And you can certainly feel what the fish is doing.
Plus, all the money that doesn't go into expensive cork either goes into the blank or stays in your pocket, and neither of those things is bad.
The grip cap is either a plastic or a composite, and comes with a slot so that it can be tightened with a coin, a hole for ventilation and a rubber "O" ring to keep it from loosening when you are on the stream.
Instead of the tip plug found on most tenkara rods, the Daiwa Kiyose 43M-Y comes with an external tenkara rod cap that is somewhat similar to the Fuji KTC-16. It provides a very secure closure and allow you to keep your line attached when you are using the cap.
The rod comes with a nylon rod sock which, while not at all fancy, is more than adequate to protect the finish from scrapes and scratches. As with all the other Japanese rods, it comes packaged in a plastic display case and neither has nor needs a hard travel case.

| | |
| --- | --- |
| Zooming section collapsed. | Zooming section extended. |
All in all, this is a wonderful rod for someone who wants a beefy 7:3 rod for big fish or big flies (or both) and is still remarkably light in hand.
Daiwa recommends a maximum of 5X tippet for the 43M-Y. I know some people use 4X, but I once while using 4X tippet had a lillian pull off when I had a snag and had to pull straight back on the rod because I couldn't reach the line. I suspect 5X will be strong enough for most fish.

Please note: Fuji EZ Keepers will fit on the Daiwa Kiyose 43M-Y but only if you replace the "O" rings with larger ones from a hardware store. I would recommend a pair of the Small Tenkara Line Holders instead.
Model
Length Extended
Length Collapsed
Weight (W/O cap)
Sections
Tip Diameter
Grip Diameter
Tippet
Pennies
Price

Kiyose 43M-Y
12'7" - 14'0"
21 3/8"
3.0 oz
9
.7 mm
22.6 mm
9X - 5X
28 - 31
$130

Daiwa Kiyose 43 M-Y
Rods made in China

---
TenkaraBum Home > Tenkara Rods > Daiwa Kiyose 43M-Y
---
"The bitterness of poor quality remains long after the sweetness of low price is forgotten" - Benjamin Franklin
"Be sure in casting, that your fly fall first into the water, for if the line fall first, it scares or frightens the fish..." -
Col. Robert Venables 1662
As age slows my pace, I will become more like the heron.

---
Warning:
The hooks are sharp.
The coffee's hot.
The fish are slippery when wet.
Beware of the Dogma

---