As The Worm Turns

by Lesley Albjerg
(Caldwell, Idaho)
I have to thank Mark Larkin for reminding me how much fun worm fishing is! The last three times out fishing, I have spent the majority of my time using the upstream method of worm fishing. I have fished 3 different High Desert creeks that have red-band rainbow trout. I went up to the stream where I had a monumental day spin fishing 10 days ago. My only regret 10 days ago was I didn't have my fixed line gear with me. My big surprise today was how low the creek was compared to just 10 days ago.

I must say, I disagree with our mentor here, Chris Stewart. I am finding the Varivas 2300 Ultra Midge size 20 hooks just too small. Sidney Spencer in his great book "Clear Water Trout Fishing with Worm says, "I do not advise hooks larger than 11 or smaller than 14." After much experimenting, I have found the Owner "Mainstream" Tenkara hooks to be the best! The hook meets all of the characteristics that Spencer talks about. They are a barbed hook. Barbs were invented at first for holding the bait on the hook, not to give more holding power on the fish. With our chemically sharpened hooks, and quality steel, I have found the multiple hook set-ups talked about in Spencer's work to be unnecessary. You get a more natural drift with a single hook. With the size 4 Japanese hook, I find I miss fewer fish, and almost always get a nice lip hook-up.
Spencer's book was written in 1935. He was excited about a rod 12 feet long and weighing 11 and a half ounces. The last 3 trips out I fished with the TenkaraBum Traveler 44 weighing in at 2.6 ounces and the Shimano Pack Tenkara 31-34ZW weighing in with the plug at 3.2 ounces. I wonder what Spencer would have thought about those weights! My rod lengths with two rods are 9 feet 11 inches, 10 feet ll inches (Pack Tenkara),11 feet 11 inches, 13 feet 3 inches, and 14 feet 5 inches (TB Traveler 44). Sounds like overkill, the but the flexibility of having 5 lengths between two rods came in handy!

The fishing last weekend about 120 miles south of where I live wasn't as good as I hoped. I only landed two fish in the 3 hours I fished. The water was low, the fish spooky. That said, the canyon I was wading up was stunning. Sometimes the immersion in nature is more important than the tug of the line! I did realize I wasn't as stealthy as I needed to be! Sure it is exciting to see fish scurrying off, but that just tells you you've been busted! Today, I was more stealthy!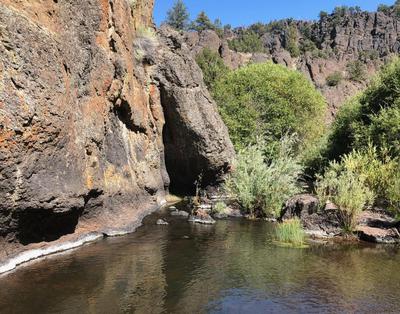 Today I got to the creek, and I couldn't believe how low the water was. Ultra clear water too! I went with 8x tippet even though I knew there were some 14-17 inch monsters in that pool! The big fish were not moving today. One nice fish, lots of 6-8 inch fish today! That said, it was my first day of really spending time with the Shimano Pack Tenkara rod. My biggest fish of the day was caught on it. I really like the hollow tip on this rod. There is just an extra dampening effect in the cast and a smoothness in the fight that a solid tip doesn't have. I fished it at 31 and 34 often, and extended it to 34 when I hooked the big fish of the day, the 14.5 incher (see photo). The fish took with the current and the line went slack, not your typical take! He was all over the pool! The Shimano had no problem controlling the fish, and it was another thrilling fixed line battle.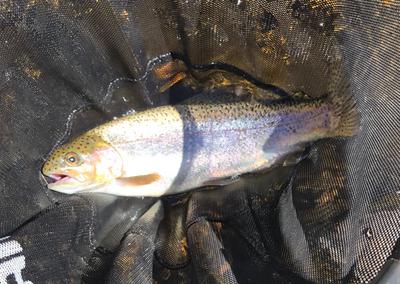 About 75% of the fish I caught today, I saw them and fished to them! There is something thrilling about seeing the fish, and then figuring out how to drift a red wiggler by their noses, and seeing the take! That is the exciting part of the game. The frustrating part was drifting the worm by several 12 to 16 inch trout that just ignored the red wiggler! The best part of the the day, is I only know of 3 fish that I spooked due to poor stealth! I re-read Spencer's tactics last night.

Sidney Spencer's book can be found. I bought mine for $4.50 from England. Shipping wasn't too bad. Simply Google it, and you should be able to find a used copy. It is dated, but worth the read! If anything, it will show you how awesome our equipment is!

I followed Spencer's advice and kept an active worm on the hook. It made a difference! I actually went through 46 red wigglers today. Yes, I'm the guy who makes the bait boxes Chris sells. I was using my first one, and it kept the bait fresh even in the 90 degree heat.
---
Be sure to include your name, location and which page your comments are for.
At least for now, that link goes to the TenBum Store.
---
"The bitterness of poor quality remains long after the sweetness of low price is forgotten" - Benjamin Franklin
"Be sure in casting, that your fly fall first into the water, for if the line fall first, it scares or frightens the fish..." -
Col. Robert Venables 1662
"There is a time to go long. There is a time to go short. And there is a time to go fishing." - Jesse Livermore

---
Warning:
The hooks are sharp.
The coffee's hot.
The fish are slippery when wet.
Beware of the Dogma

---