All Fishing Buy Yokoshima 270 tenkara rod
by Blatt
(Natal-RN-Brazil)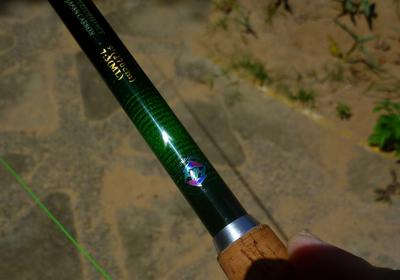 Received this rod a few days ago and fished once with it and now I'll give my first impressions to those who it might interest.

The (not so) bad:

As soon as I took it out from the plastic carton and wiggled in the air I noticed I was holding a really stiff rod. It was for sure the stiffest I've ever had in my hands.

Later I did some CCS measures and discovered after emailing to Chris that it is as stiff as the discontinued Back Packing Light 10ft Hane.

Since I do fish mostly for saltwater and warm water species I'm used to stiff rods but none of my 7:3 are like this. I hooked several small fish ranging from 4 to 6 inches and perhaps all of them put a bend in the first upper sections. This rod managed them almost as if they were not there. This rod is very strong and demands bigger fish.

The good:

After test casting and fishing it for some hours in the morning I noticed there are also some good points going for it.

I cast the old TUSA furled line (the monofilament one, not the kevlar) and perhaps the line's lightness the Yokoshima was able to cast that line, it was a bit tricky at first but I managed to produce a cast out of it. This first experience showed me that perhaps the Yokoshima 270 is able to cast a light line it will feel more comfortable with a heavier one.

I tried a level 4.5 fluorocarbon and it worked much nicer and lastly I tried a PVC coated running line. The running line was a dream to cast with this rod and even with the strong wind that was blowing that day it performed just gorgeous.

Two things are perfectly clear when casting this rod, it is very light and is also very accurate.

When I first wiggled it and noticed its stiffness I was afraid it could tear ones arm after a day of fishing. But is not the case. It is light (weight 65 grams) and, most important, feels light and is a joy to cast all day.

I guess this is more of a specialist rod. If you need to take big fish out of tight covered places or if your fishing demands very accurate presentations this is it.

This is also a very beautiful rod. Has a very honest price for its quality. Mine came with no manufacturer defects. The cork is very good quality and the finish on the blank is very nice. Is pleasure to look at it in the sunlight.

I want to thank Igor and Alla for their very nice service.

---
"The bitterness of poor quality remains long after the sweetness of low price is forgotten" - Benjamin Franklin
"Be sure in casting, that your fly fall first into the water, for if the line fall first, it scares or frightens the fish..." -
Col. Robert Venables 1662
As age slows my pace, I will become more like the heron.

---
Warning:
The hooks are sharp.
The coffee's hot.
The fish are slippery when wet.
Beware of the Dogma

---