All about that blank, bout that blank.....
by Dave
(Baton Rouge)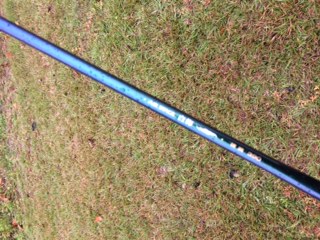 Gem
Lately, I have been going a bit mental with all the rods, I am buying up. Oh well, considering I have a very stressful job, this is how I unwind. Recently I added a Field Master 44 to my arsenal, which is just a dream! Since this time, I realized that I have done what almost every American fisherman does..... Too much rod, not enough fish.

What I mean is, I have always purchased a bigger rod than needed for the fish I think I will catch....(and never actually catch). It is hard to admit (should be proud), but I mostly catch small bluegills and small bass. So the field master is great and will even sing and dance with a 4 inch fish on the line!! However, I could always tell that the rod was not even close to being tested. So I decided to crawl the pages of Tenkarabum and find my next purchases, which needed to be semi-long (I do a lot of lake fishing) and really really fun for small fish. After a long battle, I narrowed it down to the Suntech HM39R Kurani and the Nissin Airstage 390. Honestly, I think I prefer some of the features of Suntech rods over Nissin in general (such as the nonskid finish and the swivel tip).

Then the unthinkable happened....BLACK FRIDAY!!!!! The Airstage 390 was marked down so much, I could not resist and immediately purchased one. The finish of the rod is incredible, Nissin seems to put every penny into the quality of blanks they produce. At 1.5 oz and nearly 13' long this baby is exactly what I have been looking for. While the collapsed length is a little long for hiking, it is shorter than the three piece fly rod I used to hike with and a tenth the weight (including reel weight). However, this is also an advantage as the bend profile is incredibly smooth.

Today, I took the rod out in the rain to my little creek (which looked more like a river during the rain) to do a little fishing. I threw a Keriyu rig on there and started to go to town. If you have not cast a 1.5 oz rod, I implore you to try it as it is like nothing you have ever used. After not catching a thing, I moved over to what I have dubbed as the "dead lake" (lake is so overfished it is near impossible to catch anything.) With that said, I was able to hook a small bluegill and even though it was only 4 inches log, boy did it bend the rod. I highly recommend the Nissin Air Stage 390, and now I realize what a fight between you and a fish is supposed to be like. Now, the rod definitely had more backbone in reserve during this fight, but I could not just lift the fish out of the water like I can with the Field Master. The quality of this rod is amazing and I would recommend it to anyone. It is so sensitive, I am gonna do some micro fishing with it as well.

A year ago, I would have called you crazy for fishing a rod with no cork grip.... Now, I am of the mindset that every dollar into cork, is a dollar off the blank... I'm all about that blank. I'll gladly take any questions regarding the rod.


---
"The bitterness of poor quality remains long after the sweetness of low price is forgotten" - Benjamin Franklin
"Be sure in casting, that your fly fall first into the water, for if the line fall first, it scares or frightens the fish..." -
Col. Robert Venables 1662
As age slows my pace, I will become more like the heron.

---
Warning:
The hooks are sharp.
The coffee's hot.
The fish are slippery when wet.
Beware of the Dogma

---