If I Could Use Only One Fly
by John Evans
San Antonio, TX

Right after the argument about the best tenkara rod comes the heated discussion about the best fly. There are no magic flies that consistently catch fish under every condition. Plus, presentation almost always trumps pattern. But, let's face it, we all have certain flies that we fish with confidence—ones that produce when others fail.
So, what is that fly for you? Is it the simplest sakasa kebari traditional fly? Or maybe a Utah Killer Bug or a Gold-ribbed Hare's Ear Nymph? Perhaps a Catskill-style Adams' fly does it for you, or an Elk Hair Caddis.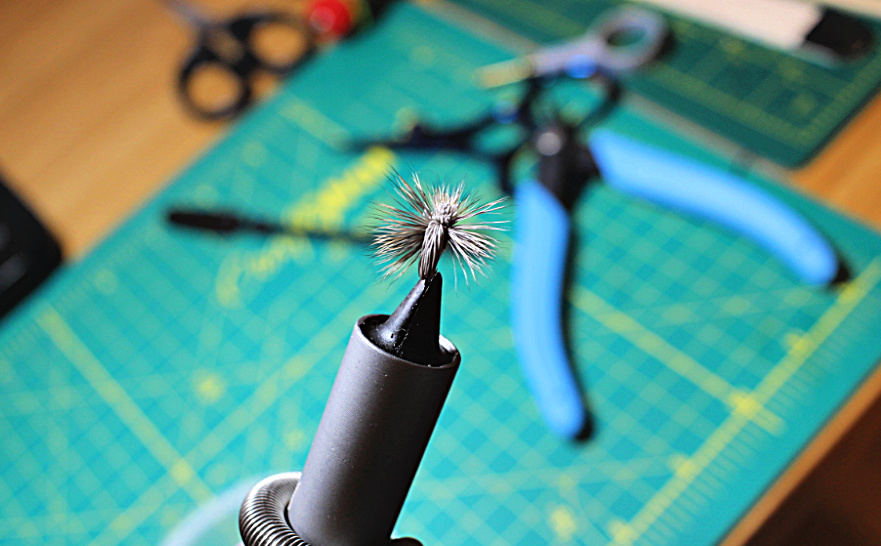 Screaming Banshee
This past year I've kept records of when and where I caught fish, and my most successful fly was a size 16 Screaming Banshee—a skating caddis pattern as tied by Charlie Craven. I tie my own now, but I give full credit to Charlie for developing the pattern. The materials include elk hair, deer hair, opal mirage tinsel, dry fly dubbing, and lots of patience. There are a couple of on-line videos that show you how to tie it.
There's something about that forward facing planing surface and just a little bit of flash that seems to do the trick. Also, the Banshee has a very enticing profile from the bottom. Panfish, bass, catfish, trout, all like it. Finally, its size and shape casts wonderfully well with any good tenkara rod.
But, I won't try to convince you of that because you probably have your own favorite. What would it be? If your fly box could carry only one pattern, the one fly you had to use from now on under all conditions, what would it be?
---
Comments

11-8-2020
By David Noll
Since late last fall I have been out well over 100 times and the fly I have used over 90% of the time is a Pink Squirrel 2.0. It was developed by Richard at UK Barbless Flies with input from Driftless Area guide Mike Warren.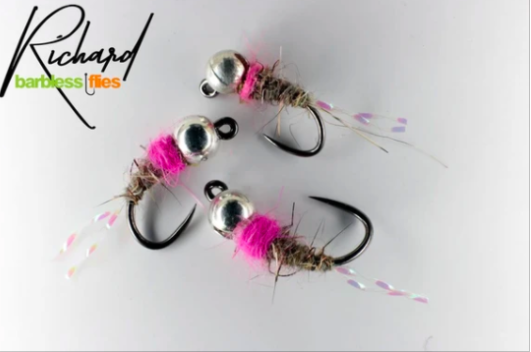 ---
11-9-2020
by John Evans
David,
Beautiful-looking nymph--I can see why it works! Isn't it amazing how different "favorite flies" can be from one another? Probably says something about the individual nature of fly fishing, including tenkara.
---
11-9-2020
by Sean W
5/32 gold tungsten beadhead Utah Killer bug on a size 8 Toemco 2x heavy nymph hook. Caught lake runs, stream browns and rainbows, carp, all manner of sunfish on them.
---
11-9-2020
By Kris Franqui
For me, I like most flies from Lance Egan, like the tungsten surveyor. It's usually a coin flip between that and the tan and pink Pay Czech woven nymph.
---
11-10-2020
By David Noll
Pictures guys, please.
---
11/11/2020
By Les Albjerg

If I only could have one, it would be a size 14 Renegade. This is an old pattern that has been a "go to" for me for more years than I would care to admit. It can be fished wet or dry. I have caught warm water fish as well as lots of trout and mountain whitefish with this fly.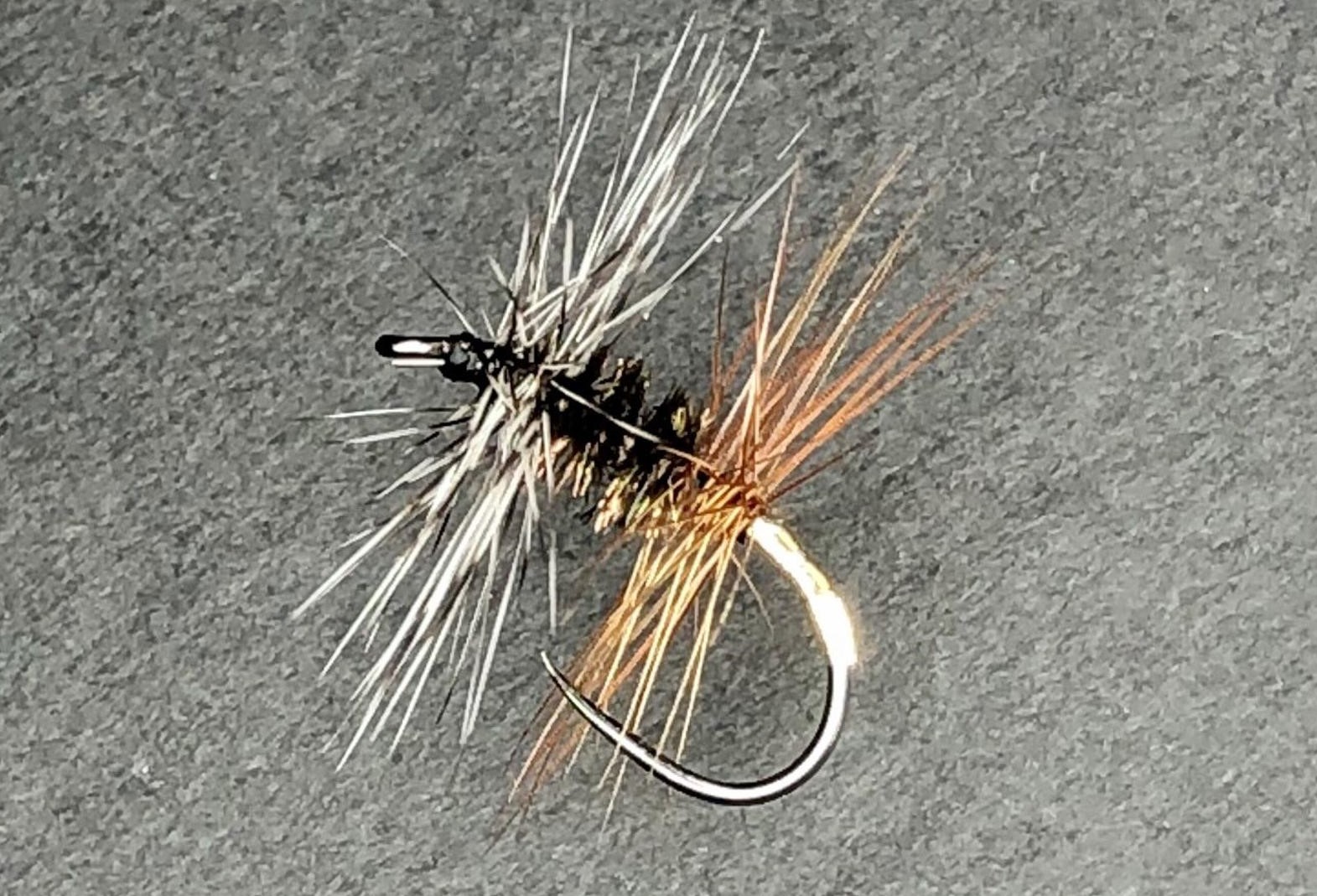 ---
12/3/20
By Charles Phelps
Toss up! Lance Egan Red Dart or Blue Dart.
---
Click here to add your own comments.
Be sure to include your name and which page your comments are for.
At least for now, that link goes to the TenBum Store.
---
TenkaraBum Home > Your Tenkara Stories vol.2 > If I Could Use Only One Fly
---
"The bitterness of poor quality remains long after the sweetness of low price is forgotten" - Benjamin Franklin
"Be sure in casting, that your fly fall first into the water, for if the line fall first, it scares or frightens the fish..." -
Col. Robert Venables 1662
As age slows my pace, I will become more like the heron.

---
Warning:
The hooks are sharp.
The coffee's hot.
The fish are slippery when wet.
Beware of the Dogma

---