Nissin Pro Square

Nissin Pro Square rods are very competitively priced tenkara rods that are made in Japan. These rods will give you the light weight and responsive feel the Japanese rods are known for at a price of just $150 to $180.  As with many of the Japanese rods, they are available in several lengths and several different actions so you can match the rod to the streams you fish the most and to your taste in rod action.
With rods ranging from a headwaters length 3.15m (10'4") to a main stream length of 4.5m (about 14'6"), and from a super soft レベルライン (level line) rod to a pretty stiff 8:2, they offer a rod for about any preference.
With that many choices I may not be able to have all of them in stock all the time but I'll try to keep at least some on hand. After having fished with these rods, and the Zerosums, Pro Specs and Air Stages, I'd have to say I really like Nissin rods. They offer very good rods for the money.

Most of the Pro Square tenkara rods are surprisingly light weight and have slightly softer actions than you would expect based on their action ratings. The level line rods are really great for delicate presentations with light level lines. The 6:4 is still very light and very sensitive, but is a bit more mid flex rather than full flex. The 7:3 has just a bit crisper feel and has a bit more backbone for slightly larger fish.

The 8:2 is a beefy rod and can handle long lines, large flies and large fish. The smallmouth below was taken with a 390 8:2, which cast the 4" bucktail with ease. The 450 8:2 would rival the Daiwa LT44SF as a big fish / big water rod at a fraction of the cost. Actually, now that the LT44SF has been discontinued, the Nissin Pro Square 450 8:2 might be the best big water / big fish true tenkara rod you'll find.


Illustrating my oft-repeated comment that the 5:5, 6:4 and 7:3 ratings are of limited value when researching and comparing rods, the photo below shows a Nissin Pro Square 360 7:3 and a 12' Iwana, which was initially described by its manufacturer as a 5:5, but then soon relabeled as a 6:4. One would expect the 7:3 rod to be the stiffer of the two, but it is actually a bit softer and has a much smoother bend profile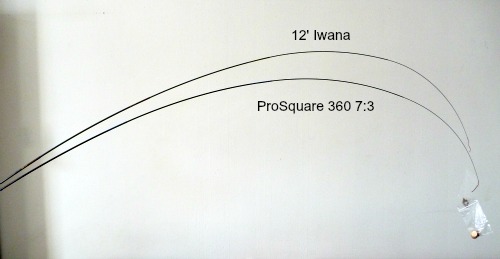 Whatever the ratings, if you wanted a very smooth casting 12' (360) rod that is surprisingly light at just 2.3 ounces, the Pro Square 360 7:3 is a rod to consider. It would serve quite nicely as an "all-around" rod for someone who wanted one tenkara rod rather than a whole quiver.

If you prefer slightly softer rods, as I do, the Nissin Pro Square 6:4 rods might be exactly what you are looking for. The 390 6:4 is a rod reminiscent of the discontinued Ayu - only lighter. Similarly, the 360 6:4 is reminiscent of the discontinued Ebisu - only lighter. And the 320 6:4? They never had a rod even close to that one (but you can be sure - if they did they would have discontinued it)!

Light weight is definitely a hallmark for the Nissin Pro Square rods and for Japanese rods in general. Most tenkara anglers in the US have only fished with Chinese made rods. Even the latest generation of rods, widely hailed by bloggers who received free rods in advance to create a "buzz" at their introduction, still do not match the Japanese rods for weight on the scale or in the hand. Pro Square rods are lighter and they sell for lower prices.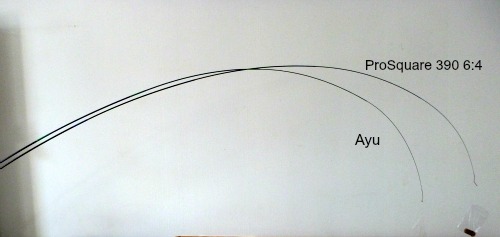 The Nissin Pro Square 320 rods are just ideal for smaller streams. They rival seiryu rods for the light weight and sensitivity you want for the small wild trout in the headwaters.
I have had customers tell me that they wished tenkara rods didn't have cork grips. The Nissin Pro Square 320 rods turn the tables and offer rods for people who wish that sieryu rods DID have cork. The brookie below was caught with a Pro Square 320 in a very small stream with heavily wooded banks and lots of overhead branches - fishing conditions in which the little 320 just excels. You can bet this brookie put a bend in the rod!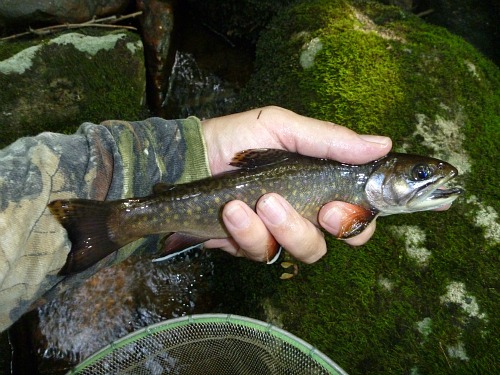 The 6:4 320 has a penny rating of 11, making it one of the softest tenkara rods. If you fish small streams for small wild fish, this rod provides just a ton of fun. The 7:3 320 is a bit more tip flex and a bit firmer at 14.5 pennies. I am sure it can handle the fish you'll catch in streams small enough to require a 10'4" rod. Either would be a very nice choice if you are looking for a light, sensitive, small stream rod and don't want to give up the cork grips you're used to.
Whether you are looking for a small stream / headwaters rod, an all around rod or a rod for larger streams, if you are looking for a very light weight, very responsive tenkara rod, you will not find better ones for under $200.

Nissin Pro Square Features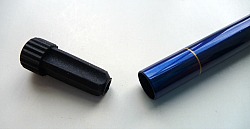 Like many of Nissin's rods, the tip plug is rubber and is fluted to allow you to insert the plug while the line is still attached to the rod. That is a safety feature that could save a rod tip. I know at least one angler who's collapsed rod was broken when a tree branch snagged the line as he was walking past. Because the rod was on his backpack and out of his vision, he didn't notice that it had gotten caught until it was too late. Nissin's rubber plugs fit quite snugly and very definitely will not fall out by themselves. They are snug enough that they go in much better if you screw them in rather than try to just push them in.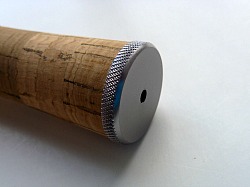 The grip screw cap is metal and is aggressively knurled for good grip, even with cold, wet hands. There is a ventilation hole, but I would still urge people to disassemble a tenkara rod after use so that it can dry thoroughly. I have seen one rod and heard of others whose finishes were damaged by putting them away wet. The ventilation hole should reduce the chance of that happening, but I would still disassemble the rod.


The rod blank has blue accents at the section ends, which fade to a deep black over most of the blank. The overall scheme is not nearly as fancy as on the Nissin Zerosums but also not as spartan as the Daiwa Enshou rods. They look nice and your money goes for the blank, not the paint job.
On balance, the Nissin Pro Square tenkara rods offer a fine choice for anglers who want lighter rods or softer rods than they can get from the competition.
Nissin builds tenkara rods in Japan for Japanese anglers. These are "home market" rods and as such were designed for the conditions Japanese anglers face and the fish they catch. Other than the 8:2s, they are not intended to be big fish rods. For modest fish, these are some of the lightest, smoothest casting rods you'll find. And for tenkara rods that are actually made in Japan, you'll find they are very competitively priced.
The rods below are ones that I have in stock. At least for now I will not have a lot of them but if you would like one I don't have I would be happy to order it for you.
---
Pro Square 320 6:4 - $155
Pro Square 320 7:3 - $165
Pro Square 360 6:4 - $165
Pro Square 360 7:3 - $175
Pro Square 390 6:4 - $185
Pro Square 390 7:3 - $200
---
Payment
Payment is through PayPal but you don't need to have a PayPal account. You can use your credit card.
Domestic Shipping
Domestic shipping is $8 via USPS priority mail (2-3 day delivery). The shipping charge will be added to your order automatically.

International Shipping

International shipping requires an additional $5 to Canada or $11 to other countries. The additional charge is not added automatically. Please click on the appropriate button below. If you do not add the international shipping your order will be delayed. Shipping is via USPS International first class and will take from two weeks to over a month depending on destination.

---
TenkaraBum Home > Tenkara Rods > Nissin Pro Square


Tenkara has no strict rules. Enjoy tenkara in your own way.
- Eiji Yamakawa