Rainbow on Caddis
by Okieflier
(Mustang, OK)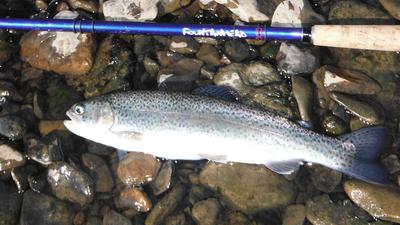 I used my Fountainhead Caddis 360 yesterday (11-8-13) while fishing the Lower Illinois River in Gore, OK. I have previously caught bluegill and small bass with my rod but yesterday was the first time to catch rainbow trout. I was using a fluorocarbon line with a 6X tippet. I had a tan size 20 zebra midge on the bottom and a red size 16 midge above it. Caught three trout with this setup. What a hoot!!
Walk softly and carry a long stick. - Teddy Roosevelt (almost)

"The bitterness of poor quality remains long after the sweetness of low price is forgotten" – Benjamin Franklin
---
Warning:
The hooks are sharp.
The coffee's hot.
The fish are slippery when wet.

---