Pesca Mosca Valsesiana
Technically, pesca mosca Valsesiana isn't exactly the same as tenkara, but I find it fascinating that a technique very similar to tenkara was developed, almost certainly independently, half a world away. Like tenkara, it originally developed using a long bamboo (Arundo cane) pole and a horsehair line. Also like tenkara, no reel is used. The flies are strikingly similar to sakasa kebari tenkara flies.
The fishing method is slightly different, however, and as cane gave way to fiberglass and then graphite, the rods are no longer the same. Although there are anglers in Italy who do use tenkara rods for this technique, those who grew up in the Sesia valley, where the secrets were passed from father to son, use stiffer rods. As Andrea (who grew up in Valsesia and contributed his own page to this site) explained it to me, fishing in the Sesia valley developed as a means of putting food on the table, not for sport. A stiffer rod, he says, allows you to land a large fish more quickly. Like tenkara rods, they are graphite and they are telescopic, but the tip sections aren't quite as soft as on tenkara rods.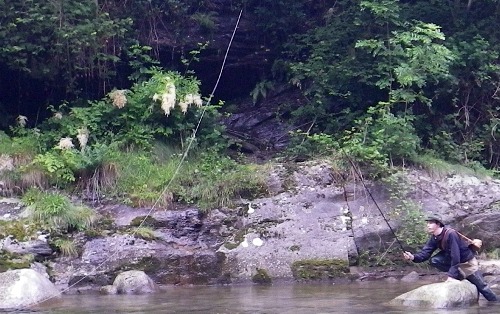 Andrea's Valsesian horsehair line is really quite visible against a dark background.
It is plain to me that the rods, not only traditionally but also of today, must be significantly stiffer than tenkara rods just by the descriptions of the lines that are used. The lines were horsehair (traditionalists use horsehair even today), and the descriptions I've seen from various sources all suggest that the lines where tapered from three or four hairs at the tippet end up to perhaps 14 or 16 hairs at the butt end of the line where it attached to the rod.
A line made to those specifications is too heavy for most tenkara rods, and heavier than necessary for even most keiryu rods. The Daiwa Kiyose 39SF or the Nissin 2-way 450XZ medium or stiff would handle it, though
For my first attempt at pesca mosca Valsesiana, I tied a line heavier than I would normally use, tapering from three hairs up to 9, and matched it with a long, slightly stiffer rod. It was actually a fairly nice combination.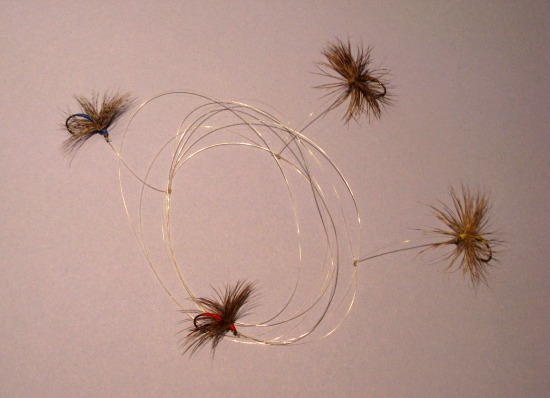 A cast of four flies for pesca alla Valsesiana. Flies and photo by Andrea.
Instead of the single wet fly used by tenkara anglers in Japan, the anglers in Valsesia use a cast of four wet flies. The flies themselves have a reversed hackle and look quite similar to the sakasa kebari tenkara flies. Also, like tenkara flies, they are not intended to be exact imitations of specific insects. Tied with a soft hackle (partridge or woodcock for the flies in the photo) and a floss body of blue, yellow, red, green or brown, they look almost like a cross between a sakasa kebari tenkara fly and a North Country fly as described by Pritt in 1886. They do not appear to be nearly as sparse as the traditional North Country flies, however.
A generation of American fly fishermen (depending on your age, either your father's or grandfather's generation) routinely fished a cast of three wet flies. The rods were bamboo, the lines were silk, the fishing was generally across and down, and it was very effective. It's almost a lost art, just as Andrea tells me that true pesca alla Valsesiana is almost a lost art, even in his valley where it originated.
The use of four flies is not to try to catch more than one fish at a time, although that does happen occasionally. Using four flies spaced at roughly 12" (30 cm) intervals allows you to present flies at different distances and also different depths on a single cast. You can cover the water more efficiently. The top fly is held so that it almost dances on the water's surface (essentially the same as the old American or British technique called "dibbling the top dropper").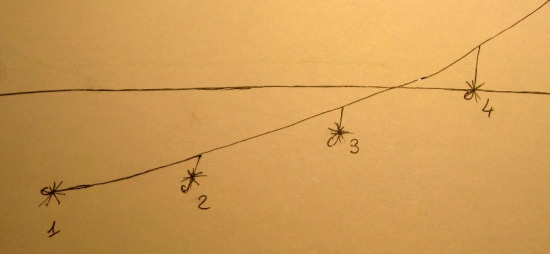 How the flies are fished.



Pesca alla Valsesiana double

First Attempts
Unable to wait for my next time trout fishing, I went to a nearby pond with my four-fly casts. (New York generously allows me to fish up to five flies at a time, but check your local regulations). First, you do need a slightly longer and slightly stiffer rod to fish this style. The Nissin 2-Way 450ZX (medium) would work quite nicely.
The bluegills absolutely love the Valsesiana, or in my case, the Sakasa Kebari flies. As one of the photos on the Sakasa Kebari page shows, you have to be fast or the bluegills will take more than one of your flies before you realize you have a fish on!
I did get some horrendous tangles, so casting definitely takes practice, but the four flies together were more effective than a single fly or even a pair of flies. I couldn't wait to try pesca mosca Valsesiana on a trout stream!
The second attempt was pretty much a replay of the first. Warm water fishing although this time from a boat rather than a canoe. Caught a lot of bluegills (including another one that had two of my flies in it's mouth). Also caught a smallmouth, a largemouth and a crappie. Not a bad day, all in all.
The third attempt, however, was on a trout stream, this time with a longer, heavier horsehair line tied as they are in Valsesia. The good news is that in the first 50 yards after wetting a line, I had missed two strikes, one from a nice fish that came all the way out of the water trying to get my bouncing top dropper; and I hooked a really very nice fish that finally came undone as I was just starting to think "now how am I going to net this guy?"
The bad news is that for both the showy missed strike and the fish that was lost, my line flew up into the treetops and I ended up losing all four flies - both times! In the first 50 yards of stream I had already lost all my flies that hadn't gotten chewed to tatters from the previous day's bluegills. I've never lost so many flies in one day in my life. (So, if you're going to try pesca mosca Valsesiana on tree-lined eastern streams stock up on flies!
Andrea tells me that small stream pesca mosca valsesiana uses a cast of three flies. I have tried that with a 5:5 rod and the size 4 Sunline Hi-Vis Fluorocarbon line. It actually worked pretty nicely, and I had the best day on that particular stream that I've ever had. Give pesca mosca Valsesiana a try. It's not really tenkara, but it is a fun and very effective way to fish.
As always, if you have questions or comments about pesca mosca Valsesiana, or the tenkara rods, flies or lines that I believe are closest to those used by the anglers of Italy's Sesia River valley, go to the contact us page.
---
TenkaraBum Home  > Tenkara Techniques > Pesca mosca Valsesiana

Walk softly and carry a long stick. - Teddy Roosevelt (almost)

"The bitterness of poor quality remains long after the sweetness of low price is forgotten" – Benjamin Franklin
---
Warning:
The hooks are sharp.
The coffee's hot.
The fish are slippery when wet.

---