Daiwa Kiyose 43MF
It's been a while since I've been as excited about a new rod as I am with the Daiwa Kiyose 43MF. I had one for a little while - until I lent it to another tenkara angler and he bought it rather than sending it back. I made sure to keep one for myself from the next shipment. It will replace both the Yamame and the Amago in my quiver.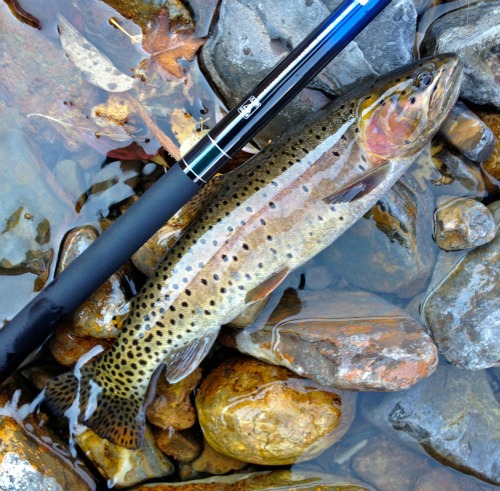 Photo copyright Teton Tenkara. Used with permission.
When I first ordered the rod I was thinking it might be the "stiffer Ito" that more than a few tenkara anglers have said that they wanted. And in a sense it is, in that it is a zoom rod that is roughly the same length and is indeed stiffer. However, after having fished with the rod a while I think a much closer comparison can be made between it and both the Yamame and the Amago than between it and the Ito.
I truly believe that any tenkara angler who is considering either a Yamame or an Amago - or trying to decide between the two - should get the Daiwa Kiyose 43MF instead. At the 12.5' length, it is a lighter, smoother Yamame (with a considerably better bend profile). At the 14' length, it is very similar to the Amago, although with a slightly softer tip, a bit more reach, and, not to be forgotten, noticeably lighter weight.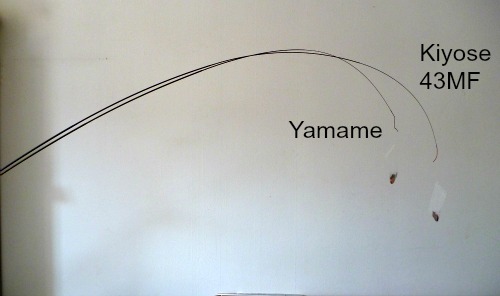 To give credit where credit is due, the Amago has developed a reputation for being a very capable rod. I am confident that the Daiwa Kiyose 43MF will prove to be at least as capable. (John Vetterli of the Tenkara Guides in Salt Lake City fishes for carp with his.) The photo below shows the Kiyose 43MF at its 14' length. It is a little stiffer throughout its length, but the tip section is a bit softer.
A Common Cents analysis shows how close the rods are in overall stiffness. At it's 12.5' length, the Kiyose 43MF is a 28 penny rod. The Yamame is a 30. At full extension of 14'1", the Kiyose is a 33 penny rod, whereas the Amago is a 31. Briefly, this analysis measures the weight (number of pennies) required to deflect the tip of a horizontally held rod by an amount equal to 1/3 the rod's length. It measures the overall power or capability of the rod. The three rods are all very, very similar in that regard.
| | |
| --- | --- |
| | |
| Kiyose 43MF and Ito at their shorter lengths. | Kiyose 43MF and Ito at full extension. |
Although the Daiwa Kiyose 43MF is indeed a stiffer rod than the Ito, and does indeed zoom, it is enough different than the Ito in overall feel that you probably wouldn't want to call it a stiffer Ito. That would be like saying the Yamame is a stiffer Ebisu. They're just very different rods.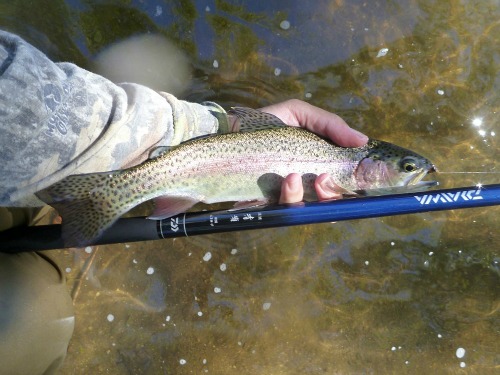 I wasn't able to fish with the rod very much. I received a number of new rods all at once, and they all needed to be fished. And as I mentioned previously, the guy I lent it to didn't want to send it back. Still, I fished it enough to know that it has earned a place in my quiver and I am very happy to again have one.
Daiwa Kiyose 43MF Features

Perhaps the most noticeable feature of the Kiyose 43MF is the fairly wide blank that transitions into the grip with no steps or flare. The grip section is the same very effect non-skid coating found on the Kiyose 30SF and 33SF. The grip section is wide enough, and the non-skid effective enough (and the rod light enough) that I don't think you'll miss the cork.
The grip cap is either a plastic or a composite, and comes with a slot so that it can be tightened with a coin, a hole for ventilation and a rubber "O" ring to keep it from loosening when you are on the stream.
Instead of the rubber tip plug found on the Kiyose 30 and 33, the 43MF comes with one of the external caps that now seem to be called "universal" tenkara rod caps. It does provide a very secure closure and does allow you to keep your line attached when you are using the cap.
The rod comes with a nylon rod sock which, while not at all fancy, is more than adequate to protect the finish from scrapes and scratches. As with all the other Japanese rods, it comes packaged in a plastic display case and neither has nor needs a hard travel case.

The Daiwa Kiyose 43MF weighs 3.4 ounces with the tip cap and 3.0 ounces without it. The collapsed length (not counting the tip cap) is 21 1/8". To the nearest inch, the extended lengths are 12'7" and 14'1". There are 9 sections. As with all the other Daiwa rods, replacement parts are available (although I may not always have them in stock).
All in all, this is quite a rod and would be an excellent choice for someone trying to decide between a Yamame and an Amago, and for someone who has always wanted a stiffer Ito. Or, forgetting the competition entirely, it would be a wonderful rod for someone who wants a beefy 7:3 rod for larger fish or bigger flies.
Out of stock. More rods are expected in June.
---
Daiwa Kiyose 53MF
The Tenkara Guides of Salt Lake City recently shot a video of tenkara fishing for carp. http://www.youtube.com/watch?v=UX4s37mNqHo&feature=youtu.be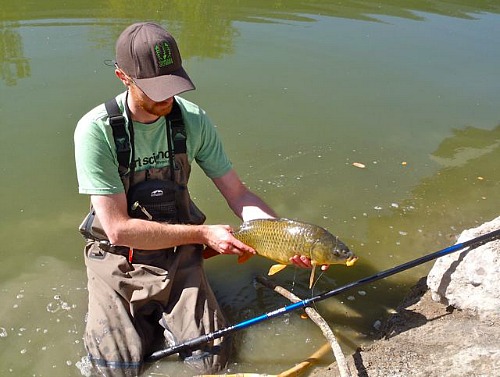 Photo copyright Tenkara Guides. Used with permission.
The rod that Erik Ostrander is using in the video is a Daiwa Kiyose 53MF which is a zoom rod that can be fished at 4.8m (15.75') or 5.3m (17.25') and is the next longer length to the Daiwa 43MF. Erik was looking for a big water / big fish rod to use in the Green River One Fly competition and I was looking for someone who regularly catches bigger fish than I do to put the rod through it's paces and see what it can handle. He didn't hook any monster trout so he took it carp fishing. It seems to handle carp just fine. John Vetterli of the Tenkara Guides tells me they plan to offer guided carp fishing trips. As John says, "Just way too much fun." (John uses his Daiwa 43MF and seems to do fine.)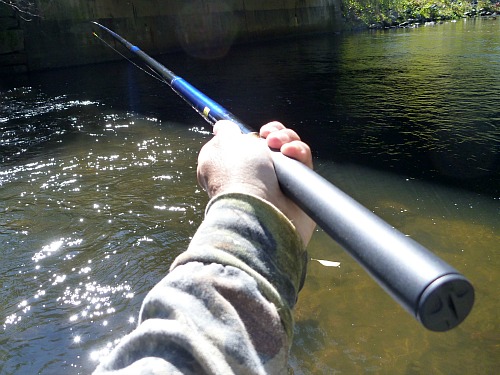 From the very first introduction of tenkara into the US, there have been requests for rods that could handle bigger fish. About that time, there was a video from Shimano making the rounds that showed a guy in Alaska or Canada catching steelhead with a rod that looked a lot like a tenkara rod on steroids. TenkaraUSA and I were quick to say, no no, that's not tenkara - but the desire to catch bigger fish than any tenkara rod can handle never did go away.

I've since come to realize that whether a fishing style is or isn't tenkara (pure tenkara) is of no particular importance if it is fun. (It is important only if you are trying to preserve purity or protect market share. It is not important if you just want to go fishing.) I now view requests for big fish rods differently. Most of the very long and very strong Japanese rods are horrendously expensive, but the Kiyose MF series is pretty reasonably priced - within reach of someone who wants to give carp fishing a try - and certainly much less expensive than it would be to buy a new 8 or 9 weight fly rod, reel, and line. There is a 63MF in the series, which is almost 21 feet long at full extension, but I wanted to try the 53MF first and go to the longer rod only if the limits of the 53 aren't sufficient to handle the fish people want to catch.
The basic dimensions are:
Weight (with "universal" tip cap) - 4.5 oz
Weight (without cap) - 4.2 oz
Collapsed length (with cap) 21 7/16"
Length (minimum extension) 15'9"
Length (maximum extension) 17'3"
I have ordered more rods but I am not sure when I will receive them.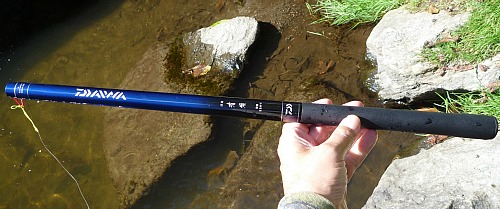 Return from Daiwa Kiyose 43MF to Tenkara Rods

Return from Daiwa Kiyose 43MF to TenkaraBum Home