Tippet Rings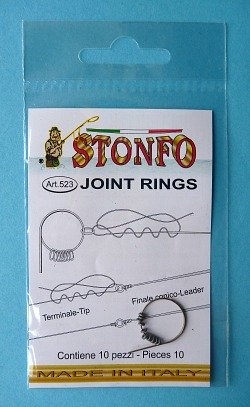 You can buy tippet rings about anywhere. They are very handy for tying droppers or for attaching your tippet to the end of your line. I use them for constructing my two or three part keiryu lines.
These come on a very handy split ring so you can easily tie your line or tippet to the tippet ring before removing the tippet ring from the split ring. That may not seem like a big deal but it makes it much, much easier to tie one onto your line or tippet. Try it once and you will become a believer.
Tippet Rings (package of 10) - $8
Shipping
A shipping charge of $3 will be added to all orders

---
Where do you live?


Add this amount for shipping.

---

USA


---

No additional postage required.
(Total charge $3)

---

Other Countries


---

Additional $5 postage required. (Total Charge $8)
If you purchase several items, add postage for the heaviest item.

---
Payment
Payment is processed by PayPal but you do not need a PayPal account. You can use your credit card.

---
TenkaraBum Home > Tenkara Accessories > Tippet Rings


Walk softly and carry a long stick. - Teddy Roosevelt (almost)

Tenkara has no strict rules. Enjoy tenkara in your own way.
- Eiji Yamakawa
"The bitterness of poor quality remains long after the sweetness of low price is forgotten" – Benjamin Franklin
---
Warning:
The hooks are sharp.
The coffee's hot.
The fish are slippery when wet.

---