TanagoBum
TanagoBum will be an offshoot of TenkaraBum for those who enjoy fishing for, and catching, very small fish. John Geirach once wrote: "Maybe your stature as a fly fisherman isn't determined by how big a trout you can catch, but by how small a trout you can catch without being disappointed." Replace "fly fisherman" with just plain "fisherman" and replace "trout" with just plain "fish" and that is what TanagoBum will be all about.
To a large extent, tenkara is for anglers who no longer feel the need to make the longest cast or largest catch. With a fixed line, you can't cast very far, and there is a limit on the size of fish you can bring to hand. We being who we are, though, are experimenting with 30 and 40 foot casts and trying to catch bigger and bigger fish. Longer casts and bigger fish than tenkara was ever intended for. I don't know if it is human nature, but it is certainly the American nature. We always push the envelope.
TanagoBum will push back. It won't specifically be about tenkara, and won't even always be about fishing with flies, but it certainly won't be about long casts and big fish.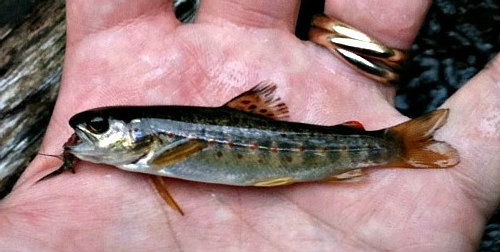 Young of the year (YOY) Brown Trout caught on Killer Kebari

Tanago is a type of fish in Japan (it translates to "Bitterling" in English). They range from small to very small. They are fairly closely related to carp, but then carp are actually in the minnow family! There are a number of species - and like many species of fish, the males take on distinct coloration during the breeding season and some are really quite beautiful.
They are said to be the world's smallest game fish. Tanago fishing is a pretty small niche within a country that is crazy for fishing, but some tanago anglers are as fanatical as any trout or bass fisherman. I read one account of a successful tournament bass fisherman who sold all his bass fishing gear and took up tanago fishing. Basically sitting alone on a stool beside a ditch or canal, holding a short bamboo rod almost as if it was a single chopstick, and catching fish so small that some bass fishermen wouldn't even use them for bait. Some would say "strange," others "serene."
I don't know if that would happen here.
Micro Fishing
A couple people have cautioned me not to become overly fixated on tanago. That is certainly not my intention. There are many species of small fish here in the US that would make for very interesting quarry. Some are abundant to the point of being almost ubiquitous, some are rare and only thrive in a few watersheds. Some are plain and some strikingly beautiful. A few seem to be incredibly challenging to catch, requiring careful planning and a trip across the country. Some are the perfect choice for a quiet day on the water, when you want to relax but you do want to catch a few fish. The variety seems endless.
And given all that, it is really a bit of a surprise that more people don't fish for them. Are we as a country so taken by the "bigger is better" mantra that we can't see the small fish in the neighborhood ponds and brooks as worthy? Is it that they're not trout? Does it really matter that much?
I think to a large extent it may be that the tackle we normally fish with is so geared to large fish that it is just overkill for micros. Ultralight spinning rods and reels are really intended for much larger fish.
Even the "extreme ultralight" spinning rods and reels of the threadliners (people who use fly fishing tippet as their spinning line) are still too heavy. The "ultralight fly fishing" folks use rods and lines - up to a three weight - that are considerably stiffer and heavier than tenkara rods. Even tenkara rods are not really sensitive or soft enough to feel the fight of really small fish. It's not that they don't fight, it's just that we can't feel it.
There are fishermen who specifically fish for small fish - micro fishing. Many of them are working on a life list - the fishing equivalent of bird watchers who want to see as many different species of birds as they can. People working on a life list try to catch as many species of fish as they can - and it turns out most species are pretty small.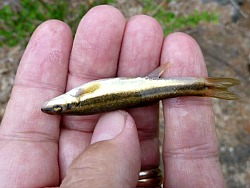 Black Nosed Dace caught with 1/8 grain of rice

I am not pursuing a life list, trying to catch as many species as I can. I'm not actually going to be tanago fishing, although I did learn that there were bitterling in one of the streams just north of New York City. Apparently they were dumped from someone's aquarium sometime in the early 20's. They were reported in the late 20's, in the 50's and again in the late 70's.  I've been once to look for them, and ended up catching a few small redbreast sunfish, so the day was still a success. I have since learned that there was a very extensive, multi-year study conducted on the stream where bitterling had been found and they are no longer there.
Somehow, fishing for small fish, even very small fish - micro fishing - just appeals to me and has for as long as I can remember. When I was a kid I used to fish a little pond right at the edge of town. It had lots of sunfish and bullheads and a few crappies. I don't remember catching any bass, but they were probably in there. It was stocked with trout each year for the town's annual "Huck Finn" day, in which all the kids dressed up as Huck Finn, Tom Sawyer or Becky Thatcher and paraded down Main Street. Being on the plains rather than in the mountains, the water was too warm and any trout that didn't fall to night crawlers probably did to the heat.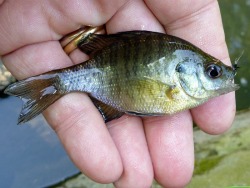 I have a few good memories of fishing that pond, but the one that is the most distinct is wanting to catch the fish I could see. It was of no importance that the fish further out, that I couldn't see, were much larger than the ones I could. Of course the ones I could see were little sunnies that could not have been 3" long. It didn't matter. Those were the ones I wanted to catch.
Bluegill caught with Size 26 Stewart Black Spider

TanagoBum will not concentrate on tanago fishing. That's just the link that got me here from tenkara. In coming weeks and months I'll experiment and learn, and share what I've learned about micro fishing. I'm not turning away from tenkara by any stretch of the imagination. From time to time, though, I will be going after smaller fish.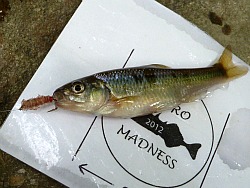 Fallfish caught on size 12 Utah Killer Bug
TanagoBum will also be pretty familiar to people who know the TenkaraBum site well. In addition to providing some basic information to people who are new to micro fishing, TanagoBum will offer rods appropriate for micro fishing, micro fishing gear, and a gallery for people to share photos of their catches.
There is already a pretty impressive list of species that people have caught on their Daiwa Soyokaze and Shimotsuke Kiyotaki rods. A lot of them are from little streams or ponds that don't get much notice from other anglers. Of course a lot of the fish being caught don't get much notice from other anglers, either.

Creek Chub caught with Marukyu Minnow Bait

And while micro fishing will probably be the main focus of TanagoBum, it won't be limited to the dace and the darters. The larger theme will be pursuing small local fish in small local streams, ponds and puddles.
John Gierach also wrote "If people don't occasionally walk away from you shaking their heads, you're doing something wrong." I'll take that quote, and the first one, as the direction for TanagoBum.

Return from TanagoBum to TenkaraBum Home