Nissin Fine Mode 330

The Nissin Fine Mode 330 is a wonderfully light, wonderfully soft rod that is just ideal for getting the most fight out of smaller fish. Nissin classifies this rod as a seiryu rod - designed for catching small fish in placid streams. I have fished the rod in placid streams, but I ended up catching larger than expected fish.
(I should point out that this seiryu rod is the Nissin Fine Mode Nagare 330. Nissin also makes a line of keiryu rods that are also called the Fine Mode, but they are the Fine Mode Kosansui.)
The Nissin Fine Mode seiryu rods are not for everyone. They are extremely soft. They absolutely excel at casting a very light line, but they have limited backbone, so they are best for smaller fish in more placid waters (which, not surprisingly, is what seiryu rods are all about).
Many of the rod companies in Japan make only one model of seiryu rod. Gamakatsu, Shimano and Shimotsuke only make one each. Suntech makes just a few. Daiwa is hard to figure out. They cancelled  their marvelous Sagiri, and their Rinfu (which I like even better than the Sagiri) has not been available for over a year. Nissin, on the other hand, believes that seiryu fishing deserves more than just one rod. I carry their Air Stage seiryu rods and have just a few of their Fine Mode rods. They have other models, too, a couple that I have tried and a few that I haven't. Of all the rod companies, it seems that Nissin is the only one that really takes seiryu fishing seriously.
I can certainly understand the drive to catch bigger and bigger fish, the adrenaline rush when your rod suddenly bends more than you think a rod ought to be able to bend as you try to stop the first run and you are not at all sure you are going to win this one. If you do win the fight (and you don't always) it is a distinct sense of accomplishment. People in the East and Midwest go to Colorado or Montana for that feeling. I suppose the people in Colorado and Montana go to Alaska or Chile.
The thing is, though, if you match the rod to the fish, you can get that same adrenaline rush and fear that you won't win the fight even if the fight is with a surprisingly modest fish. With Nissin Fine Mode seiryu rods, I've had battles with 11" stockies I wasn't sure I would win. I've had bluegills bend the rod more than a rod ought to be able to bend.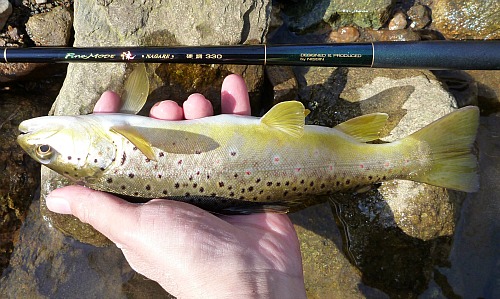 The fish shown above, at almost 12" was larger than I expected from that stream (an occurrence I've run into more than once). However, if you don't have a pushy current to contend with a very soft rod can subdue a nice sized fish. A 12 incher will put your heart in your throat, but even a 6 inch fish will put a smile on your face. And if the 6 incher is a feisty bluegill, in addition to the smile on your face you will have a fight on your hands.
This is a full flex rod, and the fish pictured above and below would bend it all the way to the cork (if it had cork). The whole rod bends.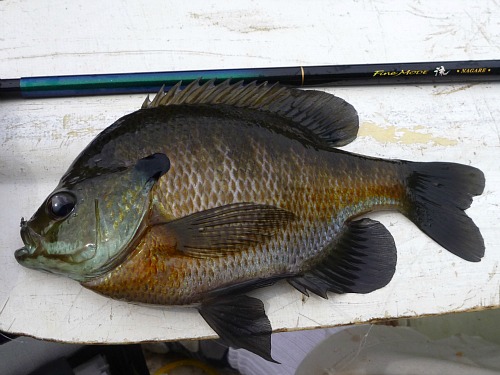 I was finally able to get out and find some smaller fish for the Fine Mode 330. The rod certainly lived up to my expectations. It is just a lot of fun with even very modest fish.This is a rod to take if you know a little stream just chock full of 5 and 6" brookies - or goldens or greenbacks or rainbows. For that matter, it would make a dandy rod for fly fishing for micros. You can cast a line that is light enough to react when a micro hits your fly.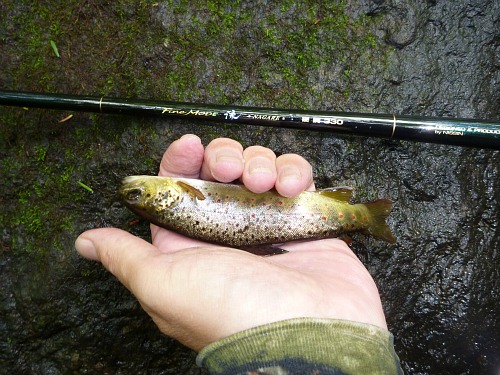 This is one of the softer rods I have ever measured at just 7.5 pennies. It is softer than the Oikawa III 340, which in turn is softer than the Kurenai HM33R. In this length, it is the softest rod I carry. I am pretty sure it will bend if a fish even comes up to look at your fly.
I would definitely recommend fishing smaller wets or dries with the rod rather than weighted nymphs. It would be tough to get a hookset given the softness of the rod's tip (actually, the whole rod is soft). That soft tip, though, makes it a wonderful rod for size 2 line if you can find it.
I am extremely disappointed that I can no longer get (or offer) size 1.5 and size 2 lines. These rods just cry out for it. Luckily you can cast a horsehair line consisting of just two hairs per segment with the rods. They're not hi-vis (and they're not high strength, either) but they are easy to make yourself and very inexpensive. They'll also test your skill as an angler.


Nissin Fine Mode 330 Features
The Nissin Fine Mode 330, which is the only length I have in stock, is 11'4" extended, 22 1/4" collapsed and weighs just 1.1 ounce. You will be hard pressed to find a lighter rod at that length.

The finish is jet black on most of the blank, with sections of deep blue with minute blue metalflake in the finish toward the grip and at the end of each section except for the tip and #2 section. The blue turns to green depending on the angle of the rod compared to the sun (and indoors under incandescent lights).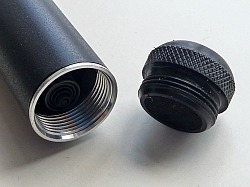 The grip, as with all seiryu rods I've seen, has no cork. Instead, it has a very effective nonskid textured finish. The grip screw plug is plastic and seats positively against the threaded aluminum bushing inserted into the end of the grip. The plug is knurled for easy tightening and loosening, and has a dense foam insert to prevent the clacking sound of rod parts hitting a hard plug.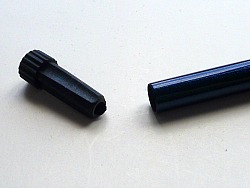 The tip plug is rubber and is fluted so you can keep your line attached and still put the plug in. As with the Nissin Pro Spec and SP, the plug is quite snug and goes in more easily if you twist it. Once in, it is not going to fall out by itself.
If you are looking for a super soft, super slow rod that is a bit shorter than the Nissin SP, this is certainly one to consider. I think it would be just ideal for small fish in small streams - whether they are trout, sunfish, chubs, shiners or what have you.
Nissin Fine Mode Nagare 330 - $165
Payment
Payment is through PayPal but you don't need to have a PayPal account. You can use your credit card.
Shipping
Domestic shipping is $8 via priority mail (2-3 day delivery).
International shipping requires an additional $5 to Canada or $11 to other countries for the rod alone. If you live outside the US, please click the button for the appropriate shipping charge
Return from Nissin Fine Mode 330 to Tenkara Rods

Return from Nissin Fine Mode 330 to TenkaraBum Home

Tenkara has no strict rules. Enjoy tenkara in your own way.
- Eiji Yamakawa