Kids Tenkara Kit
A kids tenkara kit just seems like a natural. Kirk Deeter of Field & Stream believes tenkara is the best way to teach kids fly fishing. I agree.
It may be that the "simplicity" factor of tenkara is overhyped, but when it comes to learning a new skill, simple is better. Casting is pretty intuitive. If you tell a child the goal "see if you can get the fly over there," they'll modify their casting stroke on their own until they find something that works. It probably won't take very long.
Landing a fish is just as intuitive. Experienced fly fishermen frequently ask "how do you bring in the fish with no reel." A kid automatically just raises the rod and the fish comes in. Seen through a child's eyes, tenkara is indeed pretty simple.
Line control, certainly one of the more complex aspects of fly fishing, couldn't be easier. If there is too much slack in the line, raise the rod tip. That's line control in tenkara.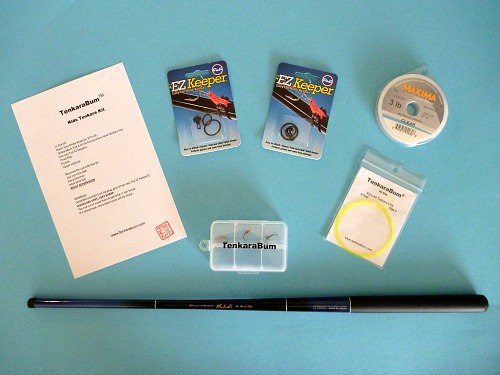 Please note: for now, the kid's kit will contain a spool of Fujino tippet, replacing the out of stock Maxima.
There are a couple points on which Kirk Deeter and I would probably disagree. First, I'm sure he sees tenkara as a stepping stone on the path to fly fishing. I think for more than a few kids it could be the end in itself. Many kids will go on to fly fishing, but I suspect some of those will come back to tenkara.
When they make the switch from tenkara to fly fishing, the number of fish they catch will probably go down. (Not having line in the water causing drag really is a dramatic advantage.) Mature fly fishermen and women may tell you it's all about the joy of being outdoors and that actually catching fish is secondary. For kids, many of whom are outdoors a lot anyway, it really is about catching fish.
The second point on which I suspect we disagree is on the choice of rod. Most people would probably choose a regular tenkara rod for kids.  That would be an 3.3 or 3.6m rod! I would definitely choose a smaller rod, and the 8' 10" Nissin Fine Mode Kosansui 270 is not a bad choice, particularly for younger children. Older children could handle a 3.3m tenkara rod, and if you are thinking of getting a kit for a 12 or 13 year old, consider the Nissin Starter Kit with the 3.2m 6:4 rod, which is still a very light rod.
For younger kids, though, a 3.2 or 3.3m rod really is a bit long and a bit heavy. Jeffry Gottfried, who teaches kids tenkara fishing in his Educational Recreational Adventures program in Portland, OR tells me that the kids cast the rods two handed. A friend who is teaching his kids tenkara says the same thing. For a smaller child, even a 3.2m rod is a big rod.
I have done a bit of two-handed casting with the Daiwa 53MF and Suntech Kaname 63, which for me are BIG rods. What I hadn't thought of beforehand, but noticed almost immediately when I started two handed casting, is that you effectively lose a couple feet of the length because of where your hands are on the rod and in relation to your body (with the rear hand near your waist). For a kid, that might be a foot and a half. Take a foot and a half away from a 3.3m rod (which is really only 10'7" to begin with) and effectively, you have a 9' rod.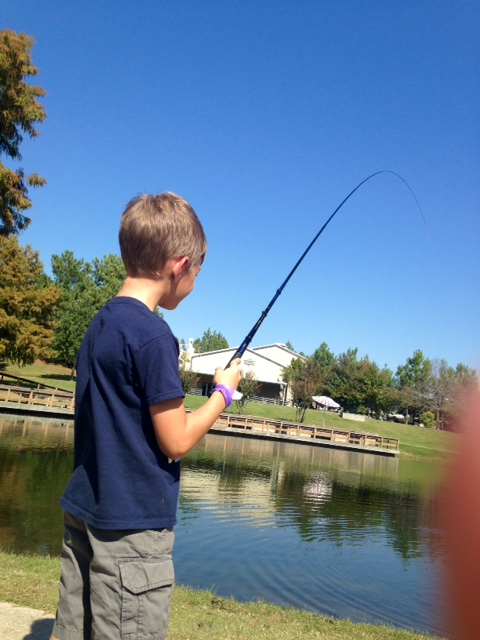 Why not just start with a short rod to begin with? Especially because the shorter rod is a lot lighter and has a smaller grip that will better fit a child's hand? That way you can teach one handed casting and your kid can learn from watching you.
I am sure some people still think you need a longer rod for tenkara, but I have done a fair amount of fishing with rods of 9' and shorter. I've still caught a lot of fish. There are more fish within casting distance of an 9' rod than you realize. (Read the testimonials on the Soyokaze page! People wouldn't be saying those things if they didn't catch any fish!)
Also, the rods are not cheap little wimpy things. They will handle much larger fish than most people realize. My wife suggested that I change the name from Kid's Kit to Junior Kit or Shorty Kit, something that sounds less dismissive. Maybe even "(Too Good to be Just a) Kid's Kit."
I kind of like the name Kid's Kit, though so for now it will stay. Still, do not underestimate the effectiveness of the rod included in the kit. It is a serious rod for serious fishermen, no matter how young they are. That said, I know that more than a few of the buyers are adults buying the kit for themselves. That's fine with me (I figure they are kids at heart).
I know that some experienced tenkara fishermen are looking at the Kids Kit (or the Kosansui 270) as being well suited for the the smallest and brushiest of streams - and it truly is. When Tom Davis of Teton Tenkara recently reviewed the Kosansui 270, he concluded that "It's the perfect rod for small, tight streams." Plus, the rod is made in Japan.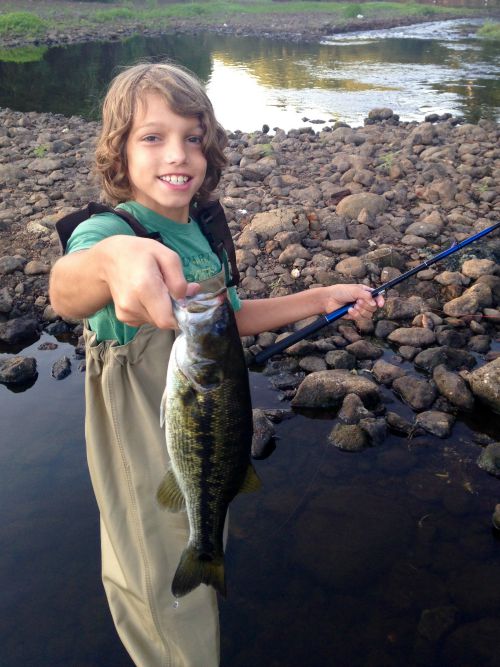 Rod
Extended
Sections
Collapsed
Weight
Carbon
Model
Length
Length
(ounces)
Percent
Kosansui 270
8' 10"
6
20.5"
1.4
97
The Kids Tenkara Kit comes with the 8' 10" Nissin Fine Mode Kosansui 270 rod, a size 4 level line the length of the rod, a pair of EZ Keepers, a spool of 5X tippet, and three flies in a kid sized fly box.
I've chosen to package a size 4 line with the kids tenkara kit because the slightly heavier line will be easier to cast. There will be plenty of time later on to graduate to a lighter line.
For the EZ Keepers, I use one of the shorter O rings on the forward Keeper and one of the longer ones doubled as the fly keeper between the two EZ Keepers. John Vetterli of the Tenkara Guides in Salt Lake City, who has taught tenkara to kids, tells me that the EZ Keepers are a bit more secure in holding the fly than the round line holders I package with the adult's Nissin Starter Kit. That's important when fishing with kids. The EZ Keepers are also better at holding the rod tip safely inside the rod when the rod gets put down.

The flies will be whatever I have on hand on the day I receive the order. (They really do all work.) The flies were tied on barbless hooks as a safety precaution.

Please note: The Nissin Fine Mode Kosansui does not come with a rod sock. The medium rod case fits the rod.
Out of stock - I have found a new rod that will be used in the Kid's Kit. The kit will be out of stock until the new rod arrives.

---
International shipments require additional postage. Please see International Shipping below.
---
Kosansui and line made in Japan.
For every kit sold, $7 will go to fisheries conservation.

---
Shipping
A shipping charge of $10 will be added to all orders.
If you live outside the US, you must add more postage!

---
Where do you live?


Add this amount for shipping


---

USA


---

No additional postage required.
(Total charge $10)

---

Canada or Mexico


---

Additional $6 postage required. (Total Charge $16)

---

Other Countries


---

Additional $13 postage required. (Total Charge $23)
---
Payment
Payment is processed by PayPal but you don't need to have a PayPal account. You can use your credit card.
---
Warnings
If fishing with a small child, be sure he or she does not put the tip plug in his or her mouth. It could be a choking hazard.
The hooks are VERY sharp. Please provide eye protection and adequate supervision. 
I would recommend bending down the barbs on the flies. Some fish will wriggle off the hook, but if your child hooks himself (or you) it will make removing the hook much less traumatic.
I cannot list here all the dangers associated with fishing. However, studies show that most accidents occur at home, so to be safe you should probably stay away from home. If you're not going to be home, you might as well go fishing and might as well take your kids with you (saves on babysitters). I am sure all sorts of bad things can (and will) happen if you never go fishing.

Be careful. (That was adequate warning when we were kids. It ought to be adequate warning now.)
---
TenkaraBum Home > Tenkara Rods > Kid's Tenkara Kit


Walk softly and carry a long stick. - Teddy Roosevelt (almost)

Tenkara has no strict rules. Enjoy tenkara in your own way.
- Eiji Yamakawa
"The bitterness of poor quality remains long after the sweetness of low price is forgotten" – Benjamin Franklin
---
Warning:
The hooks are sharp.
The coffee's hot.
The fish are slippery when wet.

---